Fewer Mammograms Needed for Low-Risk Women, Study Says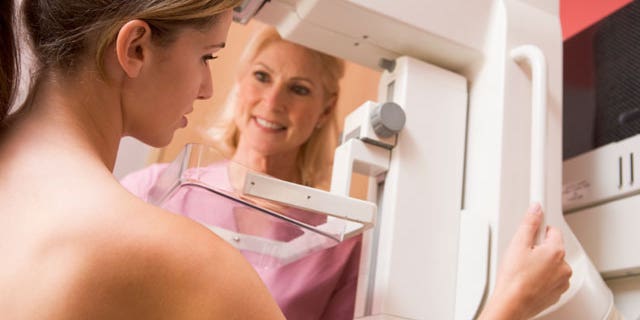 Less-frequent mammograms for women at low risk for breast cancer can be a cost-effective way of saving lives, according to a new study that challenges current screening guidelines for the disease.
Researchers found that women with no family history of the cancer, no previous biopsy from a cancer scare, and breasts that are not very dense might get a similar benefit from having a mammogram every three to four years, instead of every two as advised by the U.S. Preventive Services Task Force (USPSTF), an expert panel with federal support.
Dr. John Schousboe, a doctor at Park Nicollet Health Services in Minneapolis and the lead researcher, said his study provides a more personalized set of mammogram guidelines than what is currently available.
"The benefits of mammography are going to depend a lot on what your underlying risk is, and the current guidelines look only at age," Schousboe told Reuters Health.
The USPSTF recommendations that guide cancer screening practices say women aged 50 to 74 should get a mammogram every two years, unless the woman and her doctor feel there is a reason to make an exception.
Schousboe's study took into account three other risk factors to develop more tailored recommendations.
Those include a woman's family history of breast cancer, the density of her breast tissue, and whether she has had a breast biopsy.
There is a four-fold increase in the risk of breast cancer among women with the most dense breasts compared to those with the least dense breasts, Schousboe said.
His team used data from two national surveys, which tracked the frequency of mammograms and the breast cancer rates of more than a million women, to form hypothetical scenarios.
In one case, women were not screened, in another case they got a mammogram every two years, and in a third scenario they received mammograms every three to four years.
They then determined which situations were "cost-effective," meaning each year of life saved through screening would cost no more than $100,000.
The scenarios for screening assume that at age 40, every woman would receive a mammogram that would reveal her breast density.
For women in their 40s with less dense breasts and no other risk factors, the study found that screening at any interval, whether biennially or every three to four years, was not cost effective.
It would cost $228,000 to save a life for a year if low-risk women in their 40s were screened every three or four years, compared to no screening.
The study also found that to save one life among women in their 40s, 8,000 women would need to be screened, and 17 out of every 100 of them would experience a false cancer scare.
Such false positives lead to additional testing, which exposes women to more radiation, and sometimes a painful, invasive and expensive biopsy is done.
"I think that, other things being equal, it's reasonable for a patient and their doctor at that point to say, 'we're going to put off the next mammogram until age 50,'" said Schousboe, whose findings appear in the Annals of Internal Medicine.
Women with more dense breasts who have a close relative with breast cancer or have had a breast biopsy in the past would benefit from screening every three to four years while in their 40s.
In that case, it would cost $23,000 to $38,000 for each year of life gained if women were screened every three to four years compared to every two years.
For women in their 50s, 60s and 70s, Schousboe's study found, it was cost-effective for those with low-density breasts and without other risk factors to get mammograms every three to four years, rather than every two.
For instance, it would cost $208,000 for each year of life saved to screen low-risk women in their 50s every two years instead of every three or four years, and 11,000 additional women would have to be screened over a decade in order to save one life.
For women over age 50 with denser breasts, screening them every two years became cost-effective.
If women over age 50 also have another risk factor, such as a previous biopsy or a family history of breast cancer, then the current recommendation of every two years would be appropriate, the researchers found.
The study, which was funded by the pharmaceutical company Eli Lilly, the Da Costa Family Foundation for Research in Breast Cancer Prevention of the California Pacific Medical Center, and the National Cancer Institute, does not apply to women who have a high risk of breast cancer through one of a pair of genes called BRCA1 and BRCA2.
It also did not test out the scenarios in real-life situations; the analyses were simulations of different screening policies.
Schousboe said that while recommendations are helpful in guiding mammography timelines, they should be flexible to accommodate the values and desires of individuals.
"If a person gets tremendous reassurance from a normal mammogram, I'm not going to tell her not to do it," he said.
"As exciting as these advances in personalized risk-based screening seem, several obstacles remain to using such factors as breast density to refine current screening guidelines," Dr. Jeanne Mandelblatt, of Georgetown University Medical Center in Washington, D.C., wrote in an editorial about the study.
In an email to Reuters Health, Mandelblatt added that the public and professionals will likely be wary of new screening guidelines, because of the controversy that surrounded the Task Force's updated recommendations in 2009.
The Task Force shifted its advice that women begin routine mammograms at age 40 to starting at age 50, much to the confusion and concern of some women. One small study found that more than eight out of 10 women consider the guidelines unsafe. (See Reuters Health report, May 27, 2011.)
"Communicating risk based screening will be very difficult and will require education of women and physicians," said Mandelblatt, who was not involved in the current study.
Schousboe said he does not expect his study to change any current recommendations, but he will be happy if it sparks a conversation between women and their doctors about their specific risk factors for breast cancer, particularly breast density.
"I think that policy changes always have better durability if they do come out of long debates," he said.