Embryonic Stem Cell Research Halted, Staff Laid Off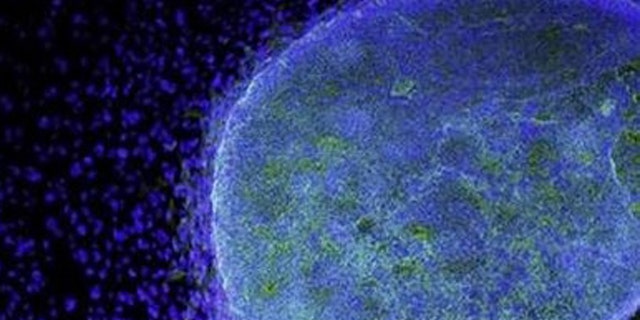 NEWYou can now listen to Fox News articles!
The company doing the first government-approved test of embryonic stem cell therapy is discontinuing further stem cell work, a move with stark implications for a field offering hope of future medicines for conditions with inadequate or no current treatments.
Geron Corp., a pioneer in stem cell research that has been testing a spinal cord injury treatment, said late Monday that it's halting development of its stem cell programs to conserve funds. It is seeking partners to take on the programs' assets and is laying off much of its staff.
The news sent Geron shares down sharply in after-hours trading. They fell 38 cents, or 17.3 percent, to $1.82.
The company is eliminating 66 full-time jobs, or 38 percent of its staff, a process that will bring about $8 million in costs — about $5 million in the current quarter and about $3 million in the first half of 2012. Geron said it expects to end this year with more than $150 million in cash and investments.
In a statement, the company said the decision to narrow its focus "was made after a strategic review of the costs, ... timelines and clinical, manufacturing and regulatory complexities associated with the company's research and clinical-stage assets."
The shift comes barely six weeks after the company's board appointed biotech industry veteran Dr. John A. Scarlett as Geron's new chief executive.
Geron said it is looking for partners who have the technical and financial resources to advance its stem cell programs.
Analyst Steve Brozak of WBB Securities said Geron has been trying to find partners "and people have said,'Show us later-stage results.'"
Since the recession began in 2008, venture capital funding for the biotech industry has greatly declined as many investors seek projects with quicker potential payoffs.
Embryonic stem cells can develop into any type of cell in the body. The hope is that one day they might be used to replace or repair damaged tissue from ailments such as heart disease, Parkinson's and stroke.
But using stem cells from embryos has long been controversial and is opposed by some groups for religious and moral reasons.
Brozak called Geron's move a sad delay in the development of embryonic stem cell therapies in the U.S.
"It could be outsourced to a place like China very easily," he added. "In that case, this would be the de facto abdication of U.S. leadership in biotechnology."
Scarlett said his company will keep a core group of employees from its stem cell operations through the end of 2012's second quarter.
"Stem cells continue to hold great medical promise," he said in a statement, adding that Geron is recognized as having "among the most innovative, comprehensive and advanced cell therapy programs in the world," which should help it in discussions to find partners to whom it can transfer the programs.
Geron in October 2010 began testing an embryonic stem cell therapy called GRNOPC1 in patients with recent spinal cord injuries. It will stop enrolling new patients but will continue to follow those currently participating.
The company will continue updating the Food and Drug Administration and doctors and scientists on the study's progress. So far, the treatment with oligodendrocyte progenitor cells — the OPC in the therapy's name — has been tolerated well without any serious side effects, the company said.
Geron also is testing embryonic stem cell treatments using cardiac cells for heart disease, a type of pancreas cells for diabetes, cartilage cells for cartilage repair and immune system cells called dendritic cells for immunotherapy treatments.
Geron, based in Menlo Park, Calif., now will focus soley on cancer research, particularly on drugs that are in mid-stage human testing.
Those include imetelstat for advanced breast cancer, advanced non-small cell lung cancer, a blood-clotting disorder called essential thrombocythemia and multiple myeloma, a bone marrow cancer, and of a therapy called GRN1005, for cancer that has spread to the brain from the breast or lungs.