Doctors think you don't use enough sunscreen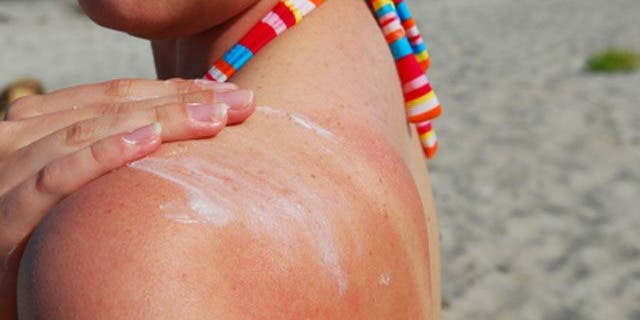 Even though most dermatologists recommend sunscreen to prevent skin cancer and premature aging of the skin, nearly all of them believe patients aren't getting the message, a small U.S. study suggests.
"There is an understandably long list of reasons most people do not use or apply enough sunscreen: the lotion is uncomfortable, inconvenient to apply, not always readily available, expensive and the list goes on," said lead study author Dr. Aaron Farberg of the Icahn School of Medicine at Mount Sinai in New York.
"However, we know that solar UV causes skin cancer, so as dermatologists we want to encourage our patients to continually improve their sun protection," Farberg added by email. "This includes using sunscreen, seeking shade, and wearing sun protective clothing with sunglasses."
In a survey of 156 U.S. dermatologists, every single one of them agreed that sunscreen reduces premature aging of the skin, or photoaging, and 97 percent agreed that it also lowers the risk of cancer.
But 99 percent of them also think their patients don't apply enough sunscreen.
Most people need at least an ounce of sunscreen, or enough to fill a shot glass, to cover all the exposed parts of their body, according to the American Academy of Dermatology.
It should offer broad spectrum (UVA and UVB) protection and have a Sun Protection Factor (SPF) of 30 or higher, the AAD recommends. Sunscreen should be applied at least 15 minutes before going outdoors, and reapplied every two hours or after swimming or sweating even if it's labeled as water resistant.
Nearly all of the dermatologists surveyed were comfortable recommending sunscreens with an SPF of 50 or higher, and 83 percent of them believed that high-SPF sunscreens provide an additional margin of safety.
When advising patients on how to choose sunscreen, 99 percent of dermatologists recommend looking at the SPF level and checking for broad spectrum protection, while 71 percent also counsel patients to consider how it looks or feels.
One topic the majority of dermatologists don't broach with patients is what's known as photostability, or UV filters that work in sunlight. Certain sunscreen ingredients, including avobenzone and octinoxate, can be unstable and become ineffective in sunlight, previous research has shown.
This is tricky to discuss with patients, though, because there's no meaningful way for consumers to assess photostability when they're choosing sunscreens, said Dr. David Leffell, a dermatology researcher at Yale School of Medicine in New Haven, Connecticut, who wasn't involved in the study.
"Photostability is always somewhat of an issue but the technology has improved especially for broad spectrum sunscreens," Leffell said by email. "I recommend they go with a recognized brand."
Beyond its small size, limitations of the study include the possibility that some participants may have provided survey responses they thought were desirable instead of reflecting their actual beliefs, the authors note in JAMA Dermatology.
It's possible, too, that the minority of dermatologists who said they didn't believe regular sunscreen use lowers the risk of skin cancer did so not because they think it's a bad idea, but because they think patients need to take additional steps to protect themselves, said Dr. Elizabeth Martin, who wasn't involved in the study.
"The data are clear that daily sunscreen use can cut the incidence of melanoma, the deadliest form of skin cancer, in half," Martin, a researcher at the University of Alabama at Birmingham School of Medicine and president of Pure Dermatology and Aesthetics in Hoover, Alabama, said by email.
"Perhaps when considering their response, this small number of dermatologists recognized that applying sunscreen is only one part of an overall comprehensive sun protection plan, which also includes seeking shade and wearing protective clothing," she said.