Biggest source of salmonella cases? Not meat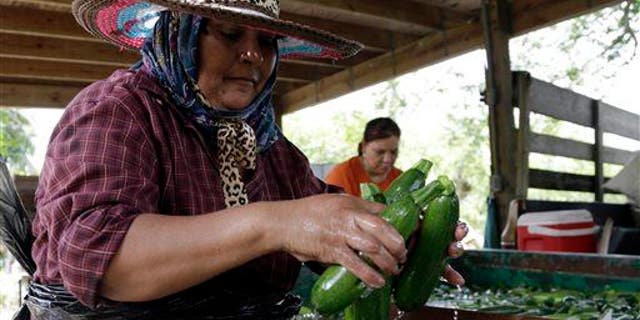 NEWYou can now listen to Fox News articles!
Salmonella might be an illness you think about when you're tempted to eat cookie dough; it's probably not something that worries you when picking out zucchini.
But in fact, seeded vegetables were the top source of salmonella illnesses in a federal food study that focused on the years 2008 to 2012, the Atlantic reports.
They accounted for 18 percent of cases, while fruit and eggs each accounted for 12 percent. Chicken was the most problematic meat, explaining 10 percent of cases, with beef and pork close behind.
Meat was the biggest culprit, however, when it came to a type of E. coli, with beef accounting for 46 percent of illnesses. Vegetable row crops were second, at 36 percent.
The February study supports previous findings that plants can be more risky than meats in terms of illnesses from food. Along with salmonella and E.
coli O157, researchers looked at two other "high priority" illnesses: listeria, for which fruit was the top source, and Campylobacter, which was most associated with dairy, the Atlantic reports.
The study marks the first effort by three agencies—the USDA, FDA, and CDC, united in the Interagency Food Safety Analytics Collaboration—to assess food-borne illnesses using just one method, Reuters reports.
"We can do more as a group than we can individually," a CDC official says. (In case you're not worried enough, even spices can contain salmonella.)
This article originally appeared on Newser: No. 1 Source of Salmonella Cases: Not Meat
More From Newser