Asian markets restrict Canadian poultry after bird flu outbreak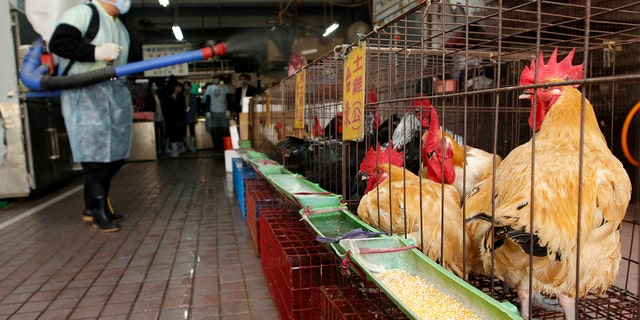 NEWYou can now listen to Fox News articles!
The detection of avian influenza on two farms in British Columbia has spurred several Asian markets to restrict imports of Canadian poultry, a Canadian government spokesman said on Wednesday.
South Korea has banned imports of Canadian chicks, Hong Kong and Taiwan have imposed trade restrictions on British Columbia poultry and poultry products, and Japan has imposed trade restrictions on British Columbia chicks as well as all Canadian poultry products, Patrick Girard, spokesman for Agriculture and Agri-Food Canada, said in an email to Reuters.
Girard couldn't immediately say if all the trade restrictions were outright bans, or if the markets were still accepting some products.
The United States has not imposed trade restrictions, Girard said. He said it was too early to estimate the economic impact of the disease.
Avian flu is an infectious viral disease of birds. Most bird flu viruses do not infect humans, but some have caused serious infections in humans, according to the World Health Organization.
Canada said on Tuesday that tests had found H5 avian influenza, also called bird flu, on two British Columbia farms that raise turkeys and broiler chickens. Two more broiler farms in the West Coast province that are suspected of containing the virus have been placed under quarantine, Canada's chief veterinary officer, Harpreet Kochhar, said on Wednesday.
The disease has killed thousands of birds at the two farms where it was first detected, and remaining turkeys and chickens at those farms will be destroyed, the Canadian Food Inspection Agency has said.
Canada has not determined the subtype and pathogenicity - or severity - of the virus found on the two farms. Canada previously detected H5N2 bird flu viruses in 2010 and 2004-05, Kochhar said.
Germany, the Netherlands and Britain reported cases last month of the highly pathogenic bird flu H5N8, which is similar to one that devastated poultry flocks in South Korea earlier this year, but has never been detected in humans