Arizona Trauma Surgeon Unfazed by Shooting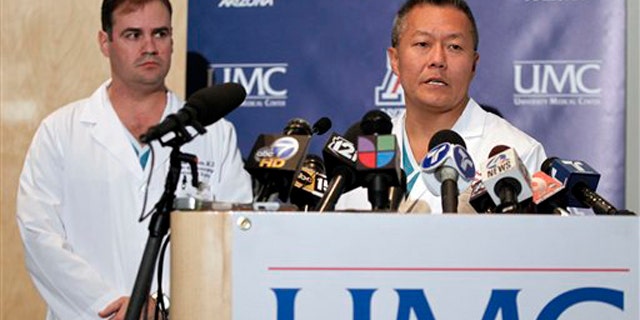 The head of the trauma team that fought to save the lives of Arizona shooting victims on Saturday may lack swagger, but not confidence.
When word came that a gunman had opened fire at a Tucson shopping mall and that victims including the local Congresswoman were on the way to his hospital, University Medical Center Trauma Unit chief Peter Rhee's reaction was understated.
"I thought my weekend was going to be busy," said Rhee, a combat veteran who worked in frontline units in Afghanistan and started the first surgical unit in Ramadi, Iraq.
"I was in the Navy for 24 years and I trained for nothing but battlefield casualties," said the surgeon, hair still clipped short in military style, who leads the team handling major injuries and has built a system to respond to major disasters. "We can take anything they throw at us from a civilian standpoint," he said.
Rhee spoke on Sunday at a press conference and later informally to reporters and in a brief interview with Reuters.
Police say a single man, Jared Lee Loughner, shot 20 people on Saturday using a semiautomatic pistol with extra-long clips of bullets. The victims were at a shopping mall to meet Congresswoman Gabrielle Giffords, who prosecutors say was the 22-year-old shooter's target.
Giffords took a bullet shot straight through her head but has survived in the care of Rhee's trauma unit.
Rhee called the tragedy a "mini-mass casualty" and said the team's response had been a success: "No one that shouldn't have died, died."
Rhee and the surgeons and medical team caring for Giffords, including neurosurgeon Michael Lemole, moved quickly, taking Giffords from a medical hospital to the operating room in 38 minutes, with a battlefield-style exam in the mean time to make sure no injuries had been missed.
Rhee said paramedics saved Giffords life by moving her quickly from the shooting scene. "We don't like them to stay and play. We like them to pack and go," he said. A skilled intensive care unit was a key, as was luck.
The bullet, which passed all the way through half of Giffords head, breaking her skull into pieces, missed at least some particularly sensitive parts of her brain. She has been able to respond to commands to squeeze her hand, raise two fingers, and more, indicating that her language centers are at least partially intact.
Doctors caution it is too early to say she will not relapse or that she will completely recover from a wound which kills or incapacitates most victims, but on Tuesday they said she was now able to breathe on her own.
The horror of the shooting has touched a national nerve, spurring calls for political rhetoric to be toned down and energizing debates about gun ownership. It has also made gun-friendly Arizona, and Tucson in particular, appear to be a battlefield.
But Rhee remembers regularly tending to 30 stabbing and shooting victims a day in Los Angeles, during his training there, and points to widespread violence in other big cities.
Tucson, a smaller, quieter city known for a slower pace of life than neighboring Phoenix, hasn't changed much in Rhee's mind.
"For a trauma surgeon, (Tucson) is very embarrassingly pathetic, because the violence is almost nonexistent," he said. "Everybody in the country thinks there is a World War III going on in Arizona, but it is probably still the nicest place I can think of to live."