American doctor treated for Ebola virus has recovered, aid group says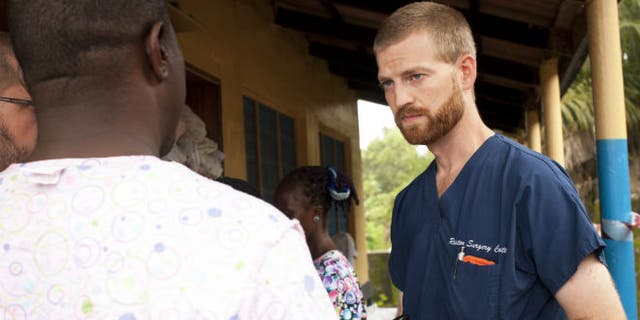 An American doctor who contracted the Ebola virus while working in the West African country of Liberia last month has recovered and is expected to be released from an Atlanta hospital today.
Alison Geist, a spokeswoman for the aid organization Samaritan's Purse, told The Associated Press that she did not know the exact time Dr. Kent Brantly would be released but confirmed it would happen Thursday.
Brantly was scheduled to appear at a press conference at Emory University Hospital at 11:00 a.m. Eastern Time and make a statement. He was one of two aid workers flown to the U.S. to receive treatment for the virus earlier this month. The hospital said it would discuss the pending discharge of both Brantly and Nancy Writebol, though there was no immediate information on the latter's condition.
A statement from Franklin Graham, president of Samaritan's Purse, who one of the aid workers had been working for, said that Brantly had recovered.
"Today I join all of our Samaritan's Purse team around the world in giving thanks to God as we celebrate Dr. Kent Brantly's recovery from Ebola and release from the hospital," the statement read. "Over the past few weeks I have marveled at Dr. Brantly's courageous spirit as he has fought this horrible virus with the help of the highly competent and caring staff at Emory University Hospital. His faithfulness to God and compassion for the people of Africa have been an example to us all."
Brantly and Writebol have have been getting treatment for the deadly disease in an isolation unit at the hospital. The two were infected while working at a missionary clinic outside Liberia's capital.
The Ebola outbreak has killed 1,350 people and counting across West Africa.
Ebola is only spread through direct contact with the bodily fluids of sick people experiencing symptoms.
The Associated Press contributed to this report.