8-Limbed Boy Needs Surgery to Remove Parasitic Twin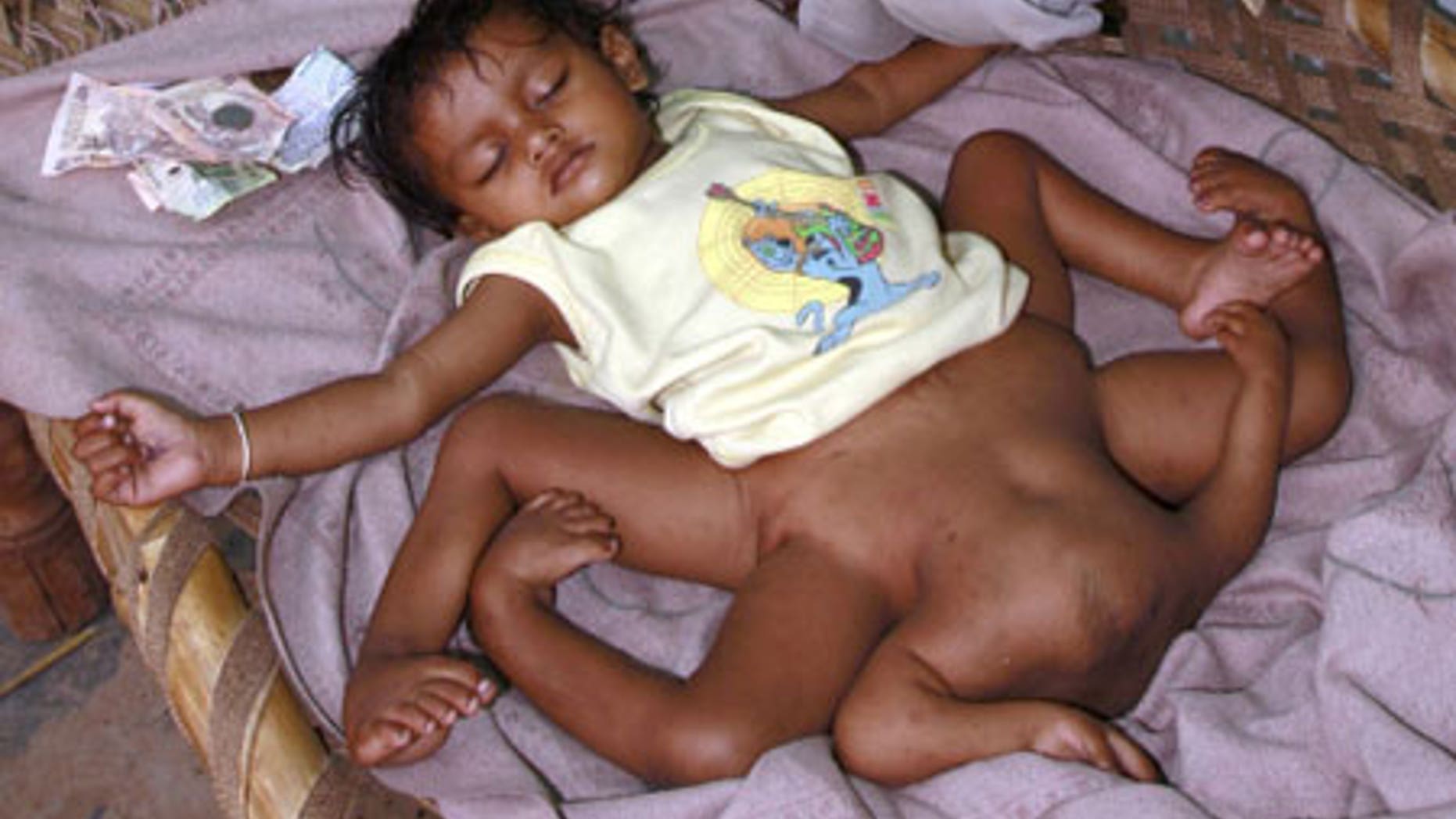 In 2005, Lakshmi Tatma made headlines around the world after being born with a parasitic twin attached to her hip leaving her with eight limbs. Now, five years later, another child from Bihar, India is dealing with a very similar health condition, the U.K.'s Daily Telegraph is reporting.
Seven-year-old Deepak Paswaan was born with the arms, legs and buttocks of a parasitic twin protruding from his chest. To date, no X–rays or scans have been taken, so the internal effects of his condition are not known at this time.
"This is similar to the way that conjoined twins form," Dr. Manny Alvarez, managing editor of health at FoxNews.com and Chairman of the Department of Obstetrics and Gynecology and Reproductive Science at Hackensack University Medical Center in New Jersey said. "With conjoined twins, you have two living fetuses that are attached either by the head, abdomen or legs. In this particular case, it's the same principle, except there is a malformation of one of those twins. As a result, the twin never fully develops and is then partially encased in the living fetus."
Deepak's parents are searching for a doctor, even though they cannot afford the expensive medical care needed to remove the twin.
"Every day I wish for a good doctor who could cure Deepak so he can live a normal life," his father said.
Alvarez said even if the boy is fortunate enough to find a doctor to remove the twin, the surgery is going to be extremely challenging.
"The problem is, even though this parasitic twin is partially developed, it has blood perfusion. In other words, this little boy's body is feeding blood into these extra partial limbs of the other twin," he said. "This is a surgery that would involve a lot of vascular structures, which may make it either impossible or extremely challenging to do. Not all parasitic twins can be successfully removed."
To determine if the surgery is possible at all, Alvarez said Deepak would have to undergo a series of X-rays and CT Scans to see exactly what the vascular connections are to the tissue of the parasitic twin, and exactly what organs this little boy shares with it.
Still, there is hope for Deepak, especially in the wake of the successful surgery of Lakshmi.
In 2007, her parasitic twin was removed in a pioneering operation. Even though the 4-year-old will need more surgeries as she grows, the youngster is doing incredibly well, even playing sports in school.
Click here read more from the Telegraph.