10-year-old boy in wheelchair becomes cop for a day
A boy from Texas with an extremely rare disorder was granted his lifelong dream. Dakin Lovelace, who is bound to a wheelchair, became the newest junior officer of the Fort Worth Police Department.
"I wanted to be a cop since I was really little," the 10-year-old told KDFW.
MASSACHUSETTS GIRL MAY BE AMONG FIRST-EVER TO RECEIVE GENE THERAPY FOR RARE DISEASE AFTER PARENTS PUSH FOR CURE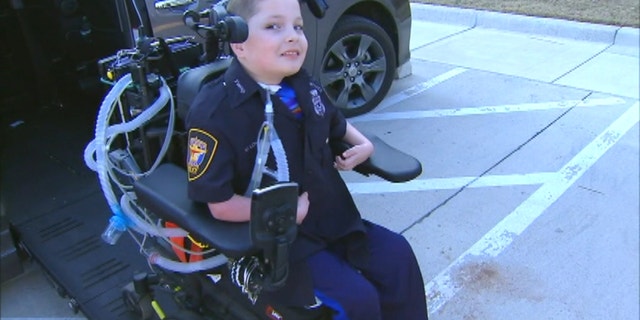 Spinal Muscular Atrophy with Respiratory Distress (SMARD) is an incurable genetic disease that affects muscle control, breathing and causes muscle deformity. Some children with the disease die before their first birthday, according to the National Institute of Health.
A group of police officers and family gathered to recognize Dakin for his bravery.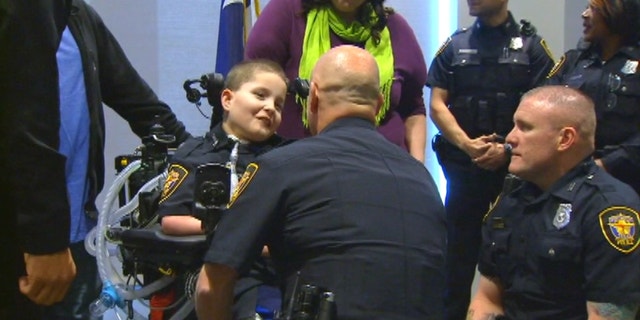 During the proclamation ceremony, Fort Worth Police Assistant Chief Ed Kraus read, "Dakin has shown true courage, strength and heart beyond his years and has demonstrated that he is a true hero."
4 OHIO SIBLINGS HAVE RARE, DEBILITATING DISORDER THAT HAS NO CURE
The boy had his heart set on the Fort Worth squad and travelled three hours from Houston with his parents for the event.
"People see policing as one side. This is really what policing is all about: making a difference in the community," said Sgt. Chris Britt.
"It's not about arresting people and things like that. It's about reaching out to somebody like that, you know, somebody who might not have normally had this opportunity," Britt said.