Woman uses $400 hair dryer to make roasted chicken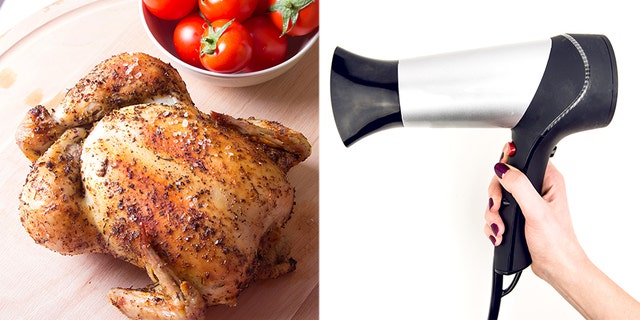 A food writer has wowed Twitter with her unusual – and expensive – approach to achieving perfectly crispy skin on a roast chicken.
Helen Rosner, a food writer for The New Yorker, uploaded a photo of herself using a $400 Dyson Supersonic Hair Dryer to blow dry a whole chicken.
"Happy snow day, I am using an astonishingly expensive hair dryer to remove all moisture from a chicken to maximize skin crispiness when I roast it," Rosner writes in the post, which has earned over 1,600 likes and 100 comments.
WOMAN'S MOVIE-THEATER SNACK HACK GOES VIRAL ON TWITTER
Rosner went on to share the recipe for her roasted chicken, but fans were most interested in the first stage of her process – the hair dryer.
"For crisp skin, whether you're cooking a chicken or a duck or a fish, you want there to be as little water moisture as possible, which is sped up by a fan. And that's all a hair-dryer really is — a hand-held fan that you can pretty easily bring into the kitchen," she said to Allure, likening the process to Food Network star Alton Brown using a box fan to make beef jerky.
Rosner is not the first to use a hair dryer to rid excess moisture on meat before cooking – she credits cookbook author Marcella Hazan as "the progenitor of the idea" in the 1970s – but she probably is the first to use a luxury hair tool for the process.
Fortunately, a $400 dryer is not necessary to get crispy chicken skin.
FOLLOW US ON FACEBOOK FOR MORE FOX LIFESTYLE NEWS
"You could use any hair dryer on the chicken — even one that doesn't have a 'cool' setting, though it'll smell a little chickeny while you heat-style it," she explains to Allure.
But that doesn't mean Rosner will be swapping her Dyson in for anything else.
"The fact that it's way, way, way better at drying my hair than any other dryer I've tried is just a bonus. The fact that it helps my roast chicken be so great is a double bonus," she said.