Virginia school cafeteria manager uses bananas to empower kids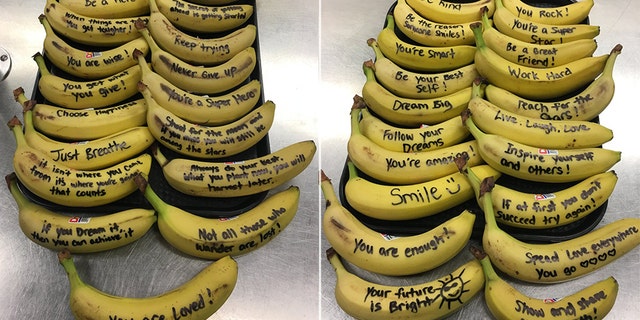 A cafeteria manager is changing her students' lives for the better at an elementary school in Virginia Beach, Va., writing empowering and uplifting messages on bananas being offered in the school cafeteria.
Stacey Truman has held the position at Kingston Elementary School for nine years, but recently decided to start making the "talking bananas," as the kids call them, to encourage the students.
PETA TO PUT UP NEW 'WHY SO CRABBY' SIGN IN MARYLAND, CONTINUING BILLBOARD BATTLE
"I do it for my kids at home, so why not bring it here and do it for them because they are like my kids," Truman said to WTKR.
The bananas have several motivational messages like "Never give up," "You are wise!" and "Keep trying," among others.
Truman told WTKR, "Most of [the messages] I came up with myself because I would just think about what you would tell a kid or what you would want to hear yourself."
RESTAURANT, NEIGHBOR PROMINENTLY DISPLAY NOTES COMPLAINING ABOUT THE OTHER
Truman's sweet gesture did not just have an impact on the children, however. School principal Sharon Shewbridge saw the bananas and posted a picture of the fruit on Twitter, where it started receiving viral attention.
"[Truman]'s almost embarrassed about all the attention," Shewbridge tells Yahoo Lifestyle. "She just wanted it to be anonymous. But I said this is so simple and amazing — and it has such an impact on kids."
FOLLOW US ON FACEBOOK FOR MORE FOX LIFESTYLE NEWS
"It's simple, but these words can help them be more courageous and realize that they are good enough," Shewbridge added to Yahoo. "I hope that other schools see it's an easy way to get a kind message to kids."