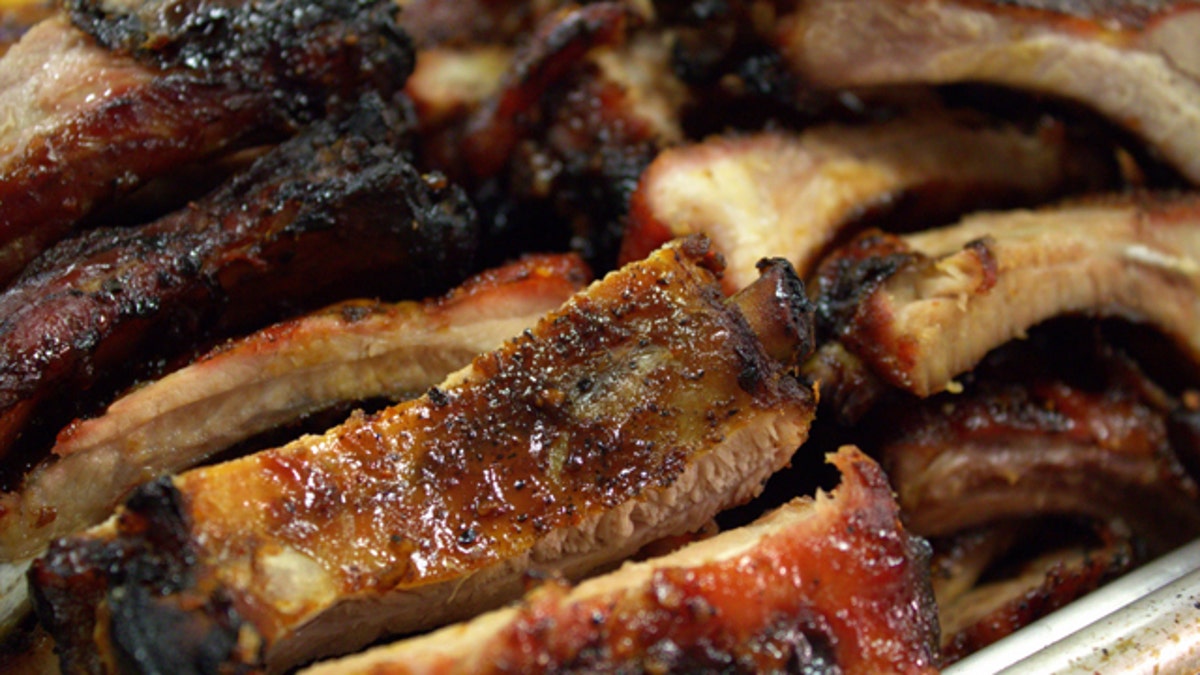 Winner: Tony's Puleihu BBQ Sauce
Tony, Yuen, Spokane Fire Station #13, Spokane, WA
Ingredients:
2 cups Tree Top Apple Cider
1/2 cup light brown sugar
1/2 cup molasses
1/2 cup soy sauce
1/4 cup ketchup
1/4 cup apple cider vinegar
4 garlic cloves minced
2 tablespoon grated fresh ginger
1 teaspoon Asian hot chili paste (Sriracha, Sambal Oelek, etc.); adjust for spiciness
Directions:
Combine all ingredients in a saucepan and bring to boil. Lower heat to slow simmer for 20 minutes, stirring frequently to ensure all ingredients blend well. Taste and adjust hot sauce to preference. Remove from heat and cool. In this state, sauce may be used as a marinade. Continue to simmer to reduce sauce to half and thicken to become a glaze or finished topping sauce. Makes about 2 cups glaze finish sauce.
Top Ten Finalist - The West End Truck Slow Cooked Ribs aka H & L Ribs
Kevin Thornton, Setauket Fire Department Hook Ladder Co. #1, Setauket, NY
Ingredients:
Baby back ribs (two full slabs)
2 cups Tree Top Natural Apple Sauce
1/4 cup Extra Light Olive Oil
1/2 cup Sazon seasoning
2 tablespoons honey
1 tablespoon Dijon mustard
5 cloves garlic, finely chopped
2 tablespoons sea salt
2 tablespoons Tabasco
1 pint Guinness Stout and 1 pint Bass Ale, combined (half of the combination is for the ribs and the other half is for "medicinal" purposes. Just joking.)
Directions
Fire (no pun intended) up your grill and get it up to 250°F. Place ribs meat side up (arch down) in a baking pan. Pour in beer. Do not pour in too much or you can over steam your ribs. Cover pan as tightly as possible in foil. Bake for about 3 hours. Remove from grill and move to a platter and dump remaining liquid. Coat ribs with your leftover sauce. Place ribs back on grill (medium heat) and uncovered for approximately 5 minutes until lightly browned and firm. Remove the ribs from the BBQ and let them rest for approximately 10 minutes.
Top Ten Finisher - Carolina Apple Smoked Pork Sandwiches (Serves 12)
Bruce Watts, East Litchfield Volunteer Fire Company, East Litchfield, CT
Ingredients:
1 boneless pork roast (3-5 lbs)
1 Tbsp chili powder
1 tsp brown sugar crystals
1 tsp granulated sugar
1 tsp ground black pepper
1 tsp cumin
1 tsp salt
1 tsp paprika
1 cup Tree Top applesauce
2 Tbsp crushed fresh garlic
1 package cheap white rolls
Directions:
Mix spices and sugars and rub onto roast. Let stand for 30 minutes. Mix applesauce and garlic and spoon over roast. Smoke in 180-220°F smoker for 4-6 hours. Remove from smoker and let meat rest for 15 minutes. Thinly slice and serve on large cheap white roll with apple juice slaw.