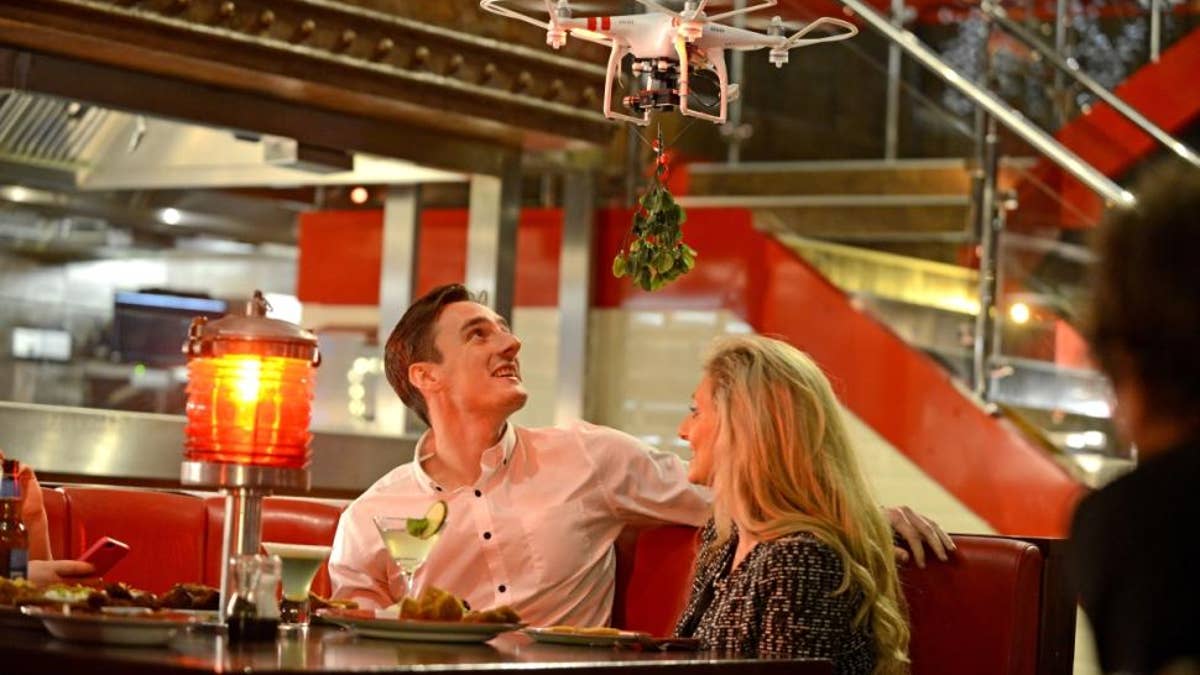 A new restaurant promotion aimed to bring holiday cheer to diners got off to a bad start when a drone decked out in mistletoe spun out of control and hit a photographer.
On Dec. 4, Georgine Benvenuto, a photographer for the Brooklyn Daily, was capturing the launch of TGI Friday's "Mobile Mistletoe"—a remote operated drone carrying mistletoe that hovers over restaurant patrons. If the couple kisses, they are awarded "special gift cards to continue their holiday merriment," according to the chain.
But things went horribly wrong as Benvenuto was snapping a picture of a kissing couple in a Brooklyn outpost of the restaurant. She claims the drone's operator, David Quiones, lost control of mini machine and the blades started spinning out of control right in front of her face.
"It literally chipped off a tip of my nose," Benvenuto told The Brooklyn Daily. "It took off part of my nose and cut me here, right under my chin."
She called the accident horrific.
"I have covered active crime scenes, terrorist strikes, etc. and survived them all, unscathed. "The most dangerous assignment to date was covering this drone story," Benvenuto wrote on her personal Facebook page.
She said fortunately, the drone missed her eyes ,which would have been detrimental to her career as a photographer.
Quiones allegedly tried to tell Benvenuto that the incident wasn't that big of a deal and nothing like this "had never happened before."
"I was told it would not cut me. Well, parents beware, this thing cut off skin on my nose, cut my chin, and got caught in my hair, spinning & spinning. Not a toy I would buy for a child this year or any year," Benvenuto continued on her post.
Since the incident Frances Karkosak, a spokeswoman for the restaurant, has reiterated that consumers are not allowed to touch the drone but the restaurant is apologetic that the "isolated incident occurred."
Benvenuto says she will not take legal action against TGI Friday's but urged them to consider taking better precaution with operators. The chain has not announced plans to cancel the Mobile Mistletoe promotion.