Soul Food Leaving Chicago With Black Population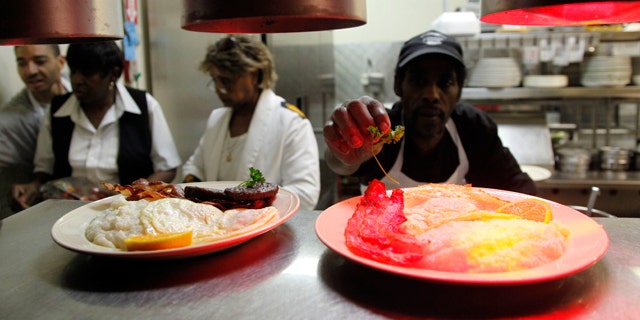 CHICAGO – Duct tape covers a large crack in the premier booth at Hard Time Josephine's Cooking, where waitresses call you "sweetie" and customers come for the steaming shrimp bisque and homemade peach cobbler that leaves a hint of cinnamon on the tongue.
Not long ago, such an eyesore at one of Chicago's top soul food restaurants would have been unthinkable. Despite the name, times were good: Chicago was a bustling center of black America and people in the neighborhoods savored southern-style cooking.
But in the past 10 years as the city lost more than 17 percent of its black population, one soul food place after another has closed and the surviving few like Josephine's are struggling. A tradition is dying in a place where southern cooking came north in the major social migration after World War II.
"People used to stand outside the door to get in," recalled Josephine Wade, who has operated the restaurant in the Chatham neighborhood for more than two decades. "It's nowhere near like that. Each year it's very, very difficult to be in business."
The decline is a symptom of the changing identity of a city where blacks have been the largest racial group for decades, making up more than one-third of the population.
Now, a visit to one of the traditional spots like Josephine's seems like a step back into the past. Pictures of the Rev. Martin Luther King; the city's first black mayor, Harold Washington; and soul diva Patti LaBelle cover the walls, along with pictures of Josephine herself, an Arkansas native and onetime maid who wound up running restaurants all over the city's South Side.
The sweet aroma of fresh waffles and salty fried chicken — family recipes passed down through the generations — hang in the air. No soda is served, only sweet tea.
"The fried chicken is succulent. It's fresh, got that southern flavor," said Eve Lowe, 59, who comes every Sunday for the brunch buffet of chicken and dumplings, greens and lemon pound cake.
"It's really a lot more than food," said Audria Huntington, 81, who frequents Josephine's for the liver and onions or chicken and waffles. "Basically, you have the roots of your culture in the restaurant."
But places like Josephine's — located in a sagging building off a busy commercial stretch— may number only a half dozen now, having gradually given way to fast food, healthy food and imports like Cajun cuisine, along with the pressures of a bad economy. Also, more middle-class residents are moving to the suburbs, some retirees are heading "home" to the South and others are pursuing the economic lures of the Sunbelt, reversing the historic wave that brought southern blacks pouring into Chicago for jobs in industry.
The Chatham neighborhood on the South Side shows the change. The rows of once-classy homes in the black middle-class neighborhood, including a brick cottage that was home to gospel legend Mahalia Jackson, are now pocked with boarded-up windows and vacant properties. Other traditionally black neighborhoods have suffered even more as the population loss and foreclosure crisis have left behind weed-filled lots.
One of the most popular soul food restaurants in town, Army & Lou's, closed this year.
"When you lose your base, your foundation, the next generation isn't there to keep it going," said former owner Harry Fleming. "It's losing a real strong sense of heritage."
Army & Lou's, which opened in 1945, was famous both for its juicy fried chicken and its role in politics. Washington was a regular in the 1980s. It wasn't unusual to see the Rev. Jesse Jackson, his son, Rep. Jesse Jackson Jr., or Rep. Danny Davis eating there.
Earlier this year, the South Side lost Izola's, known for its seafood. The year before it was Edna's, a West Side establishment patronized by King. Also gone are the longtime Gladys' Luncheonette, a popular musicians' hangout with great banana pie, and Soul Queen.
Other cities have great soul food but it's hard to imagine Chicago, with its special role in black culture, without its thriving soul food scene, said writer Adrian Miller, who is traveling the country researching a book about soul food. In a recent visit to the city, "There was a key element missing," he said. "There was a hole in my soul."
Increasing health consciousness has also played a role. Soul food, often fried and made with full-fat ingredients, has gotten a bad rap in recent years.
Also, fewer soul food places means distributors no longer make deliveries — so the cost of supplies has gone up. At Josephine's, Wade keeps the place going by patching cracks with duct tape, disguising holes in tablecloths and washing the linen herself.
She can't do much to help the sagging building; there aren't enough customers.
"It's just not here," she said.