Mom claims IHOP discriminated against her 3-year-old son who was born without arms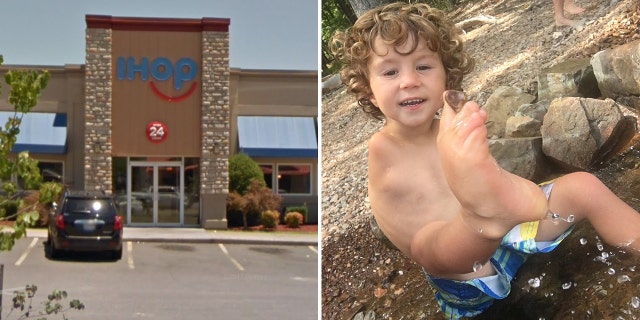 An Arkansas woman claims the manager at an IHOP discriminated against her 3-year-old son who was born without arms.
Alexis Bancroft said she and her family ended up leaving the pancake restaurant before they ever got their food Saturday morning because of the way they were treated.
3-YEAR-OLD GIRL DESCRIBES 'TERRIFYING' IMAGINARY 'MUM'; TWITTER CONVINCED SHE HAS A GHOST
Bancroft, whose son William learned to eat with his feet, said the general manager of the restaurant told her the boy couldn't sit on the table and touch the syrup containers.
"All he wanted was some pancakes," Bancroft told KARK.
She said she told the manager she took William to the bathroom to wash his feet when they first arrived. "I asked her, 'Do you ask all of your customers if they washed their hands before they touch them [syrup containers]?'" Bancroft said.
"She was the one who discriminated against my son for having a physical disability," she said. It was then that the family chose to leave the restaurant without paying for their drinks.
Bancroft later posted about the incident on Facebook, which quickly went viral.
"William is a beautiful little boy and he's fortunate to have such a wonderful mom advocating for him," one person wrote on Bancroft's page.
"This was so wrong and for William to feel like he did something wrong and be worried about eating on a table again," someone else commented.
Others are calling for a boycott of the restaurant in support of William.
FOLLOW US ON FACEBOOK FOR MORE FOX LIFESTYLE NEWS
IHOP President Darren Rebelez released the following statement on the matter: "IHOP and our franchisees do not tolerate actions that are or allude to discrimination of any type. The franchisee at this location has been in touch with the guest to express his sincerest apologies and will continue to be in communication with her to resolve the issue.
"Additionally, the franchise will also retrain his team members to ensure IHOP's level of service, particularly regarding guests with disabilities, is provided to all. For 60 years, IHOP and our franchisees have strived to create a warm and hospitable dining experience for all guests, and this incident is not reflective of that ongoing commitment."
Bancroft, however, told Fox News that IHOP has not reached out to her since she's shared her story.