'Jeopardy!' contestant hoped to use $100K prize money for lifetime supply of Taco Bell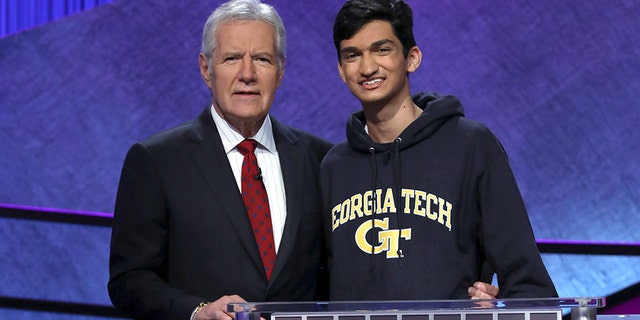 NEWYou can now listen to Fox News articles!
"I'll take Taco Bell for $100,000," one "Jeopardy!" contestant was hoping to say.
Rishab Jain, an 18-year-old contestant on the television game show's college tournament, said if he won the grand prize money of $100,000 in the championship round, he would use the cash to buy "a lifetime supply of Taco Bell," specifically Mexican Pizzas and Crunchwrap Supremes.
Jain said he initially wasn't sure what to say when "Jeopardy!" asked him what he would do with the prize money, so he asked his mom.
"She said, 'Well, you eat Taco Bell pretty often' and that's really all she had to say," Jain told Fox News.
A vegetarian, Jain said Taco Bell has always been good about swapping beans for meat in his order. In fact, employees at the restaurant on Georgia Tech's campus already know when they see him coming that he's going to want a vegetarian meal.
"It's changed my life partially. I found myself going every week," he said, although he admitted he has friends who are more "hardcore" about their dedication to Taco Bell. "It's good to have that sort of food on campus because it's something I can relate to."
Unfortunately for Jain, he didn't advance to the final round. The first-year materials science and engineering student was defeated after making it to the semi-finals.
But Jain's luck hasn't completely run out.
Taco Bell is sending Jain $500-worth of Taco Bell gift cards —enough "to get him through college," a representative confirmed to Fox News.
Jain left the competition with a prize of $10,000. While he said he thinks he'll use some of the money for his college tuition, he hopes to also use it to "Live Mas," as the Taco Bell slogan goes, and travel with his family and friends.
"Experiences with people matter just as much, if not more" than money, he said.
As the Atlanta Journal-Constitution reported, Jain is also taking online trolls head on. Jain told the newspaper that after looking up his name on Twitter to see what people were saying about him, he decided to retweet the "funniest criticisms" of himself and his appearance on "Jeopardy!."
Jain said he was grateful for the opportunity to be on the show as he's reconnected with old friends who saw his appearance. He's made new friends in the other contestants as well.
"As the competition progressed on and everyone played their games, we didn't see it as a cutthroat competition, but more like a bunch of friends playing this world-renowned game show," Jain said. "I'm pretty happy that I get to stay friends with these people."