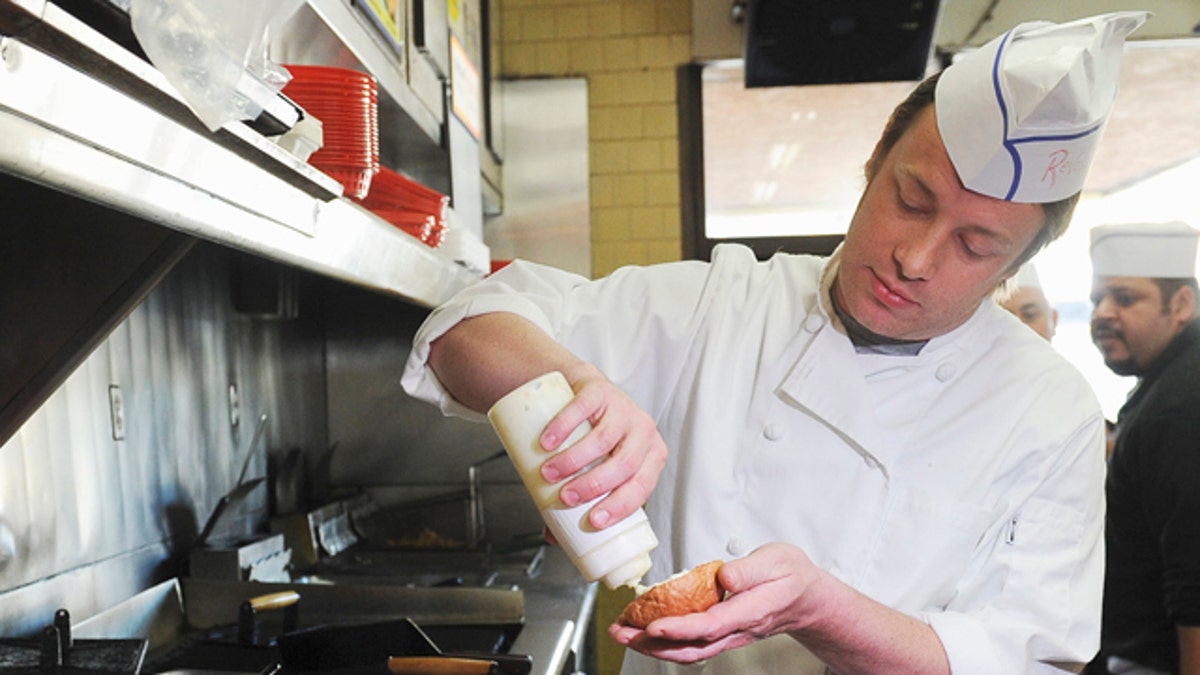 NEW YORK – Turns out Jamie Oliver's revolution won't be televised — at least not from Los Angeles school kitchens.
The second season of the crusading Brit's healthy eating reality show, "Jamie Oliver's Food Revolution," started poorly when the city school district barred his cameras, a serious snag for a program that focuses on school lunches. The Los Angeles Unified School District, which previously had a bad experience with an unrelated reality show, more or less treated Oliver as if he was a cast member of "Jersey Shore."
"I think we swam into a minefield," Oliver told The Associated Press this week. "I'm really disappointed that I couldn't get in there at all. I'm disappointed that as public servants, they feel they have the right to not be transparent."
But the trouble didn't end with school officials. There are signs in the first episode (airing on ABC on Tuesday, April 12) that the people of Los Angeles — the city where Fatburger was founded — aren't fully embracing the revolution either. Only a modest crowd comes out to watch Oliver fill a school bus with a week's worth of the sugar added to the flavored milk served in L.A. schools (actually 57 tons of white sand).
Oliver dejectedly tells the camera: "This is cold-shoulder stuff."
So did L.A. prove too much for the chef? Hardly.
Oliver remains focused on the multi-national healthy food campaign that has consumed him for more than five years. During an interview shoe-horned between a late-arriving flight from London and an appearance on David Letterman's show, the father of four was passionate and ticked off as he talked about the lousy food fed to too many school children and politicians too short-sighted to tackle the problem.
"You only have to affect 2 percent of the population to make radical change," Oliver said, "and that's what we're talking about, really."
In a TV landscape cluttered with sudden-death cook-offs and flamboyant chefs, Oliver's latest show has an unusual recipe for success — asking strangers to do what's good for them.
For the second season of "Food Revolution," that entails Oliver jousting with school bureaucrats, trying to help parents and kids make better choices and lobbying for healthier food at a local hamburger joint. It's not easy. In one scene, the fast-food operator goes wide-eyed when Oliver suggests he make burgers with grass-fed, black angus beef that costs $1.30 per 6-ounce patty (Oliver said he eventually was able to get the price down to 65 cents).
Oliver had better luck in Huntington, W. Va., where he first took his healthy food crusade. At least there he was allowed into the schools. But there were bumpy moments, too, as he tangled with reluctant school officials and kids who preferred pizza and chicken nuggets to his fresh-made coleslaw.
A Huntington school district spokesman later said that though the show was an ordeal, the process was worth it. Oliver calls his first U.S. stop in the food revolution a success.
"The dream was to do what we did. And eventually we pulled off everything we wanted to pull off," he said. "In L.A., you know, it's a completely different kettle of fish. I was banned from every school before I even touched down on the airport."
Oliver says all he wanted to do was see where the food for 650,000 school children came from. Oliver briefly found his way into a preparatory high school run by a nonprofit under contract with L.A. schools, but was booted once the district found out. Barred from schools, he asked parents and kids to bring school food samples to him. Unwrapping the plastic from a breakfast pastry, Oliver doesn't try to hide his disdain: "We're not happy, No?"
Oliver's L.A. experience stands in contrast to his initial campaign to clean up school lunches in his home country, where his allies included then-Prime Minister Tony Blair. Oliver suggests the fight was easier there in part because the British media is more aggressive in shining a light on the dark side of the food industry. It seemed easier to get a critical mass of British parents fed up.
As for Los Angeles, Oliver acknowledges he also was less effective in the largely Hispanic areas he worked because he does not speak Spanish. He said he had a harder time convincing parents that they could make a change.
Still, the chef plans to go back to Los Angeles later this month. He wants to check in with families he worked with. Also, a new school superintendent starts later this month and Oliver, ever the optimist, wants to meet with him. Maybe they can start a dialogue, or maybe something more.
"I'd be lying if I told you there was a big master plan," he said.