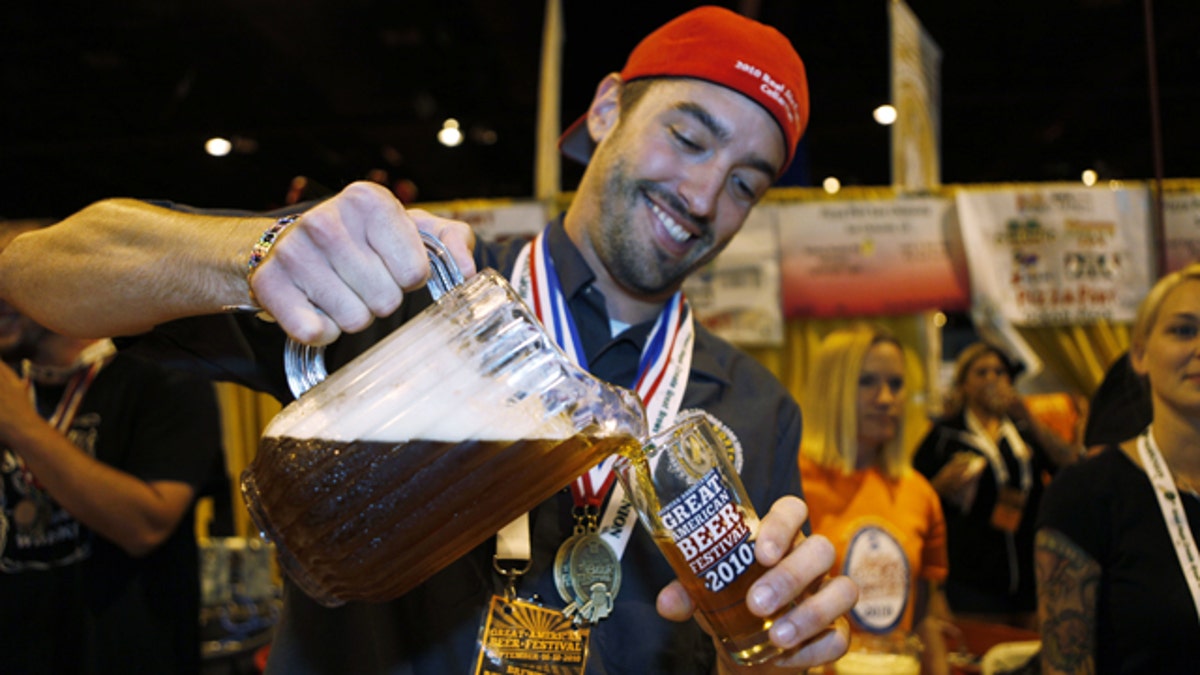 DENVER – The quest for top honors in American craft brewing has come here, to a hotel ballroom marked "restricted access."
More than 140 bottles of American-style India Pale Ale sit stacked in donated Bud Light and King Cobra boxes, labors of hop love brewed by a cast of characters that includes an organic chemist, a man with a grim reaper tattoo and a guy who wants to make a beer that tastes like orange sherbet mixed with hot fudge ice cream.
Over the next nine hours, beer identified only by number will get sniffed, scrutinized, swallowed and spit out by judges at the 29th annual Great American Beer Festival, the world's largest beer competition.
Only one American-style IPA will win gold, making it the craft beer equivalent of winning "American Idol." Since 2001, no other contest category has been as competitive. "Every brewer wants this one," as one judge put it.
It's a simple case of supply and demand: the IPA's popularity is soaring among brewers and drinkers alike, a testament to a maturing American beer palate and this country's rich supply of hops in the Pacific Northwest.
"As you go through the journey of beer education and appreciation, hops and big hoppy character are something most people eventually gravitate toward," said Greg Koch, CEO of Stone Brewing Co. in Escondido, Calif., a pioneer of the style. "They are just extraordinarily satisfying on the palate. Words almost fail for me. I feel like waxing poetic, and then my eyes sort of get soft. It's a romantic subject for me."
Consumers are showing the love. IPAs, distinguished by strong hop character and higher alcohol content than your standard 5.0 percent alcohol per volume beer, surpassed amber ales and trailed only pale ales this year among top-selling craft brewing styles at supermarkets, according to Chicago-based market research firm Symphony IRI Group. Eight of the top 15-selling new craft brands in 2010 are IPAs.
Vinnie Cilurzo doesn't need market research to tell him IPAs are hot. He can't brew enough Pliny the Elder.
The co-owner of Russian River Brewing Co. in Santa Rosa, Calif., Cilurzo compares beer drinkers stepping up to IPA to wine drinkers starting with white zinfandel and progressing to rich, dark reds.
"The craft beer consumer's palate is becoming more educated, it's becoming more sophisticated, it's growing up," he said. "And because of that, IPAs are becoming more popular."
Cilurzo brews a handful of IPAs, starting at 6.1 percent alcohol and climbing to 10.5 percent. But beer aficionados know him best for Pliny the Elder, which is technically not an IPA but a double IPA, sort of an IPA on steroids.
Named for a Roman naturalist who created the botanical name for hops, Pliny is bone dry, heavy with pine-like hops, on the low end of the double IPA alcohol spectrum at 8 percent and a phenomenon Cilurzo never saw coming.
It also was the double IPA gold medal winner at the 2005 Great American Beer Festival.
____
The American-style IPA category is so crowded this year, competition manager Chris Swersey decides to spread the 142 entries across seven tables, with six or seven judges seated at each one, for the first round of judging.
Stewards carry in the beer on trays, like waiters. Each plastic cup has a number and an ounce and a half of beer.
The judges are experienced home brewers, brewery brewers and beer educators, with the occasional commercial airline pilot or engineer thrown in — who, of course, are also home brewers.
Their assignment in bestowing a gold medal is not to pick the best tasting beer, but the best one that accurately exemplifies the specified style — a world-class beer with a proper balance of taste, aroma and appearance.
In the case of American-style IPA, that means intense hop bitterness, flavor and aroma; fruity, floral and citrus-like hop character; pale gold to deep copper color; medium maltiness; and alcohol content between 6 and 7.5 percent.
"It's not like a track meet," Swersey said. "A lot of this is subjective. If all palates were the same, we'd all be drinking the same beer. This is a diverse group of judges that reflect the diversity of consumers."
By late afternoon, two rounds of judging had winnowed the pool of American-style IPAs to a dozen.
The task of seeing things through falls to Steve Parkes, a British transplant to the Northeast and American brewing scene veteran who trains craft brewers.
Parkes is the "table captain" on the final round of IPA judging. By that time, he already had judged a round of specialty beers — beers with molasses, agave nectar, coconut and such — and an early round of IPAs.
He figures that by day's end, he will have drunk 46 beers, albeit less than an ounce of each on average. In early rounds, judges toss a lot of beer. And keeping judges from getting inebriated is in everyone's best interest.
Sitting in front of Parkes is what he calls perhaps the finest selection of beers he's ever tasted.
At this point, it's the little things that eliminate contenders, he said. A random off flavor thrown up by fermentation, or malt character that doesn't give the backbone needed to support the hops, or dull water chemistry.
Parkes said judges are mindful to not just honor the most extreme beers, but those with balance, nuance and freshness. Put another way, something you'd want to drink.
The back-to-back gold medal winner in 2008 and 2009 — Union Jack IPA from Firestone Walker Brewing Co. in Paso Robles, Calif. — exemplifies that, with hints of citrus and pineapple and a clean finish.
"We're not trying to make a beer where someone curls their lips and goes, 'Yeah, that's good,'" said brewmaster Matthew Brynildson, who worked as a hop chemist before becoming a brewer. "You want see someone take a second sip."
This year, Parkes said the competition was so close, the winning beer was not superior. It was only a little better.
____
A walk through the giant Great American Beer Festival hall shows a beer style hardly recognizable from its meek predecessor shipped across the ocean to parched British soldiers stationed in India in the 17th century.
The American-style IPA is really that — an American reinvention of a style that had fallen out of favor.
Experimentation is the norm these days. Cigar City Brewing in Tampa, Fla., ages IPA on cedar to produce white grapefruit notes. The Alchemist Pub and Brewery in Waterbury, Vt., brews a double IPA with Curacao orange peel. Stone Brewing makes a black IPA with dark malts inspired co-owner Koch's orange sherbet and hot fudge ice cream fixation.
When the time comes to reveal this year's medal winners, brewers and beer drinkers gather before a stage in the back corner of the convention hall. Cheers and cowbells greet each winner.
After an hour, it is time to crown the champion in category No. 47, the American-style IPA.
It's "Pseudo" IPA from Pizza Port San Clemente in Orange County, Calif.
Head brewer Noah Regnery, 27, wearing flip flops and a tattoo on his left arm of a grim reaper holding a dubbel glass and a vine of hops creeping up from behind, accepts the honor.
Moments later, Regnery learns he also has won gold in the double IPA category. He makes his way back to a mosh pit of brewers, exchanging high fives and hugs, his hand shaking as he texts an out-of-town friend.
The champion IPA was a happy accident, an improvisation after Regnery discovered he didn't have the ingredients to brew another IPA. The result, Regnery said, was a beer with a big citrusy hop aroma and a clean finish, at a drinkable 6.8 percent alcohol level.
He said he named it "Pseudo" as a joke, after a brewpub regular told a bartender he didn't think Regnery was a "real" brewer because he inherited some of the pub's old recipes. Now, with two of the most coveted medals in American brewing hanging from his neck, Regnery can be rightly considered the king of craft brewing, at least for a day.