French chef from Michelin-starred restaurant under fire after anti-Muslim rant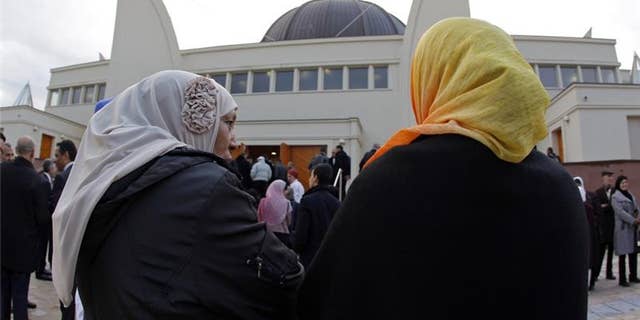 The owner of a Michelin-starred restaurant is facing an investigation for racial discrimination after refusing to serve two Muslim women wearing hijabs at his famed establishment over the weekend.
In a video released Sunday, two women seated at Le Cenacle restaurant, located in the north-eastern suburbs of Paris, appear to be subjected to an anti-Islamic tirade.
"Terrorists are Muslims and all Muslims are terrorists," he said. "This sentence says it all," he continued. "Analyze it."
When the duo objected to his claims, he fought back. "This is a secular country and I have a right to an opinion. People like you, I don't want them here," he said. "You are imposing yourself here. Get out."
In response, the women, dressed in traditional black veils, said that they did "not wish to be serviced by a racist." The incident reportedly occurred on Saturday and many vented their shock and frustration online.
As the video began making Internet rounds, Laurence Rossignol, the French minister for families, children and women's rights said she had ordered an investigation and called for sanctions against the "intolerable behavior" of the restaurant's boss, reports France 24. The mayor of Tremblay-en-France, François Asensi, condemned the "hateful and stigmatizing speech recorded in the video," and said such treatment is punishable by law.
But later that day, Jean-Baptiste Devreux the lauded restaurant's owner retracted his comments. He apologized to a group of people and members of the local Muslim community who had gathered outside the restaurant demanding an explanation. He said one of his friends had been killed in the attack on the Bataclan concert hall in November 2015.
"I spoke out of turn and I apologize, I have a friend who died in the Bataclan attacks and wrongly mixed everything up. I do not truly believe the things I said, my comments did not reflect what I really think," Devreux told local media late Sunday.
The Committee Against Islamophobia in France (CCIF), has since reached out to the two women, vowing to provide "emotional and legal support."
The encounter comes on the heels of ongoing discussions about Muslim integration in the country and France's interpretation of secular values. Controversy over the issue has been ongoing, as demonstrated by the recent decision from several French towns to ban a full-body swimsuit worn by some Muslim women, known as the burkini, in public.
On Friday, France's highest administrative court, suspended the ban in the Mediterranean town of Villeneuve-Loubet, pending a definitive ruling. The court deemed the ban "seriously and clearly illegal." The French government can't implement an anti-Muslim swimsuit ban across the country, as such a law would be "unconstitutional and ineffective" according to Interior Minister Bernard Cazeneuve.
That's a reflection from the top after President Francois Hollande, along with other politicians, also spoke out last week by warning against the "stigmatization" of Muslims.
Nerves have been frayed in France in recent months, following a series of terror attacks. The recent killing of an 86-year-old priest in a Saint-Etienne-du-Rouvray church was claimed to have been done for ISIS. Last month 86 people were killed and more than 300 injured after a truck rammed into a crowd of spectators watching a Bastille Day fireworks show in Nice. And a series of coordinated ISIS terror attacks last November claimed the lives of 130 people and injured more than 300 in Paris.
Devreux by RFI radio has already been interviewed by police on suspicion of racial discrimination, according to Le Parisien.