Fish and chips shop in Australia sparks heated debate over 'disgusting' 'inappropriate' name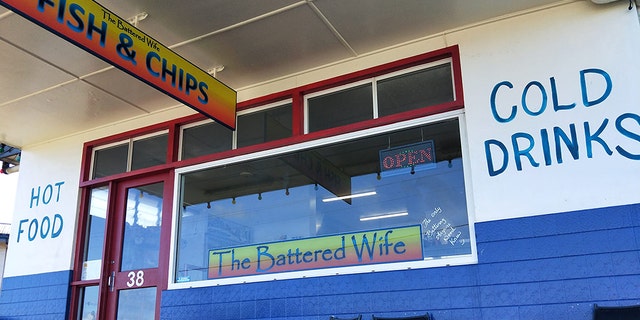 A fish and chips shop in Australia has become the subject of a heated debate, with some calling for a boycott of the popular spot, because of its name.
The Battered Wife, in Innisfail, Queensland, has sparked an intense argument on social media about whether or not the name is appropriate.
The Red Heart Campaign, an organization that raises awareness about domestic violence against women and children in the country, called out the business on Facebook Monday.
"In a year where we have lost 67 women and 18 kids to murder and manslaughter, and while hundreds of thousands of women are being 'battered' by their partners across the country, these clowns thought it appropriate to make a joke out of domestic violence.
AUSTRALIAN COOKING SHOW CONTESTANT LOSES EYESIGHT, FALLS TO GROUND IN THE MIDDLE OF CHALLENGE
"There is nothing funny about domestic violence or violence against women. Please boycott this business — it does not deserve your money," the organization wrote.
Hundreds of people were quick to comment, many of whom agreed with The Red Heart Campaign, calling the business name "disgusting" and "inappropriate," among other things:
"Change the name. None of this is OK."
"Not funny. Not well thought through by the owners. Totally insensitive."
"I'm so ashamed that this is my hometown."
"Very inappropriate."
Others were angry with the organization for attacking a woman-owned business and chimed in to defend the shop and its owner.
"Stuff the boycott. Their fish and chips are bloody great! It's a business name. PC is going a little too far."
"This shop is owned by a woman who has been a victim of domestic violence, and her choice in a business name is a statement, designed to raise awareness. She is 'The Battered Wife.'"
"She is bringing attention to the subject. She's an ex policewoman & DV survivor."
"Shame on you for trying to destroy this poor woman's business, after the crap she has been through."
"As a survivor myself, yes this name is confronting but the owner herself is a survivor of DV too, she has a reason behind the name. I feel as if some people on this page have become bullies themselves towards this woman. If we want to take a stand against violence, bullying and aggression, we can't fight it using all those things we are standing against."
PILOT CREDITS 'GOD' WITH LANDING PLANE SAFELY ON INTERSTATE IN NORTH CAROLINA
The conversation quickly became widespread, with state politicians denouncing the business name, along with its slogan: "The only battering anyone need know," the Brisbane Times reports.
Battered Wife owner Carolyn Kerr addressed the issue on Facebook, writing that "domestic violence is not a joke."
Kerr, a former police officer, said she knew the name was a controversial choice, but she chose it as a way of bringing awareness to a "very real problem" in society, the Times reports.
"Originally it was suggested to me as a little bit of a joke but it seemed like an interesting option with a bit of spark," Kerr told Australia's morning newscast, The Today Show. "Something that could provoke questions, could provoke curiosity, but also a play on words for the shop itself being a fish and chip shop."
FOLLOW US ON FACEBOOK FOR MORE FOX LIFESTYLE NEWS
She also posted about how she's now become the victim of bullies who are coming after her and her business because they don't like its name.
"What I don't understand is why people, who say they are passionately against domestic violence, so freely and unashamedly abuse and attack me on social media because of the name of my shop," she wrote.