Australian cooking show contestant loses eyesight, falls to ground in the middle of challenge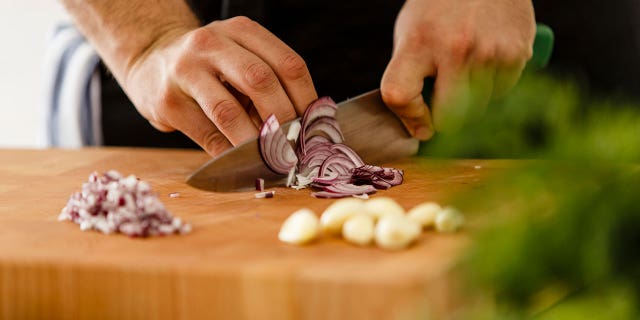 Cameras were rolling during the extraordinary moment a vegan chef claims to have gone blind in the middle of a TV cooking challenge.
Mahla Cameron-Bradley was racing to finish a dish in an episode of the Australian show "Family Food Fight" when she collapsed.
A THIRD OF AMERICANS CLAIM TO BE 'FLEXITARIAN'
The passionate vegan had earlier been in a cooking challenge when she suddenly felt a stabbing pain in her head and cried out to her brother Yoshi.
She said: "My vision's going in one eye. I'm not feeling well, part of my vision has disappeared."
It is reported she had been suffering a migraine.
Stricken and confused, Mahla struggled to continue with the challenge and sunk to the floor in floods of tears, screaming: "My left vision is gone."
Fellow contestant Ria Samedi then rushes to her aid before shouting, "She lost her eyesight."
MAGAZINE EDITOR RESIGNS AFTER 'KILLING VEGANS' COMMENT
Despite the medical emergency, Mahla pulled through and managed to plate up a meal for judges Matt Moran, Anna Polyviou and Tom Parker Bowles who is the son of Prince Charles's wife, Camilla.
Citing health reasons, Mahla has decided to leave the show.
"I think it's just best for my health and it's best for everyone here if we just take a step back now," she said.
"I don't want to see any other contestants get eliminated and then we have to pull out at a later time."
FOLLOW US ON FACEBOOK FOR MORE FOX LIFESTYLE NEWS
This article originally appeared on The Sun. Read more content from The Sun here.