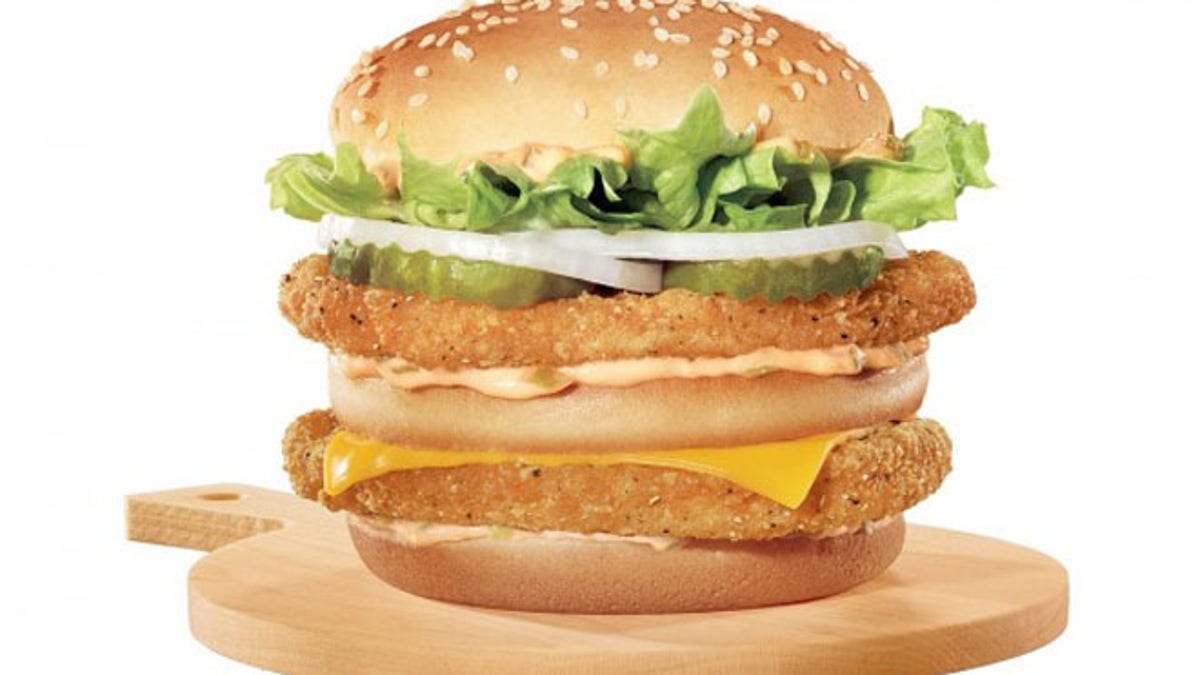 Wendy's, Burger King, Domino's and Dunkin' Donuts all recently rolled out splashy new chicken menu items, tempting hungry diners with sandwiches and dishes that go beyond the classic deep-fried nugget.
It's natural to assume that you're better off health-wise going the chicken route at a fast-food restaurant than ordering say a Whopper or a pepperoni pizza. And Tuscan Chicken, for example, may sound pretty appetizing. But when our dietitians and trained tasters scrutinized the nutrition numbers and put the new offerings up against the chain's older chicken standbys, there were some surprises.
The verdict: "new" isn't necessarily synonymous with "better" and certainly not with "healthier." If you're planning a pit stop at any of these restaurants, you'll want to know these facts. Restaurants are in alphabetical order.
The new Chicken Big King is a double-decker sandwich comprised of two fried chicken patties, American cheese, pickles, iceburg lettuce, onions, and Thousand Island-style dressing. Our tasters didn't think it worthy of royalty, saying it rose no higher than typical fast-food fare. On top of that, it has 42 grams of fat and 1,660 milligrams of sodium—about 70 percent of the Recommended Daily Value for each nutrient.
More From Consumer Reports
The Tender Grill Chicken Sandwich—a filet of white meat chicken, iceberg lettuce, tomato and mayonnaise—is a better choice. Tasters noted that it isn't as spicy as the Big King, but it was one of the better-tasting sandwiches they tried. And with 16 grams of fat and 830 milligrams of sodium, it is the rightful heir to the crown of "Healthier Burger King Chicken Sandwich."
Domino's Specialty Chicken is an interesting invention—breaded chicken nuggets are used as a pizza crust, and you get your choice of four toppings. We tried the Crispy Bacon & Tomato version, which was OK. While this "crustless" dish may appeal to low-carb dieters, at 700 calories and 48 grams of fat for an entire 12-piece order it's not really going to help anyone drop pounds.
Domino's says the dish serves three people, but our team thought that realistically people would probably split it with one other person, or even eat the whole thing. If you can stick to eating just six pieces you'll take in 345 calories, 24 grams of fat and 1,125 milligrams of sodium.

The Chicken & Bacon Carbonara Artisan Pizza is a better nutritional choice. It's not crustless and two slices of the pizza has a similar amount of calories to six nuggets and significantly less fat (11 grams) and sodium (725 milligrams).
Wendy's Tuscan Chicken on Ciabatta arrived this spring complete with a cheeky black and white promotional short film shot in Italy in the style of a 1960s spy movie. In addition to the ciabatta roll, the sandwich's Italian influences include Asiago cheese and garlic aioli sauce on top of a fried chicken cutlet (along with a topping of spring greens and a slice of tomato).
According to our tasters, neither of the Wendy's sandwiches was a knockout in the flavor department, but they weren't terrible either. Nutritionally, however, there was a clear winner, and it wasn't the Tuscan newcomer, which has more than twice the fat (27 grams to 12 grams), 68 percent more sodium (1,530 milligrams to 910 milligrams), and 38 percent more calories (580 to 420) than the Ultimate Chicken Grill.
—Ian Landau
Dunkin' Donuts
For the final test, we tried just one item—the new chicken offering—from Dunkin' Donuts: Grilled Chicken Flatbread, a combination of grilled white meat chicken, cheddar cheese, and ancho chipotle sauce on a multigrain flatbread. Our experts praised the sandwich's freshly prepared taste. It has a reasonable 360 calories and similar amount of fat (12 grams) to the healthier options above from Wendy's, Burger King and Domino's, but it's higher in sodium at 1,020 milligrams (44 percent of the Daily Value).