Explosive grilling disasters you'll want to avoid at all cost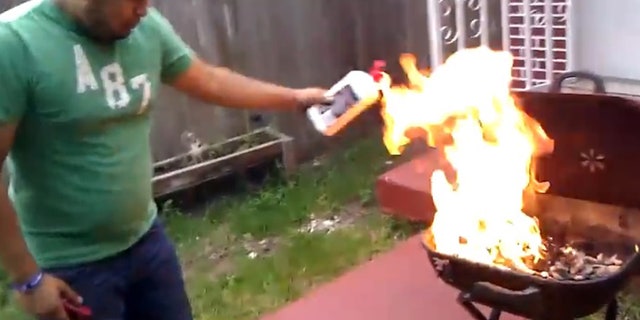 Grilling is a great way to cook--if you know what you're doing.
These YouTubers remind us that barbecuing can be a dangerous art. From fiery campsites to extreme explosions, we've rounded up some of the top barbecue fails.
Warning: Many of these videos have explicit language. And remember, safety first when working with open flames.
Don't want to end up like these bested by the barbecue? Check out these expert grilling tips.
1. You're in the hot seat
For this eager fire starter, keeping the flames in the pit just wasn't enough. Watch as he proceeds to take his entire campsite down with a small canister of gasoline.
2. Put phone down, then grill
Turns out, taking a video and flipping burgers at the same time is not an easy task. Multitasker take note: anything involving fire usually requires your full attention.
3. Should your grill be on fire?
If you're not sure, then barbecuing isn't for you. One man tries to tame his grills flames only to watch as the entire grill lights up. Lifting the lid doesn't seem to help and shoots out flames that would cower some of the bravest firefighters.
4. Playing with propane
Not everyone got the memo that gas grills can be dangerous. This eager lads pokes around an unlit barbecue grill only to be met with a surprise that may be too hot to handle.
5. The runaway arsonist
We're not exactly sure what's going on in this video but if you light something on fire, running away will not extinguish the flames.
6. A not-so-quiet evening by the fire
Nothing beats chilling by the fire on a cool summer night with friends. That is until the fire gets completely out of control. Lesson: fire and wind do not mix. Also, outdoor ovens are dangerous.
7. Surprise explosion
When the fire gets going, it's best to wait until the charcoals heat up and then get to work. One group of men decided a modest flame wasn't enough and are met with a flaming shocker.
8. Ultimate exploding BBQ fail
After watching this video, we just hope this man okay.
Here's a complication of some of the craziest grilling accidents caught on video.