Did customers at Texas restaurant say they won't return because owner is Mexican?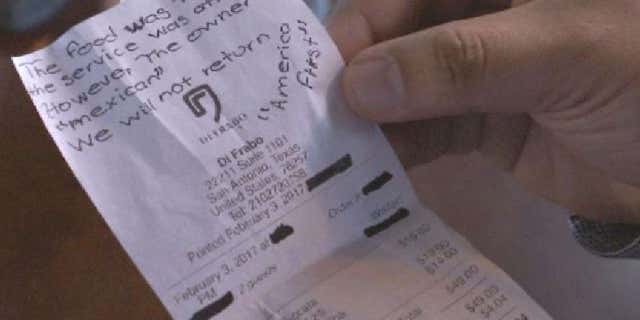 The owner of an Italian restaurant in Texas said he would welcome back the customers who reportedly wrote on a receipt that they wouldn't return, despite the "tasty" food, because he is Mexican.
Fernando Franco, who owns Di Frabo in San Antonio, said his manager showed him the receipt shortly after a couple left the eatery Friday.
The message noted that the food was "tasty" and the service "attentive," but concluded: "The owner is 'Mexican.' We will not return. 'America first.'"
IHOP SERVER SAYS SHE RECEIVED 'HATEFUL' RECEIPT MESSAGE FROM TEEN CUSTOMERS
Since first speaking out about the incident, Franco said he's been inundated with messages of support. He added he's not sure how the customers knew he was the owner or that he's a native of Mexico.
"Something like this is a slap in the face," Franco told Fox San Antonio. He opened the Italian restaurant in 2014, turning his dream into a reality.
According to the station, Franco has been running businesses and restaurants in San Antonio since 2012 under the E-2 visa, which is an investor visa that has "very specific" requirements and has to be renewed yearly.
FOR THE LATEST FOOD FEATURES FOLLOW FOX LIFESTYLE ON FACEBOOK
He said was going to frame the receipt, and added that he plans to begin the citizenship process soon.
The Associated Press contributed to this report.