Coming to a Freezer Near You: Pickle Pops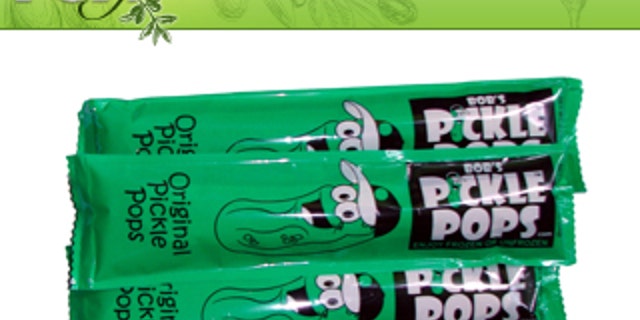 "I've always thought that 'Don't Mess With Texas' really should be 'Don't Mess With Texas Because Texas Doesn't Mess With You," says culinary pioneer, John Howard. His genial don't-like-it-don't-buy-it attitude stands him in good stead as he and his brother-in-law continue to grow a food company based on a frozen pickle by-product. "It's a love-it-or-hate-it item," Howard cheerfully admits. Like all Texans, Howard relishes facing innumerable odds at any cost. Bring it on.
"The Lone Star State" is justly proud of its maverick reputation, its sheer size - its King Ranch has a larger landmass than the state of Rhode Island - and its rugged individualism. It's given us oil, high school football, Longhorn cattle, Texas Rangers (as in Chuck Norris), mesquite jelly, and now, "Bob's Pickle Pops."
"Bob's Pickle Pops," made from pressed pickles and pickle juice, is a dream-come-true for those who prefer their frozen treats sour and salty to sweet and sugary. Loving pickles is the only prerequisite. Howard created them at his "Outerskate Rollerink" in Seguin, a town 35 miles east of San Antonio that dates back to the days of the Republic. Texans, he says, have a long-standing and cherished relationship with pickles and the juices they're pickled in: "There are pickle juice Sno-Cones at fairs and carnivals all over Texas."
Pickle juice, whose main ingredient is vinegar, with added water, salt, sugar and spices like dill, garlic, onion, coriander seeds and cloves, has ardent and inventive fans. They put it in tuna and potato salads, add it to sauces and dips, and blend it with oil for homemade salad dressing. They marinate soft cheeses and hard-boiled eggs in it. They braise, steam and poach with it. They swear it cures hangovers. The greatest ideas always seem to be the most obvious, so it's hard to believe that Howard and his brother-in-law, David Millar, were the only ones who thought about freezing and packaging this versatile elixir.
Howard's daughter-in-law suggested he freeze the juice leftover from the pickles he sold at Outerskate. He did, charging 25 cents per "Pickle Sickle."
According to the New York Food Museum, cucumbers were first pickled around 2030 BC in the Tigris Valley, and Roman Emperors later gave them to their troops to increase physical and spiritual strength. Shakespeare used "pickle" as a metaphor, "How camest thou in such a pickle?" (The Tempest) and Thomas Jefferson found them exceptionally refreshing. "On a hot day in Virginia, I know nothing more comforting than a fine spiced pickle, brought up trout-like from the sparkling depths of the aromatic jar below the stairs of Aunt Sally's cellar," the founding father wrote. Plus, they saved many a sailor from the ravages of scurvy.
Millar, visiting from California, found the pops "really bizarre" and was at first aghast that they were flying out of the freezer. Then he was inspired. Seguin, he realized, could be ground zero for a pickle sickle explosion.
So in 2007, Millar, a website designer and Howard, a roller rink owner, created "Bob's Pickle Pops." They pressed pickles themselves, squirting the juice with turkey basters into flexible plastic tubing and closing them one at a time with a heat sealer. Later that year, Specialty Blends of Carrollton, Texas started to manufacture them, much to Howard and Millar's relief.
And just in time because "H-E-B" ("Here-Everything's-Better) a Texas grocery chain heard about the pops and wanted to stock them. In 2008 they were featured on "The Food Network" and orders went through the roof. Soon after, Swirl Brands of Arlington, Texas, which makes natural slushies, asked if their dealer network could market and distribute the pops all over North America. And now, according to Specialty Blends president, David Tindol, ArchPoint, an influential Texas food broker, is poised to pick up pickle pops. "This could be huge," he says. Most Mom-and-Pop entrepreneurs struggle for years to achieve what pickle pops have in just two.
Millar, who handles marketing, gratefully acknowledges serendipity's starring role, especially at a time when the economy was crashing and starting a new company seemed nuts. All he saw was the right product at the right time. The pickle pop is his first project, he points out, to have ever taken off in ten years of trying. Luck is central to success but so is elbow grease. As all entrepreneurs know, the harder you work, the luckier you get.
The good news keeps rolling in. Carol Johnston, nutrition department chair at Arizona State studies the effect of vinegar on both diabetics and healthy adults. Daily ingestion of vinegar's main ingredient, acetic acid, she says, slows simple carbohydrates digestion, decreasing glucose levels 20% to 40%. But swigging straight vinegar is a non-starter for most. "Vinegar," she notes, "is more palatable when incorporated in a food matrix." Her double-blind study using sugar-free pops and Pickle Pops to monitor glucose levels revealed that the pops reduced glucose levels by 42%.
Pickle Pops's main target consumers are kids and tweens, and they're actually sold in some Texas and Oklahoma schools. Endurance athletes like cyclists are another market as the sodium helps to hydrate them. Pregnant women are not on the company's radar, yet. "Some wrote in," says Howard, "saying it got them through their pregnancies. Could be huge..."
Click here for more from Foxnews.com Food and Drink