Coffee-loving hackers decode Keurig's 'secure' new machines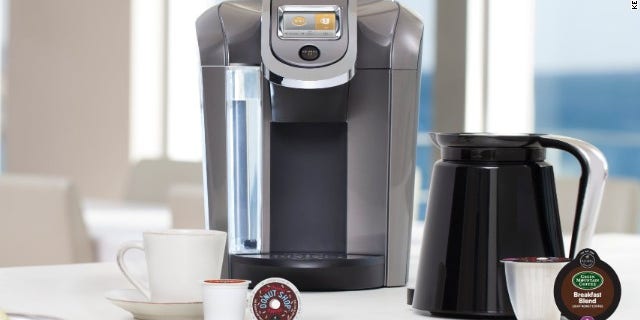 In March, when coffee giant Keurig announced its 2.0 brewers would be designed exclusively for its expensive K-Cup single-use pods, people were understandably outraged.
It meant that the new machines, designed with a scanner that reads and rejects any pods without an officially licensed digital ink stamp on the top foil, would no longer accept non-Keurig-branded coffee pods, usually at a fraction of the price.
The company claimed that the move was to ensure consistent quality between brews but companies supplying the non-Keurig pods cried foul, according to Quartz.
Earlier this year, Treehouse Foods, one of the third-party pod makers, filed a lawsuit against Green Mountain Coffee- Keurig's parent company --for attempting to monopolize the market and promised to reverse engineer the brewer and design compatible pods within "months."
Now that Keurig 2.0 machine is on the market it didn't take long for that to happen.
The Internet is now awash with several hacks that get around the company's intricate scanning system. A quick search on YouTube brings up hundreds of hack videos, including "permanent fixes."
Over the summer, Mother Parkers Tea & Coffee, a Keurig Green Mountain Coffee competitor, announced that its new pods are compatible with 2.0 machines. The press release does go in detail about how or why but want to "ensure consumers continue to enjoy the widest possible choice" for their hot beverage choices.
Established in September, KeurigHack.com features a video that shows a "foolproof" guide to tricking your machine into accepting unofficial coffee pods. But the method involves using the foil from a previously used licensed K-Cup. Though it involves the purchase of at least one pack of official Keurig pods, it may be the simplest method.
On hacking site SecList, there's a tongue-in-check five-step method to decoding the Keurig which also involves using an officially marked pod
The instructions read:
"After brewing is complete, attacker removes the genuine K-Cup from the Keurig and uses a knife or scissors to carefully remove the full foil lid from the K-Cup, ensuring to keep the full edges intact. Attacker keeps this for use in the attack."
Despite these hacks, Keurig still dominates the in-home brewing industry with over 70 percent market share.