Coca-Cola unveils new bottle made of ice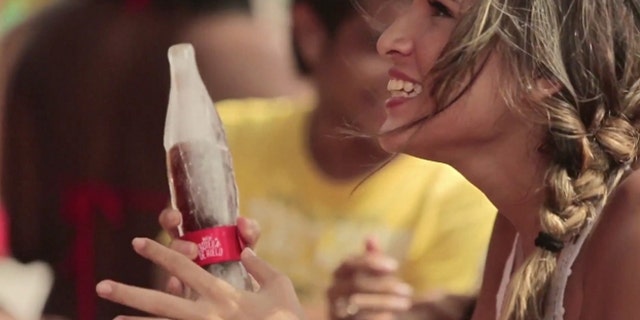 Looking for an ice-cold Coke on a hot summer's day? You now have to travel no further than to Colombia (yes, the country).
Coca-Cola, in partnership Ogilvy & Mather Bogota, has rolled out a limited-edition bottle made entirely from ice.
The new container--only available in Colombia-- is shaped like the traditional glass Coke bottle and has the company's name etched into the frozen water, according to Coca Cola's website. In case you're wondering how you can keep hold of the icy vessel, it is wrapped with a red rubber band, which also doubles as a bracelet, that prevents frozen fingers.
For the eco-minded, the bottle melts when the drinkers are finished. But FoodBeast noted that ice bottles may not be the most sanitary as glass or cans which absorb the dirt and germs from drinkers' hands. Also, all the water and refrigeration needed to make these may cancel out all the environmental benefits --leaving pretty much just a clever marketing gimmick.
No word if this frozen experiment would be expanded to hit U.S. shores.