Bill Belichick hits Chick-fil-A drive-thru looking 'slightly exasperated, indifferent, and annoyed'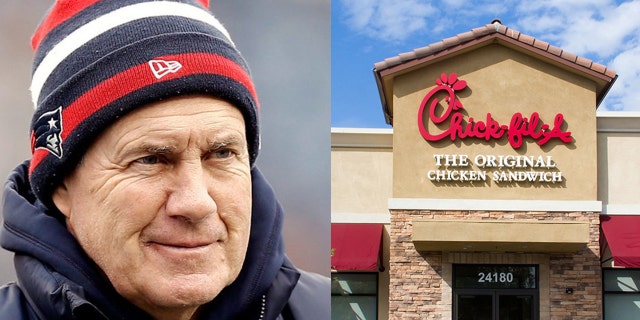 NEWYou can now listen to Fox News articles!
Not even New England Patriots head coach Bill Belichick can resist a craving for Chick-fil-A, as evidenced in a new viral video of the NFL legend ordering at a drive-thru window.
On May 30, a six-second clip of the five-time Super Bowl-winning coach hit the Internet, where it was immediately analyzed by both fans and foes of the 66-year-old pro.
The footage shows nothing more than Belichick appearing to have an inaudible conversation with the female cashier — presumbaly to confirm his order — but commentators were quick to delight in Belichick's hard stare at the woman through the entire encounter, and the firm "no" head gesture he makes at the end of the video, which has since been viewed over 67,000 times.
KIM JONG UN WANTS TO OPEN BURGER JOINT AS 'SHOW OF GOODWILL'
In the days since, The Big Lead has declared the "deftly filmed" and "otherwise unremarkable trip" of Belichick's redeemed by his "priceless expression" as he appears to be "slightly exasperated, indifferent, and annoyed — all at the same time."
Similarly declared by 247 Sports as "arguably the most famous man in New England," Belichick's trip to "the same drive-through line with the commoners" was well deserving by viewers as worthy of a "quick smile at the situation."
CHICK-FIL-A HONORS FALLEN SOLDIERS WITH SPECIAL EMPTY TABLE
Naturally, the Twitterverse had a whole lot to say about Chick-fil-A's hilarious, unexpected customer.
Some commentators imagined the unknown conversation between the Pats coach and Chick-fil-A employee. Others wondered why he was there in the first place, and what kind of vehicle he was driving.
Others mused that his hard stare came in response to being offered the "Philly special," or his confusion at "that whole not working on Sunday part."
"Does this mean I've been eating like a champion this whole time?" one fan of the Atlanta-headquartered chain exclaimed.
Nevertheless, as Belicheck gears up for his 19th season coaching the Patriots, it looks like he's prepared to "eat mor chikin" too.
FOLLOW US ON FACEBOOK FOR MORE FOX LIFESTYLE NEWS