Bear steals pizza from Tennessee restaurant customers dining on patio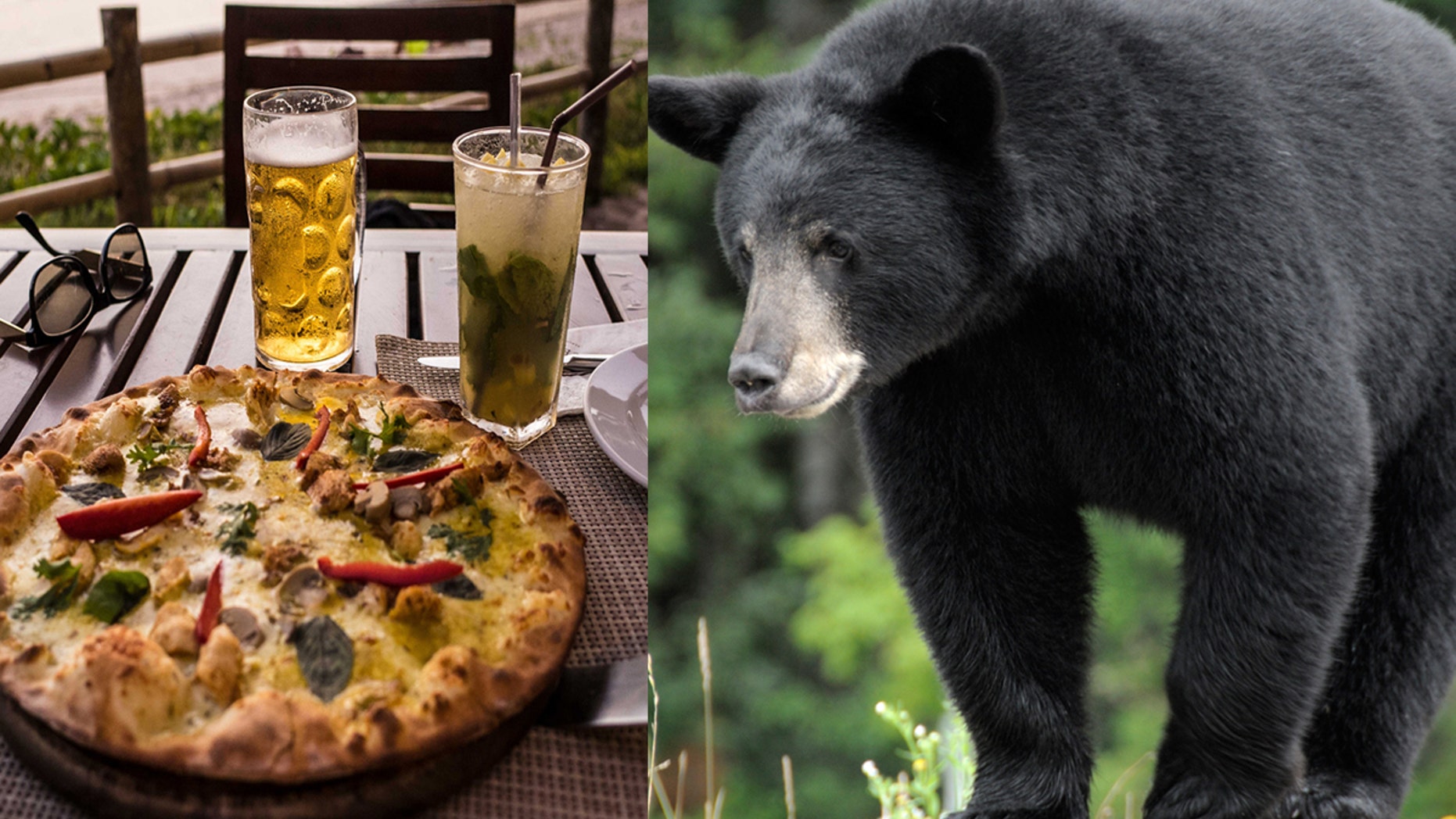 A Tennessee restaurant had a wild run in with a young bear cub who apparently had a hankering for pizza.
Carolyn Ball, a waitress at Howard's Steakhouse in downtown Gatlinburg, said a black bear cub came up from the creek near the restaurant and helped himself to a customer's pizza.
"Last week, we had a bear climb up a tree from the creek and onto the patio where some customers were eating. The bear surprised them. They obviously got up and left the food on the table. The bear stood on the table and ate a pizza," said Ball to WBIR.
BLACK BEAR SMASHES BAKER'S CAR WINDOW, EATS 2 DOZEN CUPCAKES
Though the cub shocked the patrons dining, the restaurant is only a few hundred yards from Great Smoky Mountains National Park where wild black bears run free.
Ball posted about the encounter on Facebook and jokingly referred to the patio as "pet-friendly." However, many were not as amused and said Ball should have been trying to scare the animal away rather than taking pictures.
"No one should allow that... you need to scare the crap out of him so he leaves. Stop feeding him! He'll be killed if that keeps happening," one person wrote.
"Instead of taking pictures while the bear eats pizza, why not be QUICK to scare him off. This is like giving a death sentence to this bear. This makes me very sad, and ashamed. Soon TWRA will have no choice but euthanize this bear because of poor choices by humans. Grrrr," another said.
Ball said she didn't "mess" with the bear at all.
BLACK BEAR CAUGHT ON VIDEO STEALING DONUTS FROM FAMILY'S GARAGE
"I let it finish the pizza because I don't want to mess with a bear when it is eating. I don't want to be attacked or eaten myself. At that point, it was already on the table eating the pizza, so just let it finish and then ran it off," Ball said to WBIR.
"We don't intentionally serve bears. They come up and serve themselves," Ball added.
Though biologist Dan Gibbs, who works for the Tennessee Wildlife Resources Agency, agreed with the backlash on social media.
"If you have a bear that has already lost its fear of people so much that it is climbing on a crowded patio in the middle of the day, it is not going to reverse that behavior. Bears escalate their behavior, so this was a bear that has worked its way up to doing this. It didn't just decide one day to go to a restaurant," said Gibbs to WBIR.
FOLLOW US ON FACEBOOK FOR MORE FOX LIFESTYLE NEWS
According to the Wildlife Resources Agency, when bears are intentionally fed, they learn to associate people to food and lose their natural fear of humans – a fear Gibbs said should be restored for the good of the bear.
"The first thing [people] need to be doing is trying to make as much noise as possible to deter that bear from coming up any closer," Gibbs said. "You need to make it a negative experience and try to scare the bear away."
Ball told WBIR that the patio was closed for a couple of days until the bear could be trapped.
Carolyn Ball did not immediately return a request for comment.