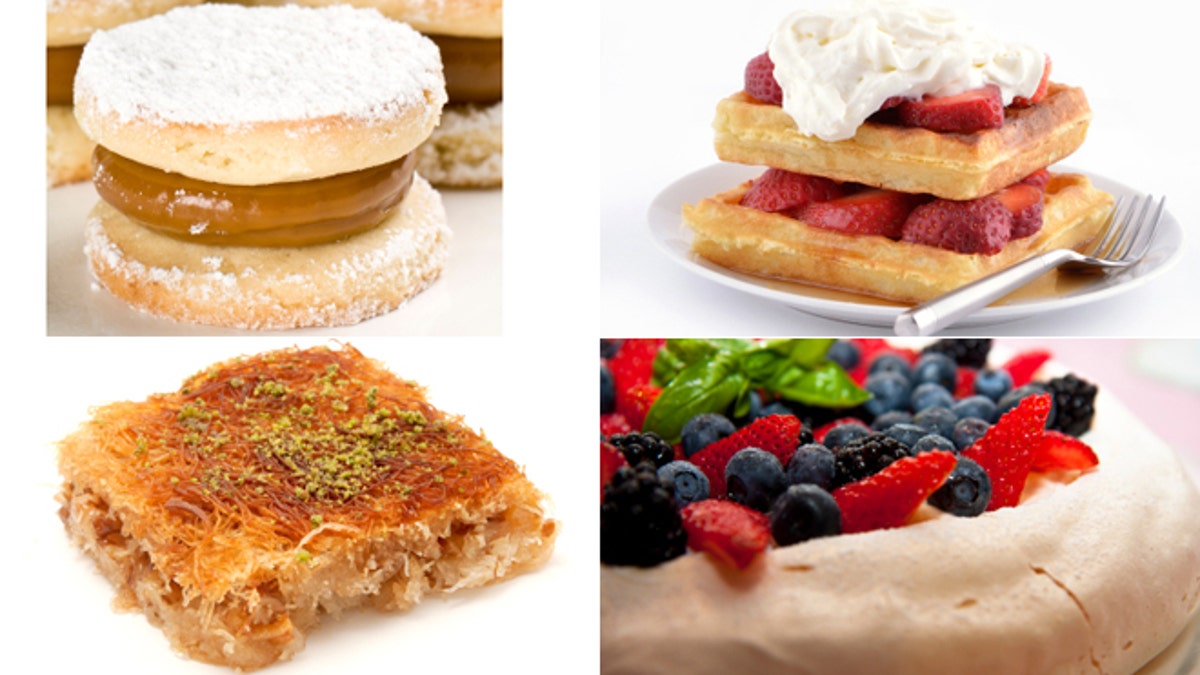 From crumbly cakes like sfouf from Lebanon to tasty milk tarts from South Africa, sweet treats served at the end of a meal are the incentive for kids to eat their vegetables, the Achilles' heel for most dieters, and the go-to fix for those with sugar addictions.
So The Daily Meal has gone around the world in 80 desserts to delve into the different variations of delicious dessert delights across the globe, and tell you where to try them. For travelers craving something sweet, Around the World in 80 Desserts is a gastronomic guide through the sugars, syrups, and spices of the world's scrumptious signature treats.
We've covered six continents' worth of cakes, cookies, and custards heavenly enough to make any diner loosen his or her belt and satisfy any sweet tooth.
Get the inside scoop on the history of American apple pie, New Zealand's favorite ice cream flavor, and where in the world soup is on the dessert menu. Savor the flavors of nutty phyllo pastries in Turkey and rich gooey puddings in Great Britain.
Whatever dish captivates you, these mouthwatering desserts promise to submerge your taste buds in a candied and caramelized culinary wonderland sure to induce a saccharine-sweet delirium.
Chocolate Soufflé with Grand Marnier (France)
What is chocolate soufflé? Chocolate soufflé is a decadent and time-honored dessert in France. Chocolate soufflé is a lightly baked cake comprised of egg yolks, beaten egg whites, sugar, and a gooey chocolate interior. The dessert has a reputation for being notoriously difficult to execute, as the dish has to be served immediately to prevent the soufflé from dropping and becoming dense.

In France, the soufflé is often infused with Grand Marnier, an orange liqueur that accents the richness of the chocolate with a citrusy flavor.

Where to try chocolate soufflé: Le Soufflé, Paris, France

Apple Pie (United States)
What is apple pie? Apple pie is heralded as the quintessential American dessert, serving as a culinary symbol of the nation's prosperity and pride in the 19th and 20th centuries.

Apple pie consists of a pastry pie crust and an apple filling often seasoned with nutmeg or cinnamon. The pie takes about an hour in the oven to bake.

Interestingly, apple pie-making does not originate from the United States, but rather it was a concept brought over by the Pilgrims from England, where the pies were made with unsweetened apples covered by an inedible shell. Eventually, the recipe developed into the well-known dessert enjoyed today.

Where to try apple pie: Apple Pie Bakery Café, Hyde Park, New York

Gelato (Italy)
What is gelato? Gelato differs from ice cream in its flavor and texture. The frozen dessert is made with milk as opposed to cream, which gives the dish a lower fat content, and has less air whipped into it than ice cream, making it denser and often more intense in flavor.

Gelato is an Italian term that means "frozen." The history of the dessert is rooted in 16th century Italy, where according to many accounts, a Florentine named Bernardo Buontalenti presented his gelato creation to the royal court of Caterina dei Medici.

Where to try gelato: Gelateria Veneta, Lucca, Italy

Maple Taffy (Canada)
What is maple taffy? Maple taffy is a sugary sweet Canadian confection traditionally made from maple syrup and snow. Maple syrup is boiled to 234 degrees Fahrenheit and then poured onto fresh snow, where the cold temperature hardens the concoction into an edible treat that consumers often use wooden sticks or dinner forks to eat. Often, maple taffy is served with coffee, tea, donuts, or even sour dill pickles.
Where to try maple taffy: Maple Taffy is a seasonal treat that can be found scattered around Quebec and Eastern Ontario, especially in early spring.
Babka (Poland)
What is babka? Babka is a Polish dish that resembles a brioche-like cake with a spongy texture. The dessert's flavor is sweet and the cake is usually filled with fruits like raisins.
"Babka" is a Polish word which means "grandmother," and is the name of the pastry because of the dish's cylindrical and corrugated shape, which resembles the pleats of an older woman's skirt.
Where to try babka: A. Blikle, Warsaw
Basbousa (Egypt)
What is basbousa? Basbousa is an Egyptian street food that is a semi-sweet semolina cake often topped with spoonfuls of lime curd, whipped cream, and berries.
Where to try basbousa: El Abd Pastry, Cairo
Brazo Gitano (Venezuela)
What is brazo de gitano? Brazo de gitano is the Spanish version of a Swiss roll, a sponge cake filled with cream, but other variations are filled with strawberry and blackberry jam, coffee cream, or chocolate. Brazo de gitano is often covered with icing, chocolate, meringue, cream, or burnt crema catalana, a custardy topping similar to French crème brûlée.
Where to try brazo de gitano: Danubio, Caracas
Caakiri (Niger)
What is caakiri? Caakiri is popular in West African countries and is similar to rice pudding. Ingredients for caakiri include couscous, cream, vanilla yogurt, raisins, butter, nutmeg, and sometimes a pineapple paste. Usually, the dish is served chilled.
Where to try caakiri: de Smaak van Afrika, Rotterdam
Belgian Waffles (Belgium)
What are Belgian waffles? Waffles are the signature dessert of Belgium, originating with a recipe from the Middle Ages, when waffles were sold as unleavened crisp cakes made of barley and oats baked in a wafer iron.
In Belgium, there are two types of waffles: the Brussels waffle and the Liege waffle. The Brussels waffle is what is universally known as the Belgian waffle and is served with chocolate, fruit, or whipped cream.
The Liege waffle is baked from brioche bread dough and is said to be chewier, sweeter, and richer than the Brussels waffle. Popular Liege waffle flavors include plain, vanilla, and cinnamon.
Where to try Belgian waffles: Aux Gaufres de Bruxelles, Brussels
Tangyuan (China)
What are tangyuan? Tangyuan are colorful, glutinous rice balls filled with black sesame, peanut, and red bean pastes. Tangyuan are often served in a sweet broth of ginger and rock sugar. The chewy balls are often served on the winter solstice and at other Chinese holidays.
Where to try tangyuan: Bellagio Café, Beijing
Pavlova (Australia)
What is pavlova? Pavlova is a popular dessert in Australia and New Zealand of meringue crust topped with whipped cream and fresh fruits, such as kiwi and strawberries. Pavlova is named for Russian ballerina Anna Pavlova, who was known for her lithe and airy style of dancing, which is similar to the texture of the dessert.
There is an ongoing controversy over whether pavlova is native to New Zealand or Australia and despite the Oxford English Dictionary stating in 2010 that the dish comes from New Zealand, pavlova is still enjoyed and debated in both regions.
Where to try pavlova: Black Star Pastry, Sydney
Mochi Ice Cream (Japan)
What is mochi ice cream? Mochi ice cream is a signature Japanese treat that infuses chewy mochi, small pastel-colored glutinous rice cakes dusted with powdered sugar, with sweet and fruit-flavored ice cream. One variation is mochi ice cream balls, which are ice cream covered in mochi.
Where to try mochi ice cream: MochiCream, Tokyo
Sacher Torte (Austria)
What is Sacher torte? Created in 1832 when a chef's apprentice named Franz Sacher presented his sweet creation to Prince Metternich, the Sacher torte is a dense, bittersweet chocolate sponge cake with a layer of apricot jam filling.
Where to try it: The Hotel Sacher Wien. In 1998, the Hotel Sacher Wien made a 2.5-meter Sacher torte cake that made it into the Guinness Book of World Records.
Bibingka (Phillippines)
What is bibingka? Similar in appearance to a Western pancake, bibingka is a sweet rice cake covered in butter and sugar, and served with grated coconut. Bibingka is served most often in the Christmas season, when locals buy the treat from street vendors after church.
Where to try bibingka: Ferino's Bibingka, Quezon City
Arroz con Leche (Mexico)
What is arroz con leche? Arroz con leche is a sweetened rice pudding with a thick and creamy consistency, often infused with cinnamon and raisins, which is popular in Mexico and many Latin American countries.
Where to try arroz con leche: Mi Casa Restaurant, Cabo San Lucas
Thai Mango Sticky Rice (Thailand)
What is Thai mango sticky rice? Popular during Thai New Year's celebrations but eaten year-round, Thai mango sticky rice is a combination of sweet sticky rice, fresh mango slices, and coconut sauce. Sometimes the notoriously pungent durian is used in place of mango.
Where to try Thai mango sticky rice: Chatuchak Market, Bangkok
Alfajores (Argentina)
What are alfajores? This Latin American treat is a popular dessert in Argentina. It's simply dulce de leche filling sandwiched between two shortbread cookies.
The word "alfajor" is rooted in the Arab word for "honeycomb." The cookies are often served with coffee and traditionally dipped in chocolate, though "snow alfajores" are dipped in powdered sugar and coconut.
Where to try alfajores: Cachafaz Alfajores, Buenos Aires

Kanafeh (Israel)
What is kanafeh? Israeli kanafeh is a sweet phyllo dough or semolina orange-colored pastry stuffed with goat cheese and drenched in syrup. This Arab dessert has many variations and is popular in many Middle Eastern countries.
Where to try kanafeh? Jafar Sweets in Jerusalem, where kanafeh is made fresh daily.
Passion Fruit Mousse (Paraguay)
What is passion fruit mousse? Passion fruits are native to the subtropical region of Paraguay. Passion fruit mousse is made with milk, heavy cream, and strained passion fruit pulp, which are mixed with a gelatin, egg whites, and sugar.
Where to try passion fruit mousse: Paulista Grill, Asunción
Sfouf (Lebanon)
What is sfouf? Sfouf is sweet, yellow Lebanese almond cake made with semolina dough. The dessert's yellow color comes from the use of turmeric seasoning in the recipe.
Where to try sfouf: Al Bohsali Sweets, Beirut
Apple Strudel (Germany)
What is apple strudel? Apple strudel is a flaky pastry covered in caramelized or powdered sugar and filled with sliced apples, cinnamon, raisins, and roasted breadcrumbs. Apple strudel is served warm, often with whipped cream, vanilla sauce, or vanilla ice cream.
Where to try apple strudel: Theodore Tucher in Berlin, where George Bush and German Chancellor Angela Merkel have eaten the flaky dessert.
Pasteis de Nata (Macau)
What are pasteis de nata? Pasteis de nata are small, egg tarts. They have a custard-like consistency and are often served with powdered sugar or cinnamon sprinkled on top.
Where to try pasteis de nata: Lord Stow's Bakery and Cafe in Coloane Town Sqaure, Macau
Dulce de Leche (Cuba)
What is dulce de leche? Dulce de leche is a thick, tan-colored confection made of caramelized sugar and condensed milk that is eaten on its own or poured over ice cream, cakes, or cookies.
Where to try dulce de leche: Cake's, Montevideo
Kueh Bangkit (Malaysia)
What is kueh bangkit? Kueh bangkit are coconut cookies that are a staple at Malaysian holidays, particularly New Year's celebrations.
Kueh bangkit are floral-shaped cookies that are crumbly on the outside and airy on the inside, and melt in the mouth. The traditional recipe calls for tapioca flour, pandan, coconut milk, sugar, and eggs. yolks.
Where to try kueh bangkit: While mostly homemade, kueh bangkit can be found in night markets around Malaysia, especially before big festivities.
Snuour (Iceland)
What is snuour? Snuour is the Icelandic version of cinnamon rolls, which are frosted with melted chocolate and other flavored glazes.
Where to try snuour: Sandholt Bakery, Reykjavik
Fattigman (Norway)
What is fattigman? Fattigman, also known as "poor man's cookies," are cookies made of eggs, sugar, butter, heavy cream, cardamom, sugar, and the optional cognac or brandy, and then fried instead of baked. Often cut into diamond and bow shapes, the cookies are covered with powdered sugar and have become a Norwegian holiday specialty.
Where to try fattigman: Sarah Jane's Bakery, Minneapolis
Guinness Cake (Ireland)
What is Guinness cake? Guinness cake is an Irish dessert that infuses Guinness beer into a pastry concoction of flour, cinnamon, ginger, raisons, lemon, and eggs.
The cake is an Irish culinary tradition, served on Christmas and St. Patrick's Day.
Where to try Guinness cake: Gilroy's, Guinness Storehouse, Dublin
Zhele (Ukraine)
What is zhele? Zhele is a gelatin Jell-O-like dessert composed of fruit juice and sugar. Fruits used in zhele include cherries and pears, though jellied chocolate and milk are sometimes added too.
Syrniki (Russia)
What is syrniki? Syrniki is a traditional Russian treat eaten at breakfast and for dessert that is made of golden brown, cottage cheese-infused dough and topped with fruit. Syrniki are sometimes served with a side of sour cream.
Where to try syrniki: Vogue Café, Moscow
Ovocne Knedliky (Czech Republic)
What are ovocne knedliky: Ovocne knedliky, also known as fruit dumplings, typically include strawberries, plums, peaches, apricots, and cherries.
Where to try ovocne knedliky: Zlata Praha Restaurant, New York
Kurtos Kalacs (Transylvania)
What is kurtos kalacs? Originating in Transylvania, kurtos kalacs is a sticky twisted pastry topped with sugar, cinnamon, walnuts, chocolate, or coconut. The sweet treat is also called a "chimney cake," for the large amount of steam that rises from the pastry when removed from the oven, which resembles a chimney's smoke plume.
Where to try kurtos kalacs: Karoly Kurtoskalacs, Bucharest
Sako (Oman)
What is sako? Sako is a traditional Omani dessert consisting of a sweet and caramelized tapioca pudding. Ingredients in sako include saffron, sugar, rosewater, ginger, cinnamon, and cardamom. Nuts, such as pistachios or walnuts, may also be chopped into the pudding.
Destaye (Ethiopia)
What is destaye? Destaye are dough pastry shells filled with raisins, pistachios, almonds, grated coconut, and cardamom.
Where to try destaye: Ethiopian Diamond Restaurant & Bar in Chicago.
Kaab el Ghzal (Morocco)
What is kaab el ghzal? Translated from Arabic which means "gazelle horns," these crescent-shaped cookies are made of almond paste, orange-flower water, cinnamon, and topped with optional powdered sugar.
Where to try kaab el ghzal: Al Jawda Pastry Shop, Marrakech
Tteok (South Korea)
What is tteok? Tteok are colorful traditional Korean rice cakes made with glutinous rice flour. Tteok can be prepared boiled, steamed, or fried.
Where to try tteok: Tteok Museum in Seoul.
Foni Boakiba (Maldives)
What is foni boakiba? Foni boakiba is coconut rice pudding made of cassava, sugar, grated coconut, and jasmine water.
Where to try foni boakiba: The Hive Restaurant at Beehive Nalahiya Hotel, Maldives
Papaya in Caramel Cream Sauce (Seychelles)
What is papaya in caramel and cream sauce? Fresh papaya slices doused in caramel and cream sauce. This dish can also be replaced with banana.
Where to try papaya in caramel cream sauce: La Diguoise Restaurant in Seychelles
Cassava Pudding (Fiji)
What is cassava pudding? Cassava pudding is made from fresh grated cassava, shredded coconut, ginger, and cloves and is often topped with whipped cream.
Where to try cassava pudding: The Fiji Orchard, Fiji
Po'e (Tahiti)
What is po'e? Po'e is a Tahitian fruit pudding using bananas, brown sugar, vanilla, and coconut cream. Other fruits that can be used in the dish include kiwi, pineapple, papaya, and mangos.
Where to try po'e: Les Roulottes dining carts on the Papeete waterfront in Tahiti.
Turrón (Nicaragua)
What is turrón? Turrón are dessert biscuits loaded with nougat, honey, and almonds. Turrón de chocolate is a popular recipe that is covered with a meringue topping.
Where to try turrón: Museo del Turrón , Jijona, Alicante
Check out all 80 desserts here
More from The Daily Meal

Gross or Great? 27 Unexpected Delicacies From Around the World

World's Wildest Dining Experiences

Most Beautiful Swim-Up Restaurants and Bars

Mario Batali's 9 Favorite Restaurants Around the World