America's Top Asian Fusion Restaurants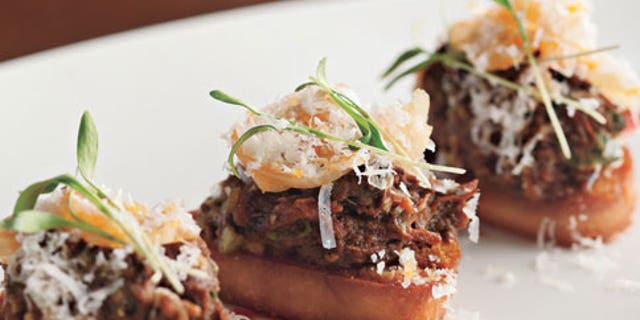 I still remember the wasabi mashed potatoes. The year was 1993 and I was visiting New York City with my mother, eating at the inimitable Union Square Cafe. The slightly spicy, green-hued potatoes represented the big trend of the day—Asian fusion, a culinary movement defined by its East-meets-West mashup of ingredients and techniques. Union Square Cafe was never even an Asian fusion restaurant, but in the same way that a restaurant today must nod to sustainable ingredients, a restaurant menu in 1993 had to include soy, ginger, or wasabi. (Wolfgang Puck is credited with starting the culinary food style at his Chinois on Main in Santa Monica in 1983.) Before long, every chef was dumping sesame oil on this and infusing lemongrass with that—oftentimes with silly, overly sweet, and complicated results. Though the culinary trend appeared promising in the hands of a capable chef, it had jumped the shark.
By the late '90s, Asian fusion had become a culinary punch line (not "fusion" but "confusion"). Well, guess what? It's back! This time around, it's less about gimmickry and more about cleverly combining traditional Japanese, Korean, and Chinese flavors with local ingredients. Prime examples: such now-legendary dishes as the kimchi quesadillas from Los Angeles food truck Kogi, and the roasted brussels sprouts with Benton's bacon, apples, and bonito from New York's Momofuku. Today's chefs would never describe what they're doing as Asian fusion (it's a dirty word these days), but rather American cooking—a melting pot of culinary traditions, a fusion of global flavors. Here are some of today's most deft practitioners.
Good Girl Dinette
Los Angeles
"American diner meets Vietnamese comfort food" translates to rice noodle salads, rolls, and pho at dirt-cheap prices in this Highland Park neighborhood hangout. What to order: curry chicken pot pie. 110 North Avenue 56; 323-257-8980; goodgirlfoods.com
Cholon
Denver
Named after the largest Chinese market in Saigon, this LoDo district spot, with talented chef Lon Symensma at the helm, features creative riffs on Asian classics. What to order: soup dumplings with sweet onion and Gruyère. 1555 Blake Street; 303-353-5223; cholon.com
Sakaya
Miami
Chef Richard Hales mines the Korean pantry for his creative take on Asian-street-food-inspired dishes, including calamari with ssamjang, a spicy paste. What to order: popcorn shrimp ssäm. 3401 North Miami Avenue; 305-576-8096; sakayakitchen.com
Ruxbin
Chicago
Modern Asian fusion exemplified by Edward Kim's sophisticated food: K-Town empanadas, calamari bokkum, and nine-spice quinoa. What to order: sake mussels with miso. 851 North Ashland Avenue; 312-624-8509; ruxbinchicago.com
East by Northeast
Cambridge
As the name suggests, this Massachusetts hot spot combines Chinese cooking with New England ingredients thanks to up-and-coming Chinese-American chef Phillip Tang. What to order: braised lamb cannelloni with chili garlic sauce, Honeycrisp apple, and mizuna. 1128 Cambridge Street; 617-876-0286; exnecambridge.com
Sampan
Philadelphia
Chef Michael Schulson takes Chinese dim sum favorites and turns them on their head with results like edamame dumplings and crab wonton tacos. What to order: Philly cheesesteak. 13th Street; 215-732-3501; sampanphilly.com
Also from Bon Appetit: