8 creepy Halloween cocktails to make this season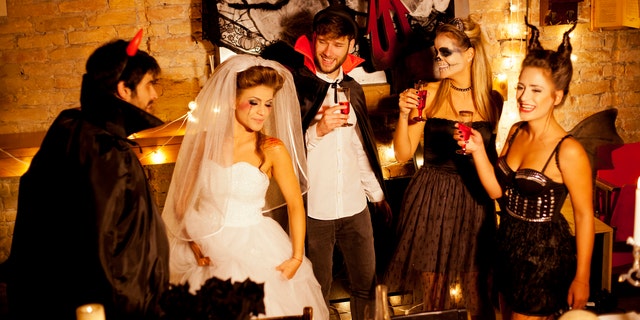 Whether you're planning on laying low at home or throwing the spookiest event of the season, these spirited cocktails are sure to wow.
The Bloody Bite
Created by DeLeon Platinum Tequila
1.25 oz DeLeon Platinum Tequila
1oz Blood Orange Juice
0.5oz Lime Juice
0.25oz Agave
Method: Combine all and stir. Top with club soda.
Belvedere Black Tie
Created by Belvedere Vodka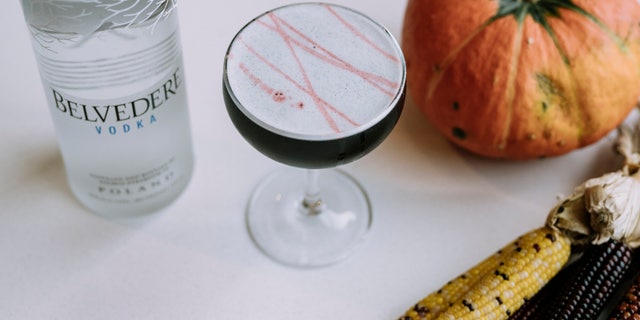 1.5 oz Belvedere Vodka
1 oz Pineapple Juice
.75 oz Lime Juice
.5 oz Honey Syrup
25 mg Activated Coconut Charcoal
2 dashes Phychuad Bitters
Method: Build in shaker strain and fine strain into glass, garnish with Peychaud Bitter.
TRAGICOMEDY
Created by Francis McGrath of Polite Provisions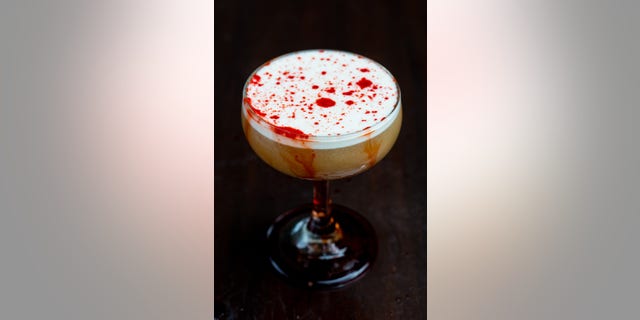 0.5 oz Jagermeister
1.5 oz Date infused Demerara Rum
0.75 oz Lime
0.5 oz Rothman & Winter Apricot
0.5 Blood Orange Syrup
Garnish: Red food coloring
Method: Combine all ingredients in tin, add ice, shake, double strain into coupe glass.
For garnish (splatter effect): dip small, food-safe basting brush into red food coloring, fan bristles over cocktail.
Black Box Spellbound Sangria
Created by Black Box Wines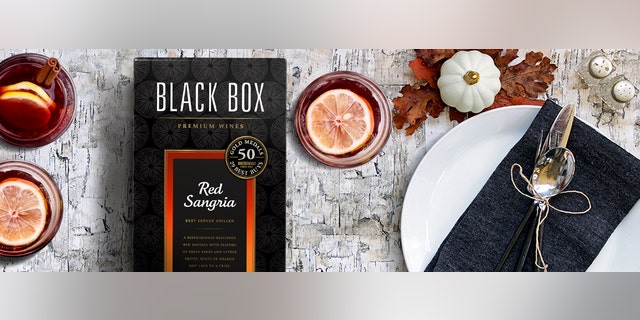 3L (one full box, equivalent to 4 regular sized bottles of wine) Black Box Sangria
4 sliced oranges
4 sliced apples
Method: Combine all in large bowl. Garnish with cinnamon sticks.
SPOOKY HALLOWEEN COCKTAILS THAT ARE PERFECT FOR PARTIES
Rich's Brew
Created by Veuve Clicquot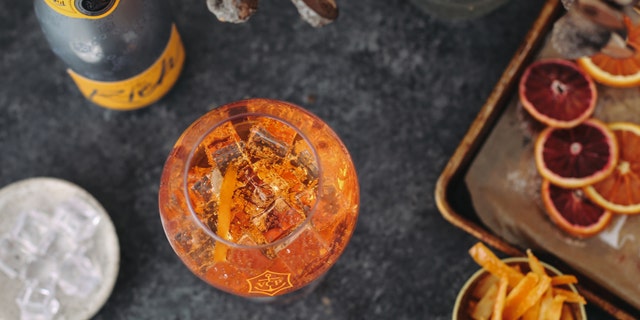 Veuve Clicquot Champagne
5-6 large ice cubes
2-3 slices of blood orange
Candied orange peel
Method: Place 5 ice cubes in a large wine glass, add the slices of blood orange, top with chilled champagne, and finish with a candied orange peel.
Devil's Whiskers
Created by Svedka Vodka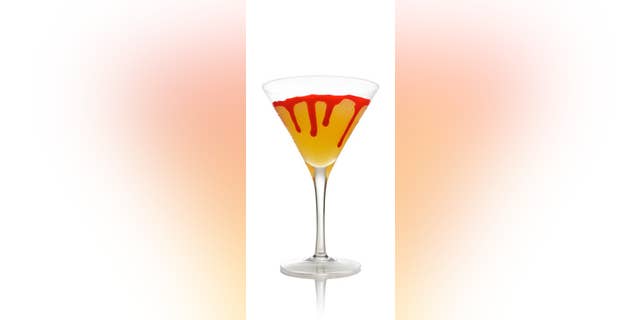 3/4 part Svedka Clementine vodka
3/4 part sweet vermouth
3/4 part orange juice
1/2 part orange Curaçao
Dash orange bitters
Fake blood:
1/2 cup white corn syrup
1 tablespoon cornstarch
1/4 cup water
15 drops red food coloring
1-5 drops blue food coloring
Method: Combine ingredients in a cocktail shaker filled with ice, shake, and strain in to a Martini glass. Garnish with an orange peel.
Fake blood: In a bowl, mix the corn syrup and the corn starch together. Add water until the mixture is the consistency of blood. Mix in food coloring until you achieve the desired color.
Glowing Cat Eye Jelly Shots
Created by Svedka Vodka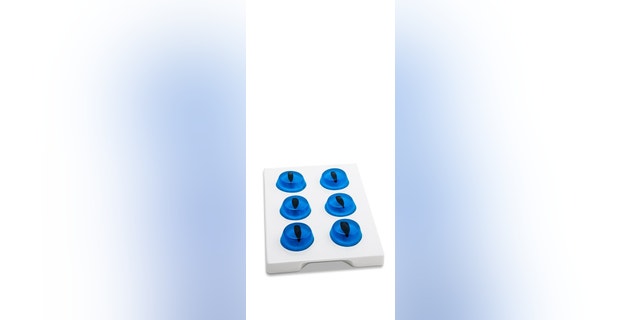 1 cup tonic water
1 pgk. (6 oz.) Svedka Berry Blue Flavor Gelatin Mix
3/4 cup Svedka Blue Raspberry Vodka
4 seedless red grapes, each cut into 6 wedges
Method: Spray 24-cup mini muffin pan with cooking spray.
Bring tonic water to boil. Add to dry gelatin mix in medium bowl; stir 2 min. until completely dissolved. Stir in vodka.
Spoon 1 tsp. gelatin into each prepared muffin cup. Place grape wedge in gelatin in center of each cup. Refrigerate 5 min. Take out and spoon remaining gelatin into prepared cups. Refrigerate 2 hours or until firm.
*Make it Easy: To easily unmold the jelly shots, dip bottom of muffin pan in warm water 30 sec. Run knife around rim of each cup to loosen jelly shot before removing from pan.
Pumpkin Spice Pie Martini
Created by Deep Eddy Original Vodka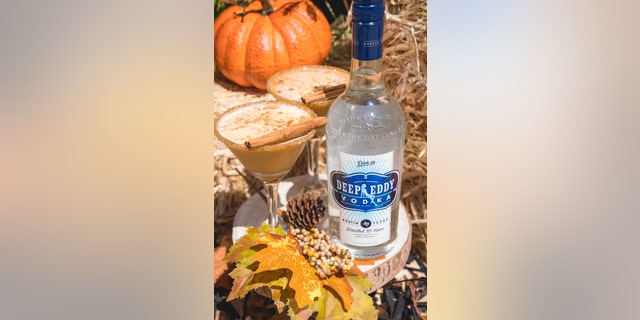 2 oz. Deep Eddy Original Vodka
1 oz. Dark rum
1 oz. Half n half
2 tbsp. Canned pumpkin puree
1 oz. Maple syrup
1/4 tsp Pumpkin pie spice
1/4 tsp Vanilla extract
Graham crackers
Cinnamon
Sugar

Method: Smash up the graham crackers, cinnamon and sugar together. Wet the rim of the glass with maple syrup and dip it into your cinnamon, sugar, cracker mixture.
Combine remaining ingredients into your cocktail shaker and shake for 30-45 seconds. Pour and strain into your rimmed martini glass. Garnish with a little bit of grated nutmeg and cinnamon stick.