Spooky Halloween cocktails that are perfect for parties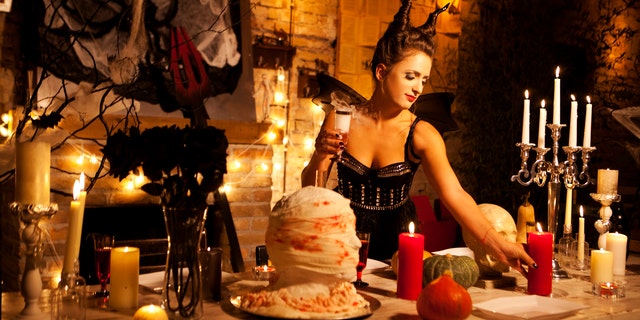 NEWYou can now listen to Fox News articles!
Halloween is here and if you are planning to throw the spellbinding affair of the season, then these seven creepy cocktails are just the trick – or treat – for you and your guests.
Pumpkin Spice Negroni
Created by Mia Mastroianni, Soho House West Hollywood + Bar Rescue.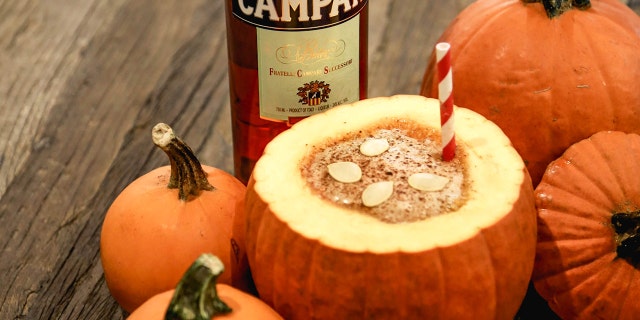 This Autumn take on the original negroni is a great way to add some zest to your holidays. The inherent bitterness of the Campari paired with the sweet and spicy pumpkin puree syrup makes up a composed drink that is perfect for Halloween. The cute pumpkin cup doesn't hurt either.
Ingredients:
1 oz Campari
1 oz Bulldog Gin
3/4 oz Frangelico
1/2 oz Pumpkin Puree Infused Syrup
Egg White
Method: Combine all ingredients and dry shake. Reshake with ice and strain into a small pumpkin (or coupe). Garnish with a light dusting of cinnamon and pumpkin seeds.
Wicked Black Forest Punch (Serves 15ppl)
Created by Willy Shine, Brand Meister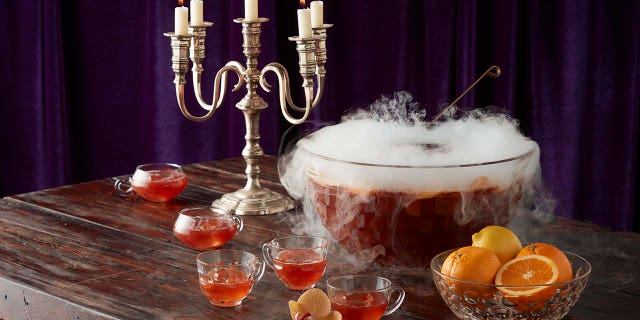 For those planning a bigger event, this boozy punch in the best because it serves a lot and doesn't take much time. This punch is a little on the sweet side, but the ginger beer helps punch up the flavor. Don't skip the dry ice to give your potion a cool bubbling effect.
Ingredients:
15oz Jägermeister
5oz Kirschwasser
2.5oz velvet falernum
5oz Hibiscus tea syrup
5oz Fresh Lemon juice
2.5oz Passionfruit juice
2.5oz Fresh Orange juice
7.5oz Fresh pineapple juice
10oz filtered water
10 dash Angostura bitters
20oz Ginger beer
Method: Combine all ingredients into a gallon container except the ginger beer and refrigerate.
When time to serve pour into a punch bowl with big ice cube garnish with orange wheels lemon wheels & hibiscus flowers couple of chips of food grade dry ice.
Pumpkin Flip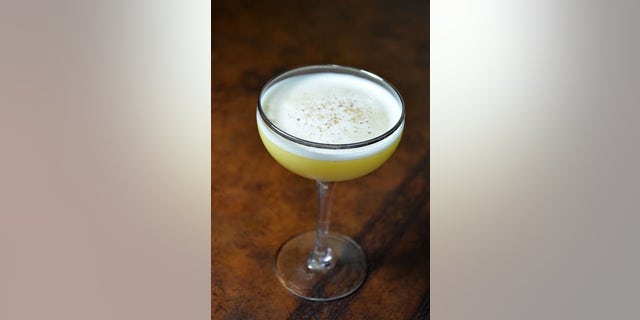 This classic Flip adds a touch of sophistication to any soiree. The sweet maple syrup combined with the richness of the egg and earthiness of the gin gives this creamy concoction a robust flavor with a smooth finish.
Ingredients:
1.25 oz. NOLET'S Silver Dry Gin
1 oz. Pumpkin Puree
1 Whole Egg
0.5 oz. Maple Syrup
1 Bar Spoon Sugar
Method: Combine all ingredients in a mixing glass. Dry shake until emulsified (about one minute). Add ice and shake again, vigorously. Double strain into a martini glass. Dust the top with nutmeg to garnish.
The Sacrifice
Created by Stephen Halpin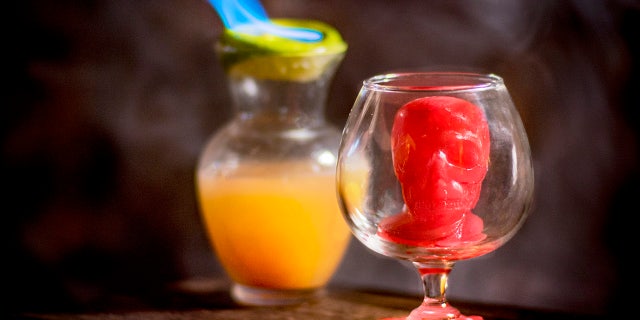 While this drink may look (and sound) mean, this balanced beverage is actually quite refreshing. The lemon juice and tequila give a tart kick, while the aromatic bitters and sweet citrus even everything out.
Ingredients:
2 oz Patrón Extra Anejo
? oz Patrón Aged Orange Liquor
? oz Simple Syrup
1 ½ teaspoons Orange Juice
1 teaspoon Lemon Juice
2 dashes Angostura Bitters
Method: Combine ingredients in a shaker tin with ice and shake until chilled. Strain and serve up into a chilled Nick & Nora or coupe. For a scary surprise, pour it over a skull ice mold.
Truly Red Potion Punch
Created by Natasha David, Nitecap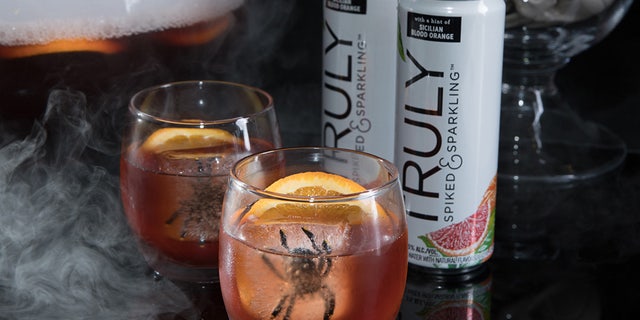 This potion combines liquor, booze and fresh citrus for a wickedly good party punch. Plus the seasonal pomegranate and blood orange make this a Halloween party – or any fall party – staple. Just ditch the spiders if you want a less festive look.
Ingredients:
2 bottles of Truly Spiked & Sparkling Sicilian Blood Orange
2 cups Pomegranate Juice
1 cup Red Wine
2 oz. Blanco Tequila
1 oz. Cointreau
Blood Orange Slices
Method: Mix pomegranate juice, red wine, blanco tequila and Cointreau together in a large punch bowl. Top with Truly Spiked & Sparkling Sicilian Blood Orange. Stir to combine and garnish with blood orange slices, and spiders for a spooky element.
The Darke Daiquiri
Created by Willy Shine, Brand Meister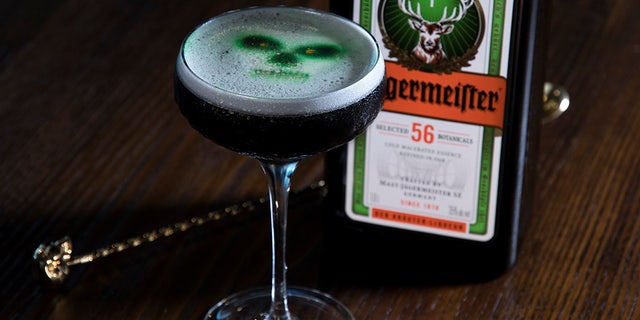 If you take the holidays very seriously – and have a fully stocked liquor cabinet – then this drink is for you. The process is a bit time consuming, and involves a bit of artistic talent, but the results are hair raising – much like this herbaceous daiquiri.
Ingredients:
1 Part Jägermeister
1 Part Aged Rum
? part fresh Lime Juice
? part 1-1 Simple Syrup
? Part Egg White
1 Capsule Activated Charcoal
Method: Shake & Strain into 5-7 oz. coup. Garnish with orange oil and peel.
Skull Stencil Method: Edible ink airbrush with green and gold ink. Edible gold flakes in the eyes.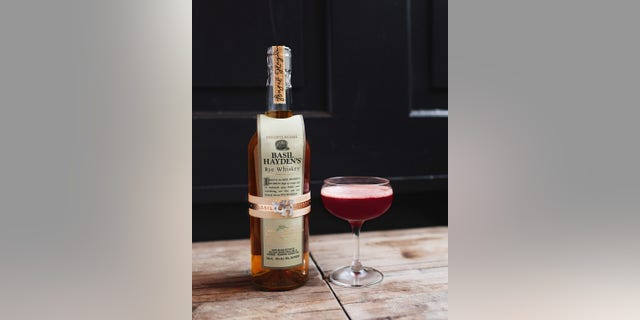 Basil Hayden's Vampire Poison 
Created by Scott Lobianco, Chicago
This whiskey-based drink bites back with spicy cinnamon syrup, tart lemon juice and sweet vermouth. Then the cherries and belly-warming rye whiskey sneak up for a welcome kick of flavor. Serve up for a delicious Halloween vibe.

Ingredients:
2 parts Basil Hayden's Rye Whiskey
1/2 part Sweet Vermouth
3/4 part Cinnamon Syrup
3/4 part Lemon Juice
5 Dark Cherries
2 dashes Aromatic Bitters
Method: Add cherries to a cocktail shaker and muddle. Combine all ingredients into cocktail shaker with muddled cherries. Add ice and shake. Strain into a chilled coupe glass.