6 things to know about Sauternes, Bordeaux's liquid gold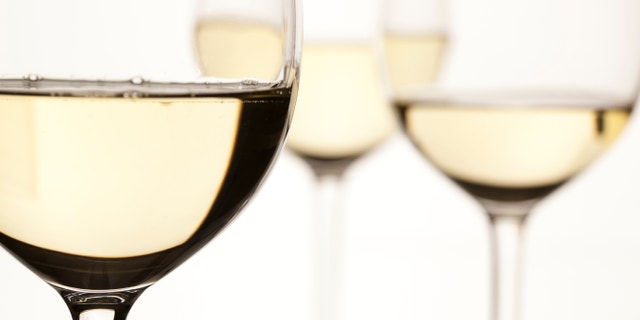 The holiday season is a time to indulge, and Sauternes — the sweet white wine from France's Bordeaux region — is a perfect fit.
Made from sauvignon blanc, semillon and muscadelle grapes, Sauternes is often overshadowed by Bordeaux's revered reds. But Berenice Lurton, president of the Classified Growths of Sauternes and Barsac and owner of the Sauternes-producing Chateau Climens wine estate in Barsac, France, says the sweet wine has unique features that are worth exploring.
1. "Noble rot" is good
It sound a little gross, but Botrytis cinerea, aka "noble rot," is one of the things that make Sauternes so special. A microscopic fungus that creates some of the finest sweet wines in the world, it shrivels the grapes on the vine, effectively concentrating their flavor and sugars. "There are a hundred times more aromatic molecules in a wine made with noble rotted grapes, making their delicious juice extremely viscous and sweet," Lurton says. (For more about Botrytis cinerea, click here.)
2. It's all about the region
Sauternes depends on a unique microclimate for its production. Located 25 miles southeast of the city of Bordeaux, the Sauternes region is located along the Ciron, a cold tributary of the warmer Garonne River. In the warm, dry autumn months, the temperature difference between the rivers creates a mist that descends on the vineyards in the evening and remains until late morning. This is an ideal climate for "noble rot," and Sauternes is one of the few places in the world where it occurs on a regular basis. But there are no guarantees. Weather conditions dictate the amount of grapes available for harvest in any given vintage. (For more on the region, click here.)
3. They age well
Due to its high acidity and sugar levels, Sauternes can age beautifully. Over time, its hallmark golden hue deepens into an almost copper color, and flavors of honeyed tropical fruit turn into notes of caramel, spice and crème brûlée. An opened bottle of Sauternes will keep longer in the fridge than a red or white wine. And while you can age these wines for decades, they are also delicious in their youth. "Nothing like a glass of Sauternes after a tiring working day, alone or with friends, to get back to life," says Lurton.
4. They're versatile
Sauternes has a reputation as a dessert wine, but Lorton says "all these restrictive labels which have been stuck on them for decades" have hidden its versatility. Because Sauternes strikes a balance of sweetness and acidity, it pairs well with savory dishes, including foie gras, roast chicken, blue cheese and spicy cuisine."If you try a Sauternes with Thai, Chinese or Indian food, you will be completely baffled!" Lurton says. "They are also wonderful with cheeses and light desserts with seasonal or dry fruits."
5. Sensuality in a glass
When sipping Sauternes alone, you can appreciate all the intricate layers of fruit, flowers and spice. Gorgeous aromas and flavors of honey, orange, apricot, grapefruit, ginger, acacia blossom, nutmeg and even saffron can often be found in Sauternes. "It is a luxury perfume in the glass, and the taste of it is a perfect melding of sweetness and freshness," Lurton says. "For me, it is nothing but sensuality in a glass."
6. It's an old, respected wine
In 1855, Emperor Napoleon III set up a ranking system or classification for Bordeaux wines. In addition to the five-class system for reds, Sauternes and Barsac (another sweet Bordeaux white) were given their own classification. They were placed into two tiers — First Growths, which included nine wines (including Chateau Climens), and Second Growths, which included 11 wines, as well as "Superior First Growth" for Chateau d'Yquem, of which no red wine was deemed worthy. There have been a few minor changes to Sauternes' classification since then, and it continues to have a stellar reputation today.
Find out more about Sauternes at The Wine Atelier.