Zoe Saldaña's New Movie 'Infinitely Polar Bear' Confronts Issue Of Bipolar Disorder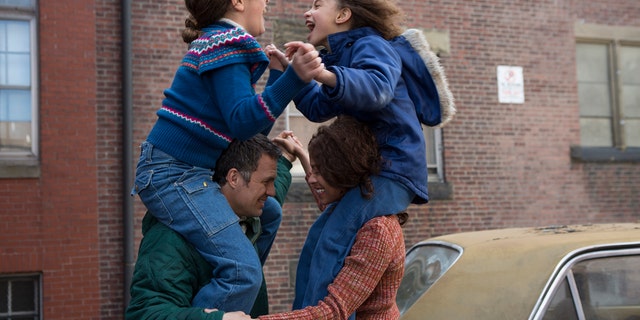 At the beginning of Maya Forbes' directorial debut, "Infinitely Polar Bear," we meet two young sisters locked inside a car with their mother, seeking protection from one of the father's manic episodes.
Based on Forbes' own childhood, the film, which she also wrote, follows the struggles of a family coping with bipolar disorder.
The tricky role, which doesn't depict the man as a consecrated monster, is played by Mark Ruffalo. While he's on the brink of unraveling much of the time, Ruffalo's character, Cameron, can be civil, even tender, and only wants the best for his family.
Zoe Saldana portrays his wife, Maggie, and newcomers Ashley Aufderheide and Imogene Wolodarsky, Forbes' own daughter, play the sisters, Faith and Amelia.
"It can be really hard to get people to understand that this is what my family looks like," Forbes says. "But I wasn't going to rewrite my mother."
To play the role of Maggie, Forbes chose Saldana because "she's really tough, strong and funny. I didn't want the mom to be a wet blanket. Zoe responded to the humor and sadness of the script really strongly."
Based in Massachusetts in the 1970s, both Cameron and Maggie are determined to give their girls a private school education. But they can't afford it since Cameron is unable to hold a job. So Maggie decides to leave the girls with their father and go to school in New York to earn her MBA in order to provide a better life for their family. Though Cameron is mentally unstable, Maggie believes he can care for the children while she's away.
Of course, there are the inevitable mishaps: Cameron goes out late and gets drunk, leaving the girls home alone, and he only cleans the apartment on occasion. Still, his love for his daughters remains undeniable.
Forbes, 45, was 10 years old when she and her little sister were left in their father's care.
"My parents did this very unusual and risky thing," said Forbes at the Sundance Film Festival where "Infinitely Polar Bear" premiered. "But it worked out. My sister and I both survived and thrived."
Forbes' sister, China, 43, is the lead singer of multi-genre band Pink Martini, "which I attribute to my father singing all of the time," adds the filmmaker. "He was also a great storyteller. That's what I do."
When searching for the right actor to play her father, Forbes knew she needed someone "who not only got the role, but brought warmth and the humanity to it," she says.
Ruffalo was at the top of her list. But the actor says he actually "chased Maya down" for the role. "I read the script and was really moved," Ruffalo said in an interview at Sundance. "So I basically begged."
To prepare to play Forbes' father, Ruffalo got three pieces of video of Cameron. "One was this Super 8 video that he shot himself in full-blown manic up-cycle," explains Ruffalo.
Tapping into the behavior of Forbes' father wasn't difficult, adds the actor. "I know quite a few bipolar people, so I understand mental illness," he says. "The stuff that was hard was the stuff in the hospital." (At one point in the film, Cameron is subdued with drugs after being hauled off to a mental facility.)
Cameron's chain smoking was another hurdle. Ruffalo had to smoke in just about every scene, a task he says gave him a respiratory infection. "They were herbal cigarettes, but it was a lot to ask of him," said Forbes.
"I was in bed for like 10 days," added Ruffalo. "But I had to do it! We're telling the truth." Forbes' father's smoking resulted in pancreatic cancer that took his life in 1998.
"Polar Bear" also tackles race, as Forbes' father was white and her mother is black. In one scene, Amelia confesses to her mother that no one believes she is black. It's something Forbes says she deals with to this day.
Forbes' film, which was not immediately purchased at Sundance, is far from a tragic tale. There are funny moments, too, like when Faith calls her father's bipolar disorder "polar bear."
Still, she's prepared for any judgment of her intricate past. "I was certainly sensitive to it," she says. "But I lived it so I knew it was OK."
Based on reporting by The Associated Press.
Follow us on twitter.com/foxnewslatino
Like us at facebook.com/foxnewslatino