'You Light Up My Life' Songwriter Indicted on Rape Charges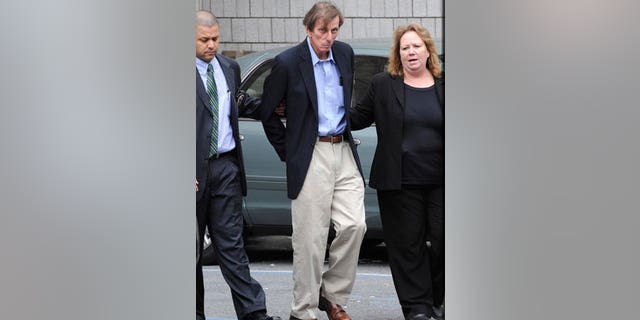 NEW YORK – The Oscar-winning composer and director behind "You Light Up My Life" raped 11 women he lured to his apartment with the promise of a starring role in a movie, prosecutors said at his arraignment Tuesday.
The women read an online ad placed by the director, Joseph Brooks, applied for the audition "and thought this was their chance to become a big star," prosecutor Lisa Friel said.
Instead, once the women were in Brooks' Manhattan apartment, he plied them with wine and forcibly raped them or used threats and coercive behavior to make them have sex with him, prosecutors said.
The scrawny Brooks, 71, denied the accusations. He pleaded not guilty in Manhattan's state Supreme Court, where he was arraigned on a 91-count indictment charging him with rape, criminal sexual act, sexual abuse, assault and other charges. He faces up to 25 years in prison if convicted of first-degree rape.
Justice Charles Solomon set bail at $500,000 bond or $250,000 cash bail and gave Brooks until Thursday to post it. The judge told Brooks not to leave town without letting the court know.
Brooks won the Oscar for Best Original Song for the 1977 ballad "You Light Up My Life." He also wrote and directed the "You Light Up My Life" movie, about a comedian who has a one-night stand with a director.
District Attorney Robert Morgenthau said Brooks used his Hollywood credentials on the Craigslist classified ads Web site to attract the victims, aged 18 to 30. He said Brooks' ad specified attractive young women for a starring role in a movie.
Morgenthau said nine of the 11 women were from the Portland, Oregon, and Seattle areas and the others were from California and Florida. He said Brooks paid to fly 10 of the women, who did not know each other, to New York.
He said Brooks' scheme, which ran from at least 2005 to 2008, was enabled by his personal assistant, Shawni Lucier, who helped pick the victims, interviewed them, arranged their travel and made them feel comfortable.
He said that when the women's mothers called, Lucier, of Federal Way, Washington state, would assure them their daughters were fine. When Brooks was ready to strike, he said, Lucier would leave the apartment "knowing what the end result would be."
Brooks became a suspect after one woman went to a hospital and reported what had happened and another complained to authorities in February and March 2008, prosecutors said.
Assistant District Attorney Maxine Rosenthal, the lead prosecutor, said she found other victims by searching Brooks' and Lucier's computers and cold-calling women whose names she saw.
"We have records from his and his assistant's computers that connect him to these women," she said.
There might be another seven or eight victims, she said.
Brooks' lawyer, Jeff Hoffman, said his client "told me he didn't do any of these things." He said Brooks, who suffered a stroke in 2008, "will have faith in the justice system."
Lucier, 42, was indicted on nine counts of criminal facilitation and is expected to return from Washington state and surrender to authorities in New York City next week, Morgenthau said. She has no attorney in New York and didn't immediately return a telephone message seeking comment Tuesday.