Wrecks, Lies and Paramedics: Is Lindsay Lohan heading back off the tracks?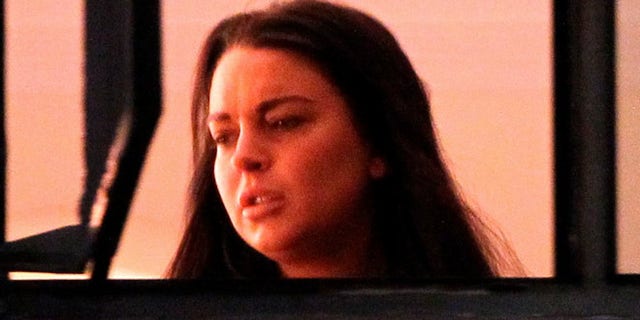 LOS ANGELES – Lindsay Lohan sparked a media frenzy on Friday when paramedics were called to tend to the actress at her hotel room at the Ritz-Carlton in Marina del Ray, Calif.
Producers for her "Liz & Dick" TV movie called 911 as a "precaution" when Lohan didn't answer her door to come shoot new scenes. Lohan turned out to be "fine," according to her rep, but the scene was unsettling due to her history of substance abuse, and another incident that occurred just days earlier
Last week, Lohan rear-ended a truck on the highway while driving a rented Porsche. Lohan reportedly told authorities that she was not driving the vehicle at the time of the accident, saying instead her assistant had been behind the wheel. The police now suspect that was a lie. If Lohan did fib to cops on the scene, that could be deemed a violation of her probation, and amount to more time behind bars for the young star.
So is Lohan heading back off the tracks?
PHOTOS: Lohan sure looks exhausted.
[pullquote]
A number of sources tell FOX411's Pop Tarts column that despite the recent eyebrow-raising incidents, Lohan is working hard on herself both personally and professionally, and is trying to deflect any drama that could hurt her return to the screen.
"The paramedics call was just an overreaction. She's exhausted from working so much and still sore from the car accident," said one source close to the actress. "It was a combination of both those things. Lindsay has been working really hard."
We're also told that Lohan has been "staying clean" in recent times, motivated not only by her role in "Liz & Dick," but also because she wants nothing to sabotage future casting opportunities.
"She knows that the Liz Taylor film is really her last chance at a comeback, she doesn't want to blow it this time," the source continued. "This and the car accident is just bad timing."
Another insider close to the star concurred that she is "doing great" and that the recent unforunate incidents are not a reflection of her falling off the wagon again.
"She seems to be really happy, pro-active with her career and definitely staying clean," said the source.
Lohan's rep, Steve Honig, also insisted that Friday's paramedics scare was not a cause for concern.
"Lindsay worked a grueling schedule the past few days. She was on set last night at 7pm and worked through the night until 8am this morning," he said in statement to Pop Tarts on Friday, following reports she had been rushed to hospital. "She took a nap before shooting her final scene. Producers were concerned when she did not come out of her room and called paramedics as a precaution. Lindsay was examined and is fine, but did suffer some exhaustion and dehydration."
A source confirmed Lohan went straight back to the set and worked through the weekend. However, Honig and producers for "Liz & Dick" did not respond to a request for any further comment, or specifically to address why paramedics were called in to enter the room as opposed to hotel security.
According to one Hollywood producer, there may very well have been a reason producers called 911.
"Sometimes if actors or actresses are late for their call times, and have been so a few times, producers make sure they nip the behavior in the bud," added the source. "If that's the case with Lindsay, I don't think she is going to fall asleep and be late again."
Lohan is trying to take the drama in stride. She tweeted out a message over the weekend: "Note to self: After working 85 hours in 4 days, and being up all night shooting, be very aware that you might pass out from exhaustion and 7 paramedics might show up at your door. Hopefully they're cute. Otherwise it would be a real let down."