Woody Allen believes he should be the 'poster boy' for the #MeToo movement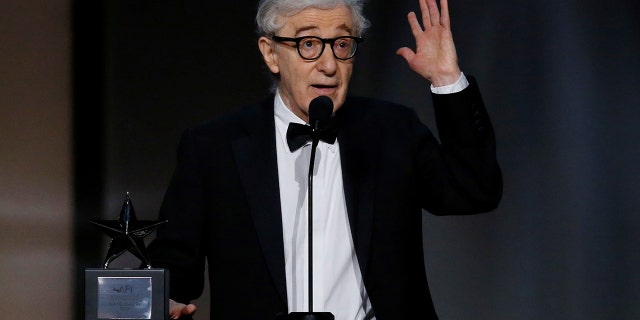 NEWYou can now listen to Fox News articles!
Woody Allen isn't happy to be a self-proclaimed "poster boy for the #MeToo movement."
"I'm a big advocate of the #MeToo movement," Allen, 82, told Argentinian news program Periodismo Para Todos ("Journalism for All") (via Quartz) on Monday. "I feel when they find people who harass innocent women and men, it's a good thing that they're exposing them. But you know I — I should be the poster boy for the #MeToo movement, because I have worked in movies for 50 years. I've worked with hundreds of actresses and not a single one — big ones, famous ones, ones starting out — have ever ever suggested any kind of impropriety at all. I've always had a wonderful record with them."
(However, in 2015, Mariel Hemingway, who starred in Allen's 1979 film "Manhattan," alleged in her memoir "Out Came the Sun" that Allen attempted to seduce her when she turned 18 and he was 44.)
While the auteur may not believe he's on Harvey Weinstein, James Toback or Kevin Spacey levels of conduct, many stars, including Greta Gerwig, Mira Sorvino, Jeff Daniels and Michael Caine, have renounced working with him in light of the sexual abuse allegations that his adopted daughter, Dylan Farrow, made against him.
Allen was accused of molesting then-7-year-old Dylan in 1993 in Mia Farrow's Connecticut home. Law enforcement and sexual abuse experts investigated the allegations at the time, the Los Angeles Times reported, but a prosecutor declined to press charges to spare Dylan the trauma of a trial; a judge in the case deemed Allen's behavior toward his daughter "grossly inappropriate."
Allen has maintained his innocence since the accusations were first leveled against him, alleging that scorned ex Mia was coaching Dylan to lie to gain revenge on Allen for dating Mia's other adopted daughter, Soon-Yi Previn.
Now 32, Dylan has repeated her accusations numerous times since the dawning of the #MeToo and Time's Up movements.
"This is something that has been thoroughly looked at 25 years ago by all the authorities and everybody came to the conclusion that it was untrue," Allen said. "And that was the end and I've gone on with my life. For it to come back now, it's a terrible thing to accuse a person of. I'm a man with a family and my own children. So of course it's upsetting."
"I think in any situation where anyone is accused of someone unjustly, this is a sad thing. I think everybody would agree with that," he continued. "Everyone wants justice to be done. If there is something like the #MeToo movement now, you root for them, you want them to bring to justice these terrible harassers, these people who do all these terrible things. And I think that's a good thing. What bothers me is that I get linked with them. People who have been accused by 20 women, 50 women, 100 women of abuse and abuse and abuse — and I, who was only accused by one woman in a child custody case which was looked at and proven to be untrue, I get lumped in with these people."
Allen's other children, including daughter Bechet (with Previn) and son Moses Farrow, have spoken out in his defense. Son Ronan Farrow has been a staunch and constant defender of Dylan.
Though Allen feels victimized by Hollywood, he still has many defenders, including Alec Baldwin and Diane Keaton, as well as other stars who have quietly supported him, like Scarlett Johansson.
Penélope Cruz, who won a Best Supporting Actress Oscar for Allen's 2008 film "Vicky Cristina Barcelona," takes a similar stance to Cate Blanchett (who took home a Best Actress trophy for her work with Allen in "Blue Jasmine") — she doesn't have all the details and she thinks the case should possibly be reopened.
"The only answer that I can give you with common sense that is not about a headline is [that] the case has to be looked at again," Cruz, 44, told Vanity Fair on Saturday. "The important thing is, if there is a case anywhere in the world that isn't clear, then why not look at it again? I am in favor of that. We have a collection of headlines saying this actor would work with him again, and this one said they wouldn't — this doesn't change anything. This doesn't add anything good to the situation. We're supposed to believe in justice, and this was looked at years ago, and it's not clear. It should be looked at again, and then I can give an answer."
This article originally appeared on Page Six.