'Will & Grace' reboot gets the greenlight from NBC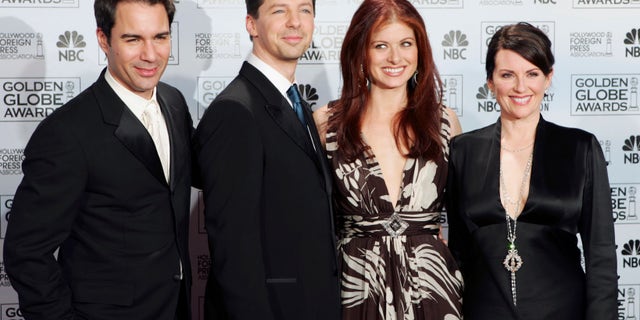 NEWYou can now listen to Fox News articles!
NBC has given a 10-episode order to a revival of comedy "Will & Grace," the broadcaster announced Tuesday.
The limited series will reunite Emmy winners Eric McCormack, Debra Messing, Sean Hayes, and Megan Mullally with series creators Max Mutchnick and David Kohan, who will serve as showrunners and executive producers. James Burrows, who directed the entire eight-season run of the original series, will serve as director and executive producer on the revival.
"We're thrilled that one of the smartest, funniest, and most defining comedies in NBC history is coming back," said NBC Entertainment chairman Robert Greenblatt. "This groundbreaking series for everything from gay rights to social and political commentary — all disguised as a high-speed train of witty pop culture — is coming back where it belongs."
NBC had been in discussions with the cast and creators since September, when they reunited to shoot a surprise 10-minute episode related to the presidential election.
Airing on NBC from 1998 to 2006, "Will & Grace" was one of the first broadcast programs to feature gay series regulars.
"We started talking with Mutchnick and Kohan about producing new episodes right after they shot the secret reunion show back in September, and the fact that all four of the original stars were excited about getting back into production is a testament to the joyful experience they had doing nearly 200 episodes for eight seasons," NBC Entertainment president Jennifer Salke said. "Few things cut through the clutter these days, especially in comedy, and 'Will and Grace' is one of the best."
"Will & Grace" stars McCormack and Messing as the titular best friends — one a gay man, the other a heterosexual woman. Hayes and Mullally star as their friends Jack and Karen.
"Dave and I are absolutely thrilled about the opportunity to write what Will, Grace, Jack and Karen are thinking about in 2017," Mutchnick said.
The new episodes will be produced and distributed by Universal Television.