Why won't NBC just let Ann Curry go?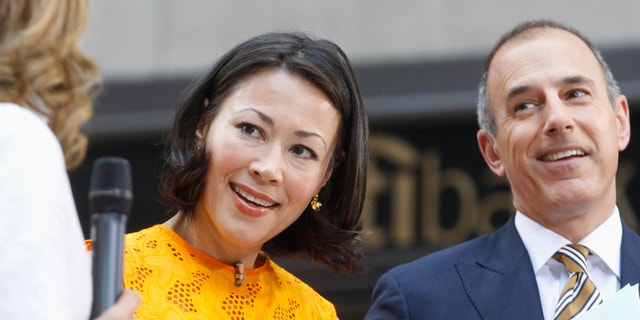 LOS ANGELES – "Today" axed Ann Curry last summer, and people still can't stop talking about it.
It has gotten so bad many are wondering why NBC just doesn't let Curry out of her contract and let bygones be bygones.
Apparently that's not how it works with big-time TV contracts.
"Networks rarely ever release their talent because it sets a bad precedent," explained one well-placed television veteran. "All talent has to enter an agreement for a certain amount of time with a financial commitment, and with that comes exclusivity. If they let Ann off then no one would respect the contracts and everyone would think they could jump ship if they wanted to. It would send the wrong message, and have a lot of negative effects."
Curry – who joined the NBC News team in 1990 – is said to have inked a long-term deal when she took over as "Today" co-anchor in 2011, which would guarantee her $10 million for the next three years. If that's accurate, Curry likely won't have the green light to walk away until around May next year.
Which means NBC and her former co-host Matt Lauer likely face another year of being portrayed as big bullies.
"It's a simple fear that, with 'Today' still in freefall, she'd jump directly to a competitor with her popularity still intact, as well as her bad feelings toward NBC," observed another source. "They (NBC) are probably hoping that by the time they have to let her go she'll have cooled off as a news personality."
It was reported last December that Curry made desperate attempts to worm her way out of her contract after being courted by her old boss Jeff Zucker – who recently took over at CNN – and offered her a top spot at the cable news network.
But apparently it was a case of no dice from NBC's end.
But this week New York Magazine unveiled an expose saying Curry was caught off-guard by initial talks of taking the top job, was not equipped with a proper lawyer and agent to negotiate for her, and was forbidden to tweet her sympathies for rival "GMA" host Robin Roberts when she temporarily left to seek medical treatment for MDS.
Could that help her case?
"If Charlie Sheen can turn around and sue CBS after he was -- rightfully? -- fired from 'Two and a Half Men' following his warlock ways, then obviously a smart entertainment attorney should be able to find some small clause somewhere in Ann Curry's contract to permit her to leave, and leave with a fist full of cash damages as well," surmised attorney David Albert Pierce, who specializes in employment law issues affecting the entertainment industry. "Preventing a tweet to an ailing contemporary seems well beyond the realm of legitimate company policy. I'm rather certain some type of claim can be properly articulated especially if NBC has not enforced such a policy equally toward all, and that's usually the case in these situations."
Crisis Management expert Gene Grabowski said word on the street is that Curry has an offer to join CNN immediately, but NBC wants her to commit to staying off the air for at least six months if she leaves.
"NBC is in a position similar to that of a Major League Baseball team like the Yankees, who don't want to release a key player to a division rival like the Boston Red Sox or the Toronto Blue Jays. For NBC, the rival teams are ABC, CBS, FOX and CNN," he continued. "Like the Yankees, NBC doesn't want to have to compete against a star player who has something to prove."
Several media experts also noted that the ongoing saga not only casts NBC is poor light, but also puts Curry into the "damaged goods" category – and that could mean big trouble when she is finally free to take on a job elsewhere.
"I doubt Curry will be released from her contract because that would give her license to talk about her travails at NBC. No network is perfect, but NBC continues to be in a league of its own when it comes to bungling personnel moves on a grand scale," said media critic and proprietor of the unclebarky.com TV website, Ed Bark. "The network morning shows in particular are built on the oft-phony concept of 'family.' ABC has played this card to perfection while NBC keeps soiling itself, both in the mornings and late night."
NBC and CNN did not respond to a request for comment.
Danielle Jones-Wesley contributed to this report.