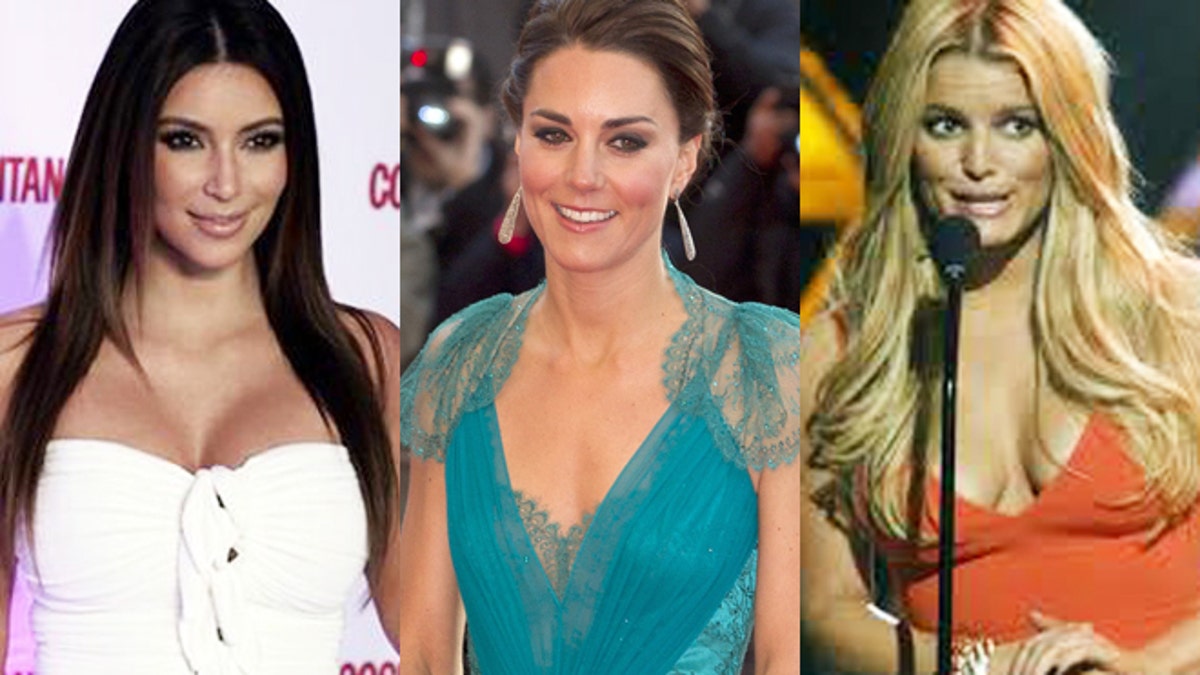 LOS ANGELES – Kate Middleton. Kim Kardashian. Jessica Simpson.
2013 is already shaping up to be the year of the celebrity baby, with a slew of star-studded offspring due to be welcomed into the world midway through the year. But which famous face is likely to earn the biggest paycheck for doing what billions before have done for free?
"Kate Middleton won't earn any money because she is a royal and because Prince William has a responsibility to the British public and to the Commonwealth public. Either they will release a beautiful photo of the baby, or like Princess Diana, she will come out of the hospital with the baby in her arms and stand for a major photo opportunity," HollywoodLife.com editor Bonnie Fuller told us. "But Kim is significantly more interesting than Jessica."
According to TMZ, Kardashian and Kanye West (now referred to as Kimye in social media/blogger circles) have been inundated with lucrative magazine offers for their first baby photos, including a $3 million bid from an overseas publication. However, website claimed that the couple turned down the big payday, and at this stage, they have "no plans to sell the pics to anyone."
But before you think that money-savvy Kardashian has suddenly turned holier than thou, industry sources say family matriarch Kris Kardashian encouraged the thanks but no thanks, believing that her daughter could pocket twice that amount.
However, some tabloid insiders aren't so convinced.
"I think Kim would be lucky to get $1 million for exclusive first baby pictures," retorted one. "And for Jess, even less."
If Kimye were to receive $6 million for first pictures, they would be up there with the ultimate A-list. Jennifer Lopez and Marc Anthony scored that amount for their twin pics, Matthew McConaughey made $3 million, Christina Aguilera and Jessica Alba scooped $1.5 million, and Brangelina pocketed $4.1 million for their first biological child Shiloh in 2006, and a whopping $14 million for their twins two years later.
But exclusive first baby pictures are just one part of the money-making pregnancy package.
"Kim is likely going to negotiate money in four parts: the baby shower, possibly a pregnant body shoot (i.e.: naked belly shot) plus the post-baby photos and losing weight after baby," explained Jennifer Birn of Hilton Media Group, a company that books celebrities for magazine covers and negotiates deals for photo shoots for weddings, babies and major life moments. "Kris Kardashian has become the master at sucking every penny out of a new publicity scenario – often offering different parts of the same event to different magazines (bridal shower to one, wedding to another) and baby shower to a different outlet, baby photos to another. And this one is as good as it gets."
Birn suspects that Kardashian will concoct a contract (probably domestically) with People or Us Weekly for at least $2 million, and then do her own international syndication with each market individually, starting at about $200,000 for Australia, then the U.K. and other countries.
And although Middleton likely won't be making bank off of her royal heir, experts predict that she and Kardashian will attract a similar amount of headlines across the world regarding their respective pregnancies and births – with Kardashian edging out just in front, and Simpson a fair distance behind.
"Jessica just isn't the star today that she was yesterday and hello, didn't we just go through her having a baby? It is not as interesting to readers the second time around," explained entertainment reporter Michael Cohen. "But hands down, 2013 is going to be the year of tabloid magazine covers for Kim. Expect headlines from baby weight to her maternity wears and nursery décor, and then the Kanye factor. As for Kate, she will be runner-up and there will be lots of split covers comparing and contrasting their baby journey. But Jessica is just so last year – unless of course, she triples in size."
And while the Duchess won't make a dime, some industry experts are already anticipating that, at least in the cases of Kardashian and Simpson, endorsement opportunities are already being explored.
"I'm sure they are busy looking at baby clothing lines, baby accessories, furniture, strollers. They can get paid to use a particular fancy stroller and all types of products," Fuller said. "I bet that any product that they use in public with the baby they are being paid to use. Some type of baby holder, stroller, all of what will be from endorsements."
According to Birn, there are probably already stroller companies calling to offer the expectant Kardashian six figures simply to be seen out strolling with their brand.
"Many other baby product companies would be willing to shell out big bucks for 'organically' setting up paparazzi shots too," she said.
Yet even though Kardashian has been tipped to earn the most for bringing a child into the world, Simpson already has one-up in the endorsement arena. After announcing she was expecting the first time, the pop princess inked a $4 million deal with weight loss giant Weight Watchers to shed the pregnancy pounds. Simpson is continuing to work with the company throughout her second pregnancy, and according to numerous reports, Kardashian too is seeking a similar weight loss gig.
A Weight Watchers rep confirmed that the company has no intention to work with the reality star, while Jenny Craig outright dissed Kardashian – telling TMZ that their focus was to work with "real women." But NutriSystem, who have in the past forked out big bucks to the likes of Janet Jackson and Marie Osmond to lose weight, can't be ruled out just yet.
"We have no specific news, just that we wish her well," a brand rep told us, reminding us that they sent out a congratulatory tweet to Kardashian after the news was released, exclaiming: "We r so happy 4 u & r standing by 2 help after ur bundle of joy arrives."
Reps for Kardashian and Simpson did not respond to a request for comment.
Danielle Jones-Wesley contributed to this report.