Who got kicked off 'Dancing With The Stars'?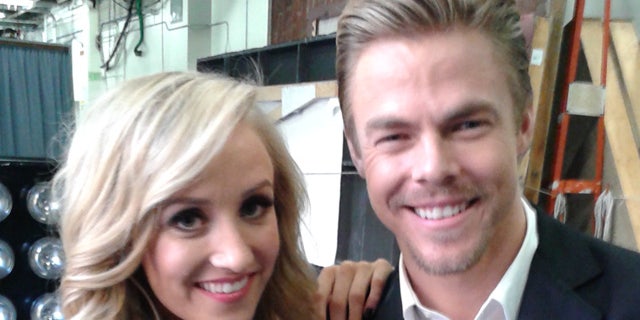 NEWYou can now listen to Fox News articles!
Gold medal-winning gymnast Nastia Liukin won't be adding the "Dancing with the Stars" mirror ball trophy to her trophy case after she was dramatically eliminated from the reality show on Tuesday night.
It meant that Rumer Willis, Noah Galloway, and Riker Lynch are the three celebrity dancers moving on to next week's finale.
FOX411 was there as Liukin got the boot with partner Derek Hough after getting one of the bottom two scores with Willis and her pro Val Chmerkovskiy. Willis' mom Demi Moore and Rumer's sister Tallulah were shown in the audience hugging each other with relief after hearing that Liukin was the one going home.
Right before that, double amputee war hero Galloway (who had thrilled viewers by proposing to his girlfriend Monday night) had been declared "safe."
And earlier, musician Lynch had been told he had made it through to the finals.
After the show, Liukin, who had received a perfect combined score of 70 for her two semifinal dances Monday night and had excelled all season, told FOX411 she had sensed her number was up.
"I kind of expected it after Riker was safe—I don't know why [but] I'm kind of good with gut intuition," she said.
Liukin, who performed a dance based on Len Goodman's life on Monday and even did a few moves with the veteran judge, said, "It just felt like the perfect sendoff last night, to end our whole journey and experience with that and being able to dance with Derek one more time."
Hough was injured a few weeks ago while rehearsing for the "DWTS" ten-year anniversary special and pro Sasha Farber had replaced him as Liukin's partner.
But on Monday, Hough had recovered enough to be able to perform the "Judges' Choice" dance with Liukin.
"The whole [semifinal] night seemed like a finale," Liukin said. "We all said that today, actually, all four of us—we're kind of like, can we all just like tie? It's been such an amazing experience and an amazing ride. Of course, I would have loved to dance one more time but I think everything happens for a reason."
Liukin wasn't happy when she thought earlier rehearsal clips didn't make her appear sympathetic and Hough said backstage that her struggles with back-and-forth travel to New York and the partner change were played down "because she made it look so easy. She came out there like 'I'm here to do what I need to do and make it happen,' and I think sometimes it could be perceived as ... un-relatable. But I guarantee you, it was very difficult."
Hough graciously told FOX411 that Galloway's dacing Monday night was as impressive as his romantic proposal to galpal Jamie Boyd.
"It's one of those things where somebody might look at that and go, 'Oh man, I can't believe that happened' but honestly, for me, what did it was [his] Pasodoble—there's a move where he looked up with intensity and just closed his fist ...I was like, final! In that moment, I knew instantly. I wanted to pick up my phone and start voting for him."
Liukin got permission to take her final exams at NYU, which were scheduled for Tuesday, a week later so she could finish "DWTS."
She told FOX411 recently that she has a year left at the school, where she'll finish up her sports management degree and then "head to Rio for the [2016] Olympics to commentate for NBC and then ... maybe in the future, manage other athletes."
Liukin is also going to Turks and Caicos this summer with boyfriend Matthew Lombardi and said, "I'm excited to just get away for a bit, get, like, a real tan!"
While the other competitors were preparing for their "DWTS" finale spray tans next week, Liukin told FOX411 working with Hough taught her about "living in the moment ... and not trying to be so perfect ... it's okay to be emotional and vulnerable and just be yourself."
WATCH: Four4Four: Did Tiger cheat on Lindsey Vonn?