Vicente Fernandez Released From Hospital, Resting At Guadalajara Home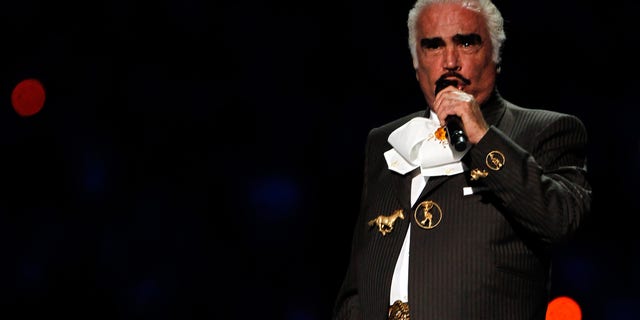 NEWYou can now listen to Fox News articles!
Guadalajara, Mexico – Ranchera singer and icon Vicente Fernandez is at his Guadalajara home recovering after spending nearly two weeks in a hospital, several Mexican newspapers are reporting.
The 73-year-old Fernandez was released over the weekend from a Guadalajara hospital after being admitted Aug. 23 for a pulmonary thrombosis. His son, Vicente Fernandez Jr., said last week that his father was stable and responding to treatment.
According to the Mexican newspaper Milenio, the singer was smiling and accompanied by his wife and two of his children when they left the hospital.
Fernandez, the newspaper reported, said goodbye to hospital personnel and the members of the press outside of the hospital.
Vicente Fernandez Jr. said in a statement that his father was recuperating quickly and at the moment was fine.
"It was a pulmonary thrombosis, which is a small clot, that formed in the lungs," he said, according to Milenio. "Luckily, with 48 hours of treatment he has responded very well, much faster than the doctors believed."
This is not the first health scare for the man considered the epitome of ranchera music in Mexico. He recently underwent an operation for liver cancer that has so far been successful in that it has not spread to any other organs.
Fernández, who is the father of singer Alejandro Fernández, announced his retirement in early 2012 to spend more time with his family, though he has been on a continuing farewell tour.
Fernandez Jr. said once they get the authorization from the doctors, his father will continue with the tour.
"Everything has been postponed; it will be done at a later date."
Follow us on twitter.com/foxnewslatino
Like us at facebook.com/foxnewslatino