Tori Spelling says toddler son was 'stabbed' by exposed nails at Four Seasons Hotel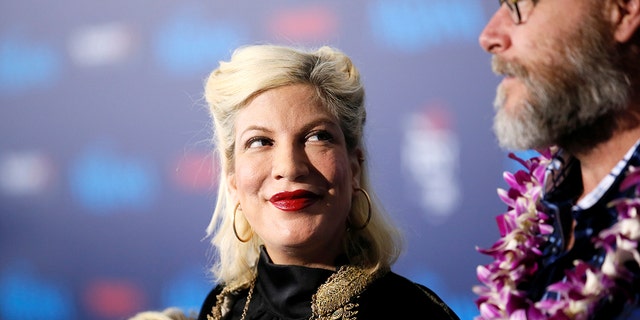 Tori Spelling said on Tuesday her 15-month-old son Beau Dean was "stabbed" by four nails while the family was staying at a Four Seasons Hotel.
On her Instagram Story, the 45-year-old actress said she was staying at the luxury hotel because of a "house situation," but did not offer further details. She also did not reveal which Four Seasons the family was staying at.
"We are a @fourseasons family like even before my 1st was born (who's 11) and bc of a house situation we are of course staying with them," she wrote. "But in the kids arcade room my 15 month old got stabbed by 4 exposed nails that shouldn't have been there and all that was done was 'Is he ok?'"
Spelling said there was no "obligatory check in" until the staff realized it was the actress' child who was injured.
The mother of five continued, "So wrong on many levels. And I never call anything out! Not my style. But, not cool @fourseasons! Does he need a tetanus shot?"
A rep for Spelling told People the toddler is "doing ok" after the "scary" incident.
TORI SPELLING: FROM SUPER-RICH HOLLYWOOD DADDY'S GIRL TO OVERWHELMED, STRUGGLING REALITY STAR
A hotel spokeswoman told Fox News in a statement that the "well-being of our guests is our top priority."
"At Four Seasons the well-being of our guests is our top priority. The team was in touch with Ms. Spelling throughout her stay. Out of respect for the privacy of our guests we do not share information about our guests or their time with us," the statement read.
POLICE CALLED TO TORI SPELLING'S HOME OVER REPORTED NERVOUS BREAKDOWN
Spelling recently posted on Instagram photos of Beau watching his first Fourth of July fireworks. The reality star appears to be spending time with her family since an incident at her and Dean McDermott's home in March.
Police were called to the couple's home over a "disturbance," a day before Beau's first birthday. Spelling was reportedly having a nervous breakdown.
A few days later, McDermott called police when his wife left the house with the children, TMZ reported. Police found Spelling and the couple's children at a doctor's office in California. They were determined to be OK.