A topless woman who appeared as an extra on "The Cosby Show" was taken into custody after she lunged at the disgraced comedian when he arrived at a courthouse in Pennsylvania on Monday morning.
As the 80-year-old arrived at court on Monday for his sexual assault retrial, a topless protester with the words "Cosby" and "rapist" painted on her back jumped the barrier ahead of the disgraced comedian and charged at him. She was thrown to the ground and cuffed by police.
The District Attorney's office identified the protester as Nicolle Rochelle, 39, of Little Falls, New Jersey. She was charged with disorderly conduct and if convicted, Rochelle will be assessed a fine and be required to pay court costs.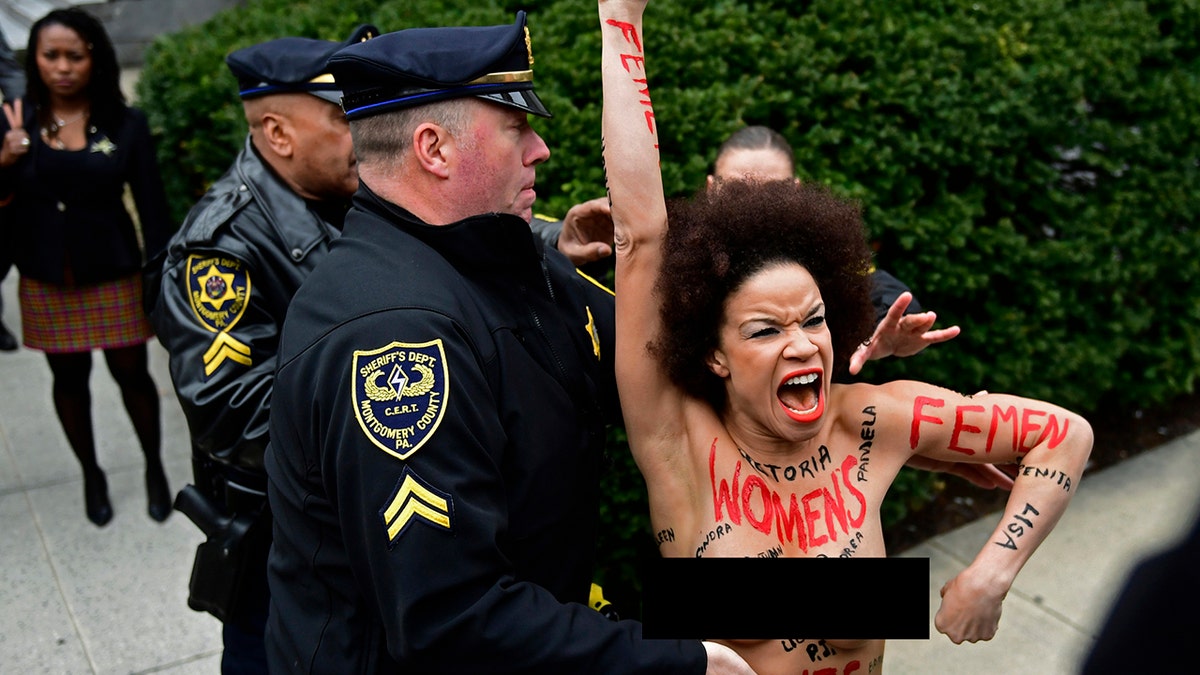 According to Rochelle's IMDB page, she appeared in four episodes of "The Cosby Show" between 1990 and 1992.
Cosby's spokesman, Andrew Wyatt, told reporters outside of the courthouse that the disgraced actor was not affected by Rochelle's behavior because he "can't see."
"He can't see so it didn't affect him at all," Wyatt said.
He added that her act of protest was in "poor taste."
"What concerns me is that you're out here protesting --and you have right to protest for sexual assault victims -- and you protest by taking your clothes off. What kind of message does that send? So I don't think she solved anything for herself or for the cause that they're out there marching for or protesting about. So I think it was a shame, it was sad, it was in poor taste," Wyatt told reporters.
Cosby seemed startled by the commotion as protesters chanted at him, but was not touched and is uninjured.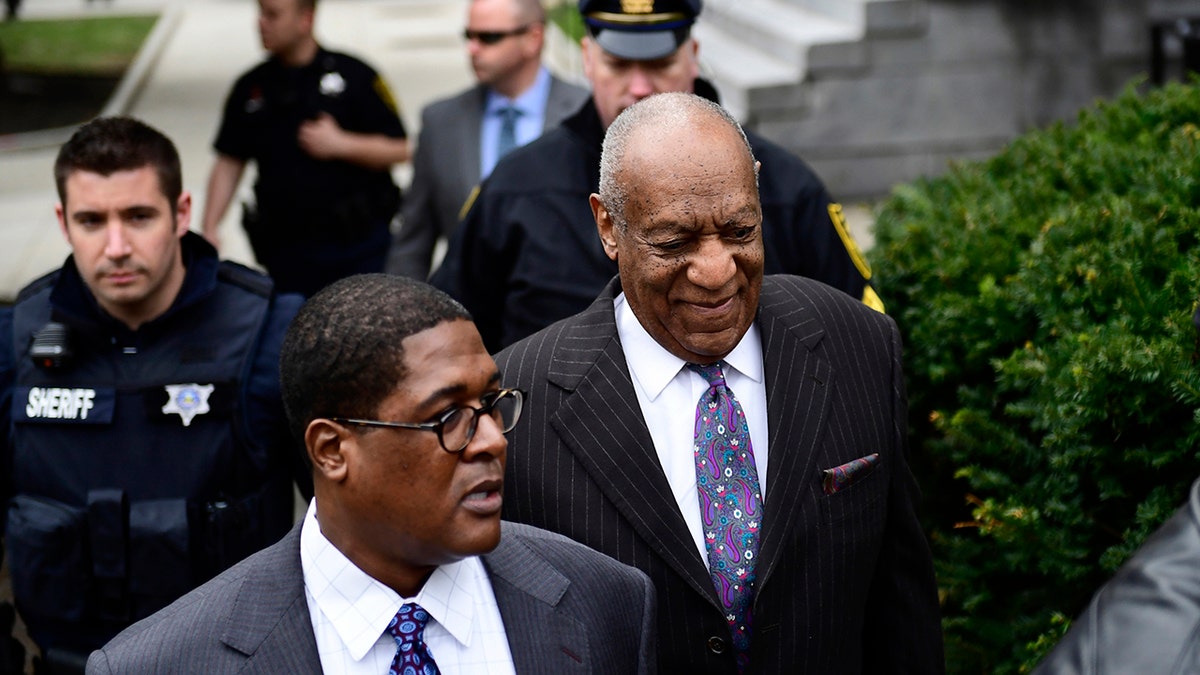 Rochelle was among about a half dozen people chanting in support of Cosby's accuser. She had "Women's Lives Matter" written in red ink on her chest and stomach along with other phrases in black and red all over her body.
With opening statements in Bill Cosby's sexual assault retrial set for Monday, prosecutors have lined up a parade of accusers to make the case that the man revered as "America's Dad" lived a double life as one of Hollywood's biggest predators.
Cosby's retrial likely won't be anything like his first one. He's fighting back with a new, high-profile lawyer and an aggressive strategy: attacking Andrea Constand as a greedy liar and casting the other women testifying as bandwagon accusers looking for a share of the spotlight.
Cosby's first trial last spring ended in a cliffhanger, with jurors unable to reach a unanimous verdict after five days of tense deliberations on charges that the man who made millions of viewers laugh as wise and understanding Dr. Cliff Huxtable on "The Cosby Show" drugged and molested Constand at his suburban Philadelphia home in 2004.
The 80-year-old comedian, who has said the sexual contact was consensual, faces three counts of aggravated indecent assault, each punishable by up to 10 years in prison.
The Associated Press contributed to this report.