Top 10 memorable Latino moments with David Letterman as he says good-bye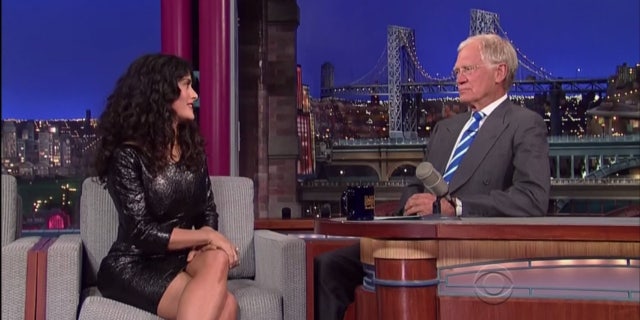 David Letterman is closing the curtain on his long and successful career in late night television on Wednesday.
Throughout his 33 years on the late night, Letterman had 6,028 broadcasts with nearly 20,000 total guest appearances, survived five presidents in office and delivered someone of the funniest zingers in comedy.
As fans say good-bye to Letterman, we thought a list of some of the most memorable Latino moments was in order.
1. Eva Longoria's wardrobe malfunction
While promoting her cookbook "Eva's Kitchen: Cooking with Love for Family and Friends" in April 2011, Eva Longoria accidentally gave the host a sneak peak of her breasts when her button came undone halfway through the interview.
2. Salma Hayek raves about her love for bugs
During a visit to "Late Show" a couple of years ago, Salma Hayek shared her love for bugs while speaking to a surprised Letterman.
"We eat bugs, but we don't eat horses," she quipped. "And we have many recipes for some of them."
3. Rescued Chilean miner Edison Peña visits Letterman
With the help of a translator, Chilean miner Edison Peña, one of the 33 miners who were rescued after 69 days stuck underground, visited Letterman and delivered an emotional show.
4. Tony Mendez, Letterman's longtime cue-card holder fired
Tony Mendez was fired from his longtime post on the "Late Show with David Letterman" after grabbing a co-worker by the shirt in October 2014. The 69-year-old told the New York Post at the time that he knew he shouldn't have put his hands on his colleague.
Mendez became familiar to "Late Show" viewers after appearing in episodes going back to at least 1997.
5. "La Noche Antes de Navidad" ("The Night Before Christmas")
In 1982, about five months after "Late Night" began, there was a prop mix up involving Calvert DeForest, also known as Larry Bud Melman. He grabbed the book "The Night Before Christmas" to read to children — unfortunately, the prop he was given was actually a French catechism book that Melman thought was the Spanish version of the poem.
"Oh," Melman complained. "Now I've got to read Spanish!" And the skit fell apart from there.
Producers were reportedly very upset with the mess up, but Letterman thought it was "hilarious."
6. Telenovelas on Letterman
One of Letterman's many TV segments included the gem "Los Problemas de la Vida Cotidiana" that was supposed to be a spoof on Mexican soap operas. The segment ran from 1989-1990.
7. All about Colombia
In September 2009, Letterman wanted to celebrate Colombia by inviting two of the country's most famous (and beautiful) stars: Shakira and Sofia Vergara.
Shakira hit the stage with her hit "Loca" while Vergara gushed about her country's beauty.
8. Miss Universe Ximena Navarrete plans for world peace
The former Miss Universe Ximena Navarrete of Mexico made an appearance in August 2010. During her segment, she took charge of the classic Top Ten countdown: "Top Ten Ways Miss Universe Plans to Make the World a Better Place."
9. Salma Hayek sings the anthem
Letterman just couldn't get enough of Mexican actress Salma Hayek as she was featured on the show several times. During her most recent visit last July, the talk show host got the actress to sing the U.S. national anthem. She also hummed part of the Mexican national anthem but don't ask her about singing the French anthem, though: she doesn't know it – yet.
10. Michael Sergio, an early Latino guest
Actor Michael Sergio became most famous for parachuting into Shea Stadium on Game 6 of the 1986 World Series. He went on Letterman just days later so that the host could grill him about his stunt.
Good-bye David Letterman. Thank you for all the memories.