Too Busy? Enrique Iglesias' Longtime Girlfriend Anna Kournikova Has Not Met His Famous Father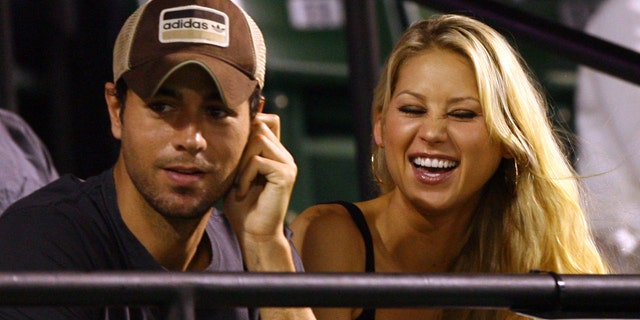 Some couples might wait a while to meet each other's parents, but Enrique Iglesias and longtime girlfriend Anna Kournikova seem to have taken it to an extreme.
The couple have been together for more than 12 years – with no immediate plans of marriage – but apparently he has yet to introduce her to his famous father, Julio Iglesias.
"I have to tell the truth – I have never met Anna. Yes, my wife, and my kids and his brothers have, but I have never met her, no, no, never," the 70-year-old crooner told UK's The Mirror. "My kids are very independent and it is difficult to see Enrique because he is all over the world. But Anna is very beautiful – they have good taste, my kids."
While he might not be involved in his 38-year-old son's love life, the elder Iglesias said he is very proud of his son's accomplishments.
"You know, it's not as easy to follow in the same steps as that of the father," he said. "The music is very different to mine and he has gone his own way… He is doing very well, he is a clever guy and he is very charming."
Enrique Iglesias, who has been burning up the charts with a number of club anthems as of late, and 32-year-old Kournikova, a former tennis pro, have been dating since early 2001.
Despite being in the spotlight, the Spain-born singer works hard to keep his personal life private.
"I think it comes with the territory," he told E! News in March. "I understand why people ask, 'Are you married? Do you have a girlfriend? Do you have kids? Do you have kids that we don't know about?'"
Follow us on twitter.com/foxnewslatino
Like us at facebook.com/foxnewslatino