The X Factor: Melanie Amaro Does Michael Jackson Justice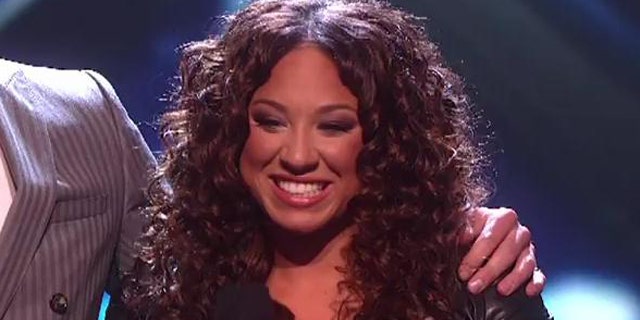 In an effort to praise the King of Pop, the seven contestants left on the X Factor crooned renditions of his songs Wednesday night.
Jackson's mother and children proudly looked on from the audience at each performance. But it wasn't until Melanie Amaro performed Jackson's classic "Earth Song" that the crowd and judges went wild.
"Melanie, for one second I forgot that we were in a competition and I felt that we were at a Melanie Amaro concert.," said music executive L.A. Reid. "You were amazing and maybe the best of the night."
Pop singer Nicole Scherzinger and choreographer/singer Paula Abdul were overjoyed for Amaro, who was stunning in an all black rock star ensemble.
"Melanie, not only was it the best of the night, it was one of the best performances I've seen on this show," Scherzinger said. "If that performance doesn't save a small country somewhere then I don't know what will."
Abdul, who kicked off her career as Janet Jackson's choreographer back in 1989, told Amaro she was very proud.
"It was flawless and you are gorgeous up there," Abdul said. "You nailed it."
Amaro's coach Simon Cowell was all smiles. The record label giant was moved with the performance.
"I could not be more proud," said Cowell. "I couldn't think of a better way to pay tribute to one of the greatest artists."
"You are amazing," he added.
Just last week Amaro revealed to the world her thick Virgin Island accent is something that she says she no longer wants to hide.
"This is really Melanie," she told the crowd with tears in her eyes. "This is me. This is Melanie."
"When I first came to America my accent was so very strong," she added. "That people, when I speak to them, they would make fun of me."
Amaro explained that she felt like an outcast who was "pushed to the side" because they could not understand her when she spoke.
"I've dreamed of this moment my whole life," Amaro said. "Once I began to speak in my normal accent I feel like a burden was lifted."
Only five contestants will move on to the next rounds on the X Factor.
You can reach Alexandra Gratereaux at: Alexandra.Gratereaux@foxnewslatino.com or via Twitter: @GalexLatino
Follow us on twitter.com/foxnewslatino
Like us at facebook.com/foxnewslatino