The X Factor: Lakota Rayne & Leroy Bell Say Goodbye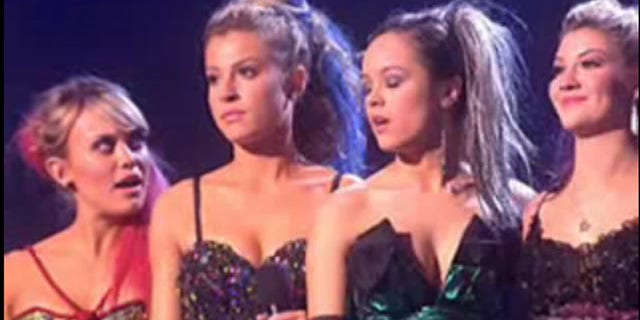 Lakoda Rayne and Leroy Bell gave their final goodbyes after the two were eliminated from the X Factor Wednesday night.
Lakoda Rayne, the all girl group put together by the judges during the "Judges' Homes" audition week, seemed blindsided when host Steve Jones announced that America had voted them off the show.
"The dream is over," Jones told Lakoda Rayne. "How do you feel?"
"The dream is not over," said one of the members of Lakoda Rayne. "You will be seeing Lakoda Rayne in concerts everywhere."
Like the girls, Bell was also was told he, too, would no longer be competing for the $5 million dollar prize. The decision to send Bell home came after the judges were deadlocked and could not decide if he should stay or go, leaving Bell's faith in the hands of America.
"Leroy, you are a sizzle factor," said record label giant and show mentor L.A. Reid. "It pains me because I dig this cat, but I'm going to have to send you home, Leroy."
Unlike Reid, Bell's mentor pop singer Nicole Scherzinger, chose to keep him around.
"Leroy, you have proven that it's never too late," Scherzinger said. "I have to go with Leroy."
Singer/choreographer Paula Abdul agreed with Scherzinger, saying Bell should stay because he "sang for his life."
It came down to Simon Cowell who was reluctant to send Bell home but eventually sided with Reid.
"This means we are in deadlock," Jones announced.
Jones was then given an envelope with America's decision to send him home.
"It was a wonderful journey," Bell said about his time on the show. "I learned a lot."
Bell, 59, then took time to thank his "family and friends" and everyone who supported him. He also thanked and dedicated his last performance to his mother, who died two years ago.
"This Thanksgiving, I'm thankful for my mom," Bell said.
Next week will be another double elimination, as the remaining seven competitors will once again have to prove themselves.
"It's not enough to be brilliant," Jones said ending the show. "You have to be amazing."
You can reach Alexandra Gratereaux at: Alexandra.Gratereaux@foxnewslatino.com or via Twitter: @GalexLatino
Follow us on twitter.com/foxnewslatino
Like us at facebook.com/foxnewslatino