The Veronicas celebrate their curves for retro pop song 'In My Blood'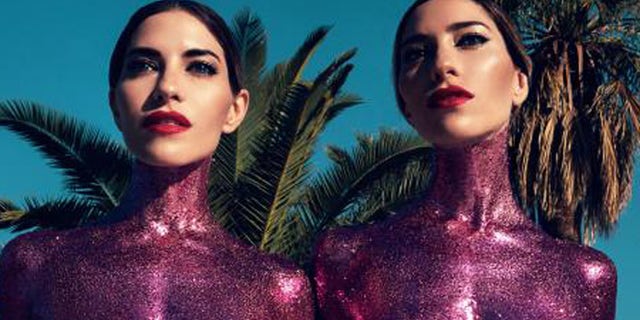 NEWYou can now listen to Fox News articles!
When The Veronicas revealed all for the cover of their new single "In My Blood," it was shocking what didn't happen.
For the first time in their career, the Australian singing siblings weren't the victims of body shaming.
Jess and Lisa Origliasso said the powerful image of the pair naked and adorned in purple glitter was artistically inspired by X-Men character Mystique and their fascination of human anatomy.
Jess joked they are also regularly told they look like aliens.
But she said the most heartwarming response to the cover image for the single which is out today was the lack of criticism of their bodies.
"The response has been really beautiful; there hasn't been any 'You are too skinny'," she said.
"We have boobs and hips, we are women. We are 31 now and I have grown an a**. Your body changes in your 30s and I am really proud we didn't get slaughtered in that capacity."
Click to watch the video for 'In My Blood.'
The Veronicas have had to endure constant criticism for their slight frames, even being told by critics and trolls to "cover up our skinny arms."
Jess said the sisters work hard to be healthy in mind and body, doing yoga and meditation.
"We're petite women and we are proud of who we are," she said. But they did suffer for their art.
"It took three hours in the shower with charcoal soap and a body brush to get that glitter and oil off. It was absolute hell," Jess said, laughing.
The green wigs they are also sporting for the shoot were inspired by their love of anime and are believed to have been designed by the same team behind Sia's elaborate headwear.
She credits one of their idols, Kylie Minogue, for inspiring the sound of In My Blood and new record which will be released later this year.
The song was co-written with the DNA duo of Anthony Egizii and David Musumeci, who worked with The Veronicas on their comeback smash "You Ruin Me," Dami Im's Eurovision hit "Sound Of Silence" and Delta Goodrem's "Dear Life."
They have also teamed with British hitmaker Cathy Dennis, who co-wrote "Can't Get You Out Of My Head" for Minogue, "Toxic" for Britney Spears and "I Kissed a Girl" for Katy Perry as well as dozens of other pop hits.
"When we started writing, we would play the people we were working with a bunch of songs because everyone was referencing You Ruin Me," Jess said.
"Lisa and I are huge fans of 90s pop, particularly Kylie, as well as Tove Lo and Ellie Goulding. And Grimes, she loves pop music so much."
The sisters head back to Australia next week to launch In My Blood after shooting the video for the song in Los Angeles this weekend.
Jess, who has said the single was inspired by love at first sight, said her most recent experience of that rush of lust led to her current relationship.
But she remains coy about the man in her life beyond saying "I definitely still have that feeling with someone I am in a relationship with now."
This story first appeared on news.com.au.